2022 Outlook Looks Strong for Industrial, Retail in St. Louis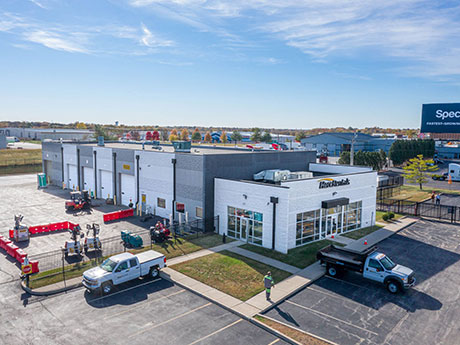 This past year, many commercial real estate sectors and geographies that had been affected by the initial impact of pandemic-induced shutdowns demonstrated improvement. Across Missouri, we saw very robust levels of sales activity, as well as new construction and development — with more than $2.4 billion in overall commercial real estate sales volume through the end of third-quarter 2021. 
Although statewide growth was reported across all property types and sectors, industrial was especially strong, while retail emerged with slightly less consistency, but was positive nonetheless. The forecast for 2022 is bright, especially as retailers announce expansion plans and developers break ground on new projects.
St. Louis is central to growth
As an important secondary U.S. market, St. Louis and the surrounding areas are experiencing high levels of demand and activity. In the first three quarters of 2021, the St. Louis market reported $1.7 billion of overall commercial real estate sales volume, representing more than 70 percent of statewide activity. These statistics illustrate the sentiment of today's active buyers who agree that St. Louis is a stable and attractive market for investment.
Within the metro area, St. Charles County stands out as one of the fastest-growing counties in the country, reporting an estimated 38.5 percent surge in population growth since 2000. It is also one of the wealthiest counties in the state, allowing it to support the rise of new retail construction we've been seeing, especially across the single-tenant net-lease sector. 
Many current owners of the county's net-lease retail supply are long-term generational property owners, but with the uptick in new supply and frenzied demand levels, owners are starting to rethink their long-term hold strategies and are looking for ways to participate and take advantage of today's environment.
High industrial demand
Industrial real estate has been a top performer for commercial real estate in 2021, outperforming other property sectors. This will continue to be the trend in 2022, especially as logistics properties are extremely sought after. Competition for this type of space in St. Louis is at an all-time high due to the metro's centralized U.S. location and ease of distribution across the nation.
Retailers are searching out existing warehouse space to satisfy customer demand and address supply chain challenges, while other tenants are driving the need for specialized new construction. Sellers and tenants are capitalizing on the red-hot demand in this sector, and the market has seen several high-profile moves and trades. 
For example, DynaFlex, a leader in orthodontic products, moved its corporate headquarters into a 57,600-square-foot warehouse in the St. Louis suburb of O'Fallon this past fall, while a new Amazon fulfillment center was purchased for $122 million in St. Peters.
Population draws retail
Brick-and-mortar stores suffered during the pandemic, as consumers relied heavily on online shopping. In recent months though, we've seen customers return to stores. This shift has reenergized developers, and there's been an uptick in new retail construction. While many essential brands were able to hold their ground, today's evolving retail landscape is opening the door for retailers to test out new concepts and formats. 
The following are several examples of new retail projects in the St. Louis metro area that local and even national investors are keeping a close eye on.
In November, Panera revealed its first "Next-Generation" bakery-café in Ballwin, Missouri, that features two drive-thru lanes — one for quick pick-up and a second, more traditional lane. 
The new fast-casual restaurant also has a digital kiosk and a reimagined interior with bakery ovens in full view of guests, offering an upgraded dine-in experience centered around the brand's trademark fireplace. Panera shared that approximately half of its 2,120 locations nationwide will be converted to this next-gen design.
Also in the restaurant sector, Tacos 4 Life identified St. Louis as a target growth area, opening its first Missouri location in O'Fallon. The quick-service restaurant chain announced plans to open another four restaurants locally in the coming year.
St. Louis native and founder of New York City-based Shake Shack, Danny Meyer is ramping up his popular and growing fast casual concept's presence in St. Louis with the addition of two new locations planned for Chesterfield and Des Peres.
Earlier this year, Target announced that it will anchor a new $60 million mixed-use development currently underway in midtown St. Louis.
Investor activity
Missouri is on the radar of commercial real estate investors, and the state will continue to see strong levels of demand and activity in 2022. Especially in the St. Louis market, opportunity abounds for new investors and 1031 exchange investors, as well as current owners with long-term hold strategies who take advantage of current market conditions and refinance now. 
The uptick in new development, as well as expansion from retailers and industrial occupiers, will help alleviate some of the pent-up demand, as quality supply has been limited in recent years. Overall, investors can expect to see plenty of opportunities in 2022 across this midwestern metro area.
Blaise Bennett is associate director with Stan Johnson Co. This article was originally published in the January 2022 issue of Heartland Real Estate Business magazine.
Get more news delivered to your inbox. Subscribe to France Media's e-newsletters.
Click here.