In 2020, the multifamily marketplace took an unprecedented hit thanks to the global pandemic. Unemployment and layoffs were rife, rent moratoriums were put in place to safeguard against mass evictions, and multifamily investment and new builds took a nosedive. However, as the country has started to emerge from the throes of COVID-19, the marketplace has entered a banner period of growth with forecasts indicating that the number of apartments nationwide will grow by an additional 4.5 million by 2030.  
This period of unprecedented growth shows no signs of slowing, either. According to Richardson, Texas-based RealPage, a provider of data analytics and property management software, during the first quarter of 2022 there was a total of 18.59 million apartment units in the U.S., a nearly 75,000 unit increase from the fourth quarter of 2021. 
But that modest growth in supply is being greatly eclipsed by robust demand, says Carl Whitaker, director of research and analysis at RealPage. "In fact, the only thing holding absorption rates back is the fact that occupancy is approaching 98 percent, so there's just not much available inventory to even be absorbed."
As the rental market continues to rapidly grow, developers and owners are faced with hitting the ground at full speed, putting the best solutions for both day-to-day operations and long-term goals in place from the start. While the idea to take an in-house, or do-it-yourself approach might sound appealing from a cost perspective, a property developer or owner may not be aware of how to effectively handle the demands of running and maintaining a successful multifamily property, let alone have the experience to manage long-range financial, marketing and leasing goals. As a result, a growing number of property developers and owners are turning to a third-party management solution.
According to the 2022 State of the Property Management Industry report from Buildium, a RealPage company that focuses on third-party property management software, the number of multifamily rental owners that work with a property manager has increased over the past three years (see table).  
"Life is short, and management is extremely difficult," says Skip Weiler, president of Columbus, Ohio-based The Robert Weiler Company, which focuses mainly on the Midwest marketplace and provides multifamily property management services for over 10,000 units. "I think the total pool of investors owning real estate is growing, and having third-party management grow in conjunction with that would be expected."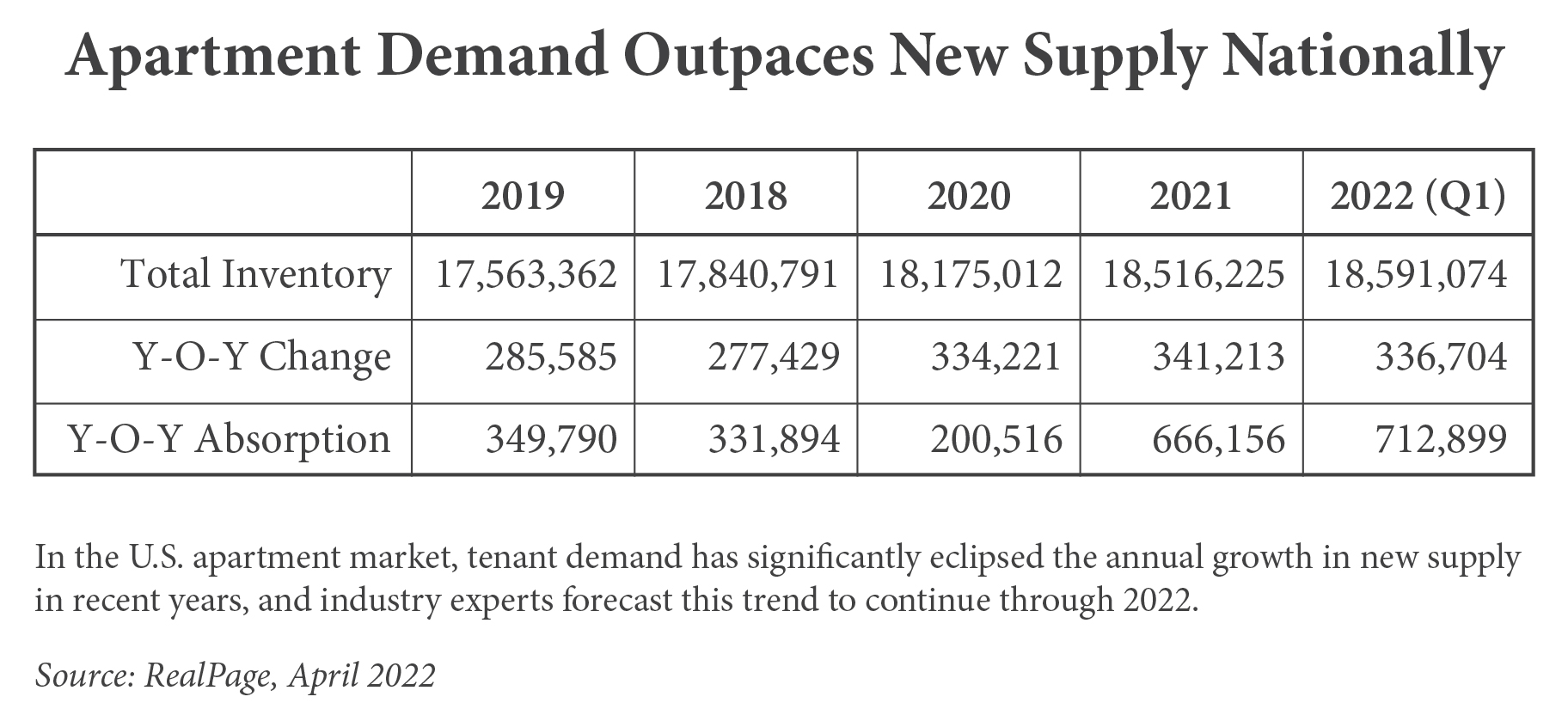 The Do-it-Yourself Debate
Though third-party management is on the rise, it's easy to see why multifamily owners and operators might view an in-house team or do-it-yourself management as an attractive option. As expected, topping the list of keeping property management in-house boils down to cost.
Depending on the size of an owner's portfolio, a third-party management team taking a percentage of the total monthly rent for its property may eat into what may already be slim profit margins. This issue found itself to be particularly true during the pandemic, which led to lockdowns and job losses on a massive scale, leaving a portion of tenants unable to pay their rent and in need of government support to weather the storm. 
"You need to be a large enough size to afford to hire people to do the work," says Weiler, acknowledging the cost dilemma. "If you have four units or 14 units, you hire one person. You could have 140 apartments and still hire one person. If you only have a few units, you can't afford to hire anybody."
Peter Roisman, co-founding principal, president and CEO of Houston-based REV, concurs. REV is a multifamily leasing management firm that currently provides leasing services for approximately 27,000 units.
"What a property manager deems important is different than what an owner might deem important. In our history of working with multifamily owners, we've found that 100 percent of our clients are focused on meeting or exceeding their financial goals," says Roisman.
Third-party property management companies recognize the importance of meeting the financial needs of owners while keeping tenants happy. Sparrow Asset Management focuses on metro areas in New York and New Jersey, providing third-party management to nine multifamily properties with a total of 500 units. 
Additionally, the company provides pre-development consulting, with a current project of 12 properties in the New Jersey market totaling over 1,500 units. "As third-party property managers, we must ensure we are providing residents with best-in-class customer service while still being mindful of the owner's bottom line," adds Brian Gretkowski, founder and president of Sparrow, headquartered in Bloomfield, New Jersey.
"Smart and forward-thinking third-party property managers realize that their owners want strong financial results from their properties," emphasizes Roisman.
An additional argument for keeping management "in the family" would be the matter of control. Investing in multifamily properties brings with it not only a huge financial outlay, but also day-to-day
operational costs. Some owners may have difficulty delegating or letting go of responsibilities that could impact their bottom line to an outside party, regardless of experience or success rates. 
Conversely, it may be more personal than just dollars and cents. There are also developers and owners who may want to stay close to their properties, developing relationships with long-term tenants and giving them the ability to be intimately involved in the ever-changing desires and demands of their renters.

Why Use Third-Party Management?
Given these implications, why would a property owner want to turn to a third-party management team? There are a lot of things to consider regarding day-to-day operations and the impact on long-term goals such as the time commitment, the knowledge and information required for successful management and the overall impact on a multifamily business. What can a third-party management team bring to the table?
The first — and some say the most crucial — point would be both the time and level of involvement required. The day-to-day operations for a multifamily manager generally include everything from handling maintenance issues to budget planning, managing bills, rent collection, lease administration, managing tenant relationships and more. 
"Property managers wear many hats and are consistently inundated with hundreds of tasks on a daily basis: recruitment, financials, reporting, revenue management, budgets, property upkeep and maintenance, capital projects, accounting, evictions, payables, vendor management, resident retention and leasing," says Roisman. 
The financial element is also a crucial concern and added bonus of using an expert third-party management team, particularly in the pandemic and beyond. 
"Labor and supply costs have soared during the pandemic," says Joanna Zabriskie, president and CEO of Des Moines, Iowa-based third-party property management firm BH Companies, which manages more than 100,000 multifamily apartment units nationally. 
"As a large operator, we are fortunate to have the resources needed to shoulder the increased costs. Still, we have to think differently about how we manage through a tighter market."
"Third-party managers are continually challenged by being able to meet the needs of their clients' changing portfolios," continues Zabriskie. "In a hot real estate market, deals happen quickly, and owners don't have time to lose. They want a management company that can hit the ground running from the day the deal signs." 
Another key component in the argument for going the third-party management route comes down to a matter of expertise, experience and knowledge. Multifamily properties come with a myriad of legal compliance requirements, such as regulations from the Americans with Disabilities Act and Fair Housing Act, just to name a few. State and local guidelines, as well as energy and sustainability requirements, are also constantly changing and being updated. A seasoned multifamily manager will have the ability to advise and guide property developers and owners appropriately to avoid any legal ramifications or fines.
"It's the same philosophy as to why you hire an expert and you don't fix your teeth yourself," Weiler points out.
A third-party management solution can also help an owner navigate market changes caused by unforeseen events such as a pandemic. Due to increased social distancing and stay-at-home policies, in-person tours and face-to-face meetings dried up, leaving managers to adjust the ways they attracted prospective tenants to their properties. Experienced third-party property managers were effectively able to answer the call, as they had the knowledge of what was working, as well as what could effectively continue as the nation emerged from the pandemic. 
"During the early months of the pandemic, we adapted our leasing initiatives to more effectively reach prospective renters in a way that was convenient for them," recalls Zabriskie. "We expanded our use of self-guided tours and enhanced virtual content and rental workflows so that prospects were able to view, communicate with and lease from our communities online. This led to an increase in incoming lead volume, and subsequently increased our overall sales conversion, resulting in higher occupancies. As these enhancements proved to be beneficial tools, we continue to use them today to manage the boom in demand more effectively." 
This expertise also applies to renter retention, particularly in pandemic times. "Technology-based initiatives and amenities have substantially helped to lure and retain renters," continues Zabriskie. "Cutting-edge managers are leveraging technology to better serve consumers and, in many cases, also allow them to self-serve. Providing prospective and current renters with reliable methods to have their needs met properly and in a timely fashion with interpersonal and automated interactions will be essential to being a leader in customer service going forward." 
Tenant satisfaction is also crucial in property management, and one of the top elements that make a property attractive for long-term renter attraction and retention. For example, renters' needs and wants shifted during the pandemic due to the increased focus on social distancing and working from home. A seasoned third-party manager will have the experience to effectively navigate and proactively manage these changes at the ground level, whereas owners may be more involved in portfolio growth and the bigger picture overall. 
The pandemic presented an interesting case study for shifting tenant demands and the need for a property manager who can respond appropriately to guide owners and investors. "There is an emerging reset in the residential development sector as a result of the pandemic related to fundamental unit size. Renters no longer look at their apartments as just their home. This is now their office and social center as well," says Stephen Schoch, managing principal at multifamily planning and consulting firm Kitchen & Associates based in Collingswood, New Jersey.
"COVID has rapidly accelerated the mindset of many businesses to allow for more work-from-home flexibility and that will be seen as a long-term residual impact. The need for dedicated in-home workspace rather than a laptop on the kitchen counter is how this economic trend will take root in multifamily. Hyper-fast internet services, available videoconferencing and business centers, and concierge services are now becoming standard amenities for any property looking to serve the middle to upper-income levels of the market." 
"The major mindset shift is away from the pre-pandemic view that 'my apartment is where I sleep, the community is where I live'," continues Schoch. "This mindset encouraged smaller units and much heavier common spaces — even such trends as micro-units and higher densities achieved with studio apartments. Now, a more traditional view has returned that actual space in your apartment matters a lot."
Labor Issues Persist
Despite the positive view of what third-party management can bring to the table, the industry faces a myriad challenges, including an increasing shortfall in hiring. The Great Resignation — a trend that started in 2021 when employees began to voluntarily resign from their jobs en masse — is forcing multifamily companies to cling to every employee as the battle for management talent continues to rise. 
According to a recent study conducted by the Building Owners and Management Association (BOMA), headquartered in Washington, D.C., the labor shortage is impacting as many as 70 percent of all commercial real estate firms, and that figure includes the multifamily sector.
The stress of being a property manager was exacerbated by the pandemic. As they reviewed their skill sets, many property managers shifted their careers to working in sales or marketing positions, both in the multifamily industry and outside of it. Additionally, their experience in customer service made them highly desirable employees for the hospitality industry.  
"Coming out of the pandemic, the biggest challenge facing third-party managers is hiring," explains Zabriskie. "Across the industry, we're seeing a historically high percentage of open positions as workforce dynamics shift. From office jobs to skilled labor, there is a shortage of workers as prospective employees seek opportunities outside the multifamily industry or leave it entirely. We have increased incentives to join our company, whether through higher pay, bonuses, or paid training and certification." 
The pandemic led to additional government regulations and compliance challenges.
"Government-mandated restrictions related to rent increases, late fees and eviction moratoria have hampered property managers across all asset types," says Don Stocks, senior vice president of residential operations at Bethesda, Maryland-based ROSS Management Services, which provides third-party management to 11,400 units across the D.C. metropolitan area, with a focus on workforce housing. 
"The inability to enforce lease terms and/or file for possession of units occupied by delinquent tenants continues to severely impact financial performance. This is particularly troublesome with tenants who do not qualify for rental assistance."
Finally, there's always the issue of care and control. Some owners are adamant that a third-party property manager — or someone who lacks "skin in the game" — can't provide the same high level of care and attention as they can.
Jim McDonald, regional vice president of property management at Cleveland, Ohio-based NRP Group, which has developed more than 50,000 apartment homes and currently manages over 26,000 residential units across the U.S., is no stranger to the attention argument. "Because NRP builds and manages our own properties, there is a stigma that when it comes to third-party management we may not prioritize and provide the same care for a property that we do not own." 
McDonald advises owners to investigate a prospective third-party management partner's reputation before doing business together, and a great way to do that is through referrals. 
When it comes to control over the important issues, listening to someone who's at the property level and near the action is mission-critical for owners. "As a managing agent, our job is to push to deliver messages that are right for the property, the ownership group, and for us as well," says McDonald. "We always make sure our partners' voices are heard, but we also need to ensure that they hear us. And sometimes that means telling them things they may not always want to hear. It's something that many third-party managers struggle with."
Despite the challenges, owners and developers who are utilizing the services of third-party property management firms are seeing a higher rate of success than if they had attempted to self-manage their properties. Whether through greater tenant retention and attraction to delivering bottom-line demands, the shift away from self-management is becoming increasingly attractive to owners.   
As the market continues to grow by leaps and bounds to keep up with demand, it's little wonder why more property owners, developers and investors are leaning toward this model. From navigating day-to-day operations all the way to increasing delivery on long-term goals, seasoned third-party management teams can offer a more streamlined approach to a property owner's most important goals: maintaining high occupancies and hitting financial targets.
— Kari Lloyd