Atlanta Retail Market Stays Hot With Unique, Experiential Offerings Around Town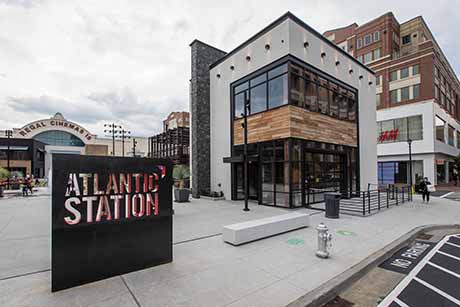 Atlanta continues its streak as a high-growth market for retail. Low vacancy rates have turned up the competition for quality spaces among tenants and rents have continued to climb.
Competition and a landlord's market have sparked new trends as developers further refine their approach to finding retailers that drive traffic and retailers search for fertile and readily available locations, including submarkets outside the intown submarkets.
Northeastern and West Coast brands have followed the trend of people moving to the Southeast, landing locations in suburban and exurban submarkets often filled with high-income, educated populations. As cities like Newnan, Cumming, Roswell, Woodstock, Peachtree City and Alpharetta see population density continue to grow, retail and restaurants are following. Suburbs and exurbs are also attracting urban dwellers from Atlanta seeking a quieter, yet similarly amenitized lifestyle they may have experienced closer to attractions like the Atlanta BeltLine.
During the pandemic, people also got used to staying close to home and are now reluctant to drive far to take care of day-to-day needs and enjoy amenities, giving a boost to Ga. Highway 400 corridor developments like Avalon and Halcyon, as well as Ashley Park in Newnan.
Unique offerings
Hot trends emerging in Atlanta are "eatertainment," venues like Your 3rd Spot coming to The Works in Atlanta's Upper Westside, and "medtail," including modern medical boutiques and animal care clinics. But available space is hard to come by.
With space availability tight, landlords can be more selective with their tenant base. Many are taking a more active role in shaping the shopping experience at their centers and developments by closely watching consumer trends. They're also relying on more sophisticated third-party data that was once only made available to the big-box retailers that dictated the best bets for location.
They're looking for the innovative, next thing for customers to experience like Modern Animal, Torchy's Tacos, Black Rifle Coffee, Salad Express and Squeeze Massage, all of which provide a unique experience. Landlords are also pursuing brands that get people to spend more time on-property and are anchoring near multifamily developments. This is a departure from the standard development model of large grocery store-anchored shopping centers with standard retail options, such as a nail salon, dry cleaner and fast-casual restaurant.
While vacancies will remain tight, tenants that have struggled over the past two to three years and are now at the end of their lease terms will be replaced with new, more resilient retail categories that better serve customers in the area. (Franklin Street's latest Atlanta retail report gives more details on this and other trends.)
Trends are also driving single-tenant development. Many developers and landlords are seeking single-tenant, triple-net outparcel ground leases from blue-chip operators. And developers are considering sales to franchise operators, where in the past they would have waited for more attractive ground-lease economics and other terms.
Meanwhile retailers continue to face macro-economic pressures like inflation, coupled with supply chain dislocations. Retailers continue to drive down footprints as well. Big-box stores have downsized and restaurants are pursuing smaller spaces with drive-thrus and ample upfront parking for quick takeout access.
All of these Atlanta market data points show that retailers need to move quickly. Atlanta's retail market will continue to have limited vacancies. While new developments will add options for tenants, retailers should expect to pay a premium for newly developed space and developers might limit tenant improvement concessions.
Mixed-use, redevelopments
Mixed-use projects will continue to see a prominent role in the redevelopment of dense, high-barrier-to-entry markets, creating mini villages with significant density and amenities. Atlanta proper will see a profusion of mixed-use and adaptive reuse projects over the next decade and will begin to see the redevelopment of projects that were completed only 20 to 30 years ago that have already become outdated and obsolete.
Among the hottest developments driving growth in the Atlanta market include CIM Group's $5 billion Centennial Yards project near Mercedes-Benz Stadium downtown, which includes two new apartment complexes that will support retail. Additionally, Ohio-based Pins Mechanical Co. will open an arcade and game bar in South Downtown Atlanta at historic 222 Mitchell, backed by Rise Brands.
Renovations continue at Buckhead Plaza, the ongoing multimillion-dollar project led by Cousins Properties Inc. The firm brought in unique concepts like Intown Golf Club, a members-only destination offering food, drinks and golf simulators.
Outside of Atlanta in Buford, Exchange @ Gwinnett is like a master class displaying current retail trends. Tenants include Andretti's Indoor Karting & Games and Thrive Affordable Vet Care, all given built-in foot traffic by new multifamily and seniors housing developments.
Another trend to watch will be the redevelopment opportunities afforded by office parks located in more dense markets but underutilized due to remote working. They will be reimagined into creative live/work and entertainment venues and serve to reinvigorate neighborhoods throughout cities.
— By Jessica Branch, Director, and Len Erickson, Senior Director, of Franklin Street. This article was originally published in the May 2022 issue of Southeast Real Estate Business.
Get more news delivered to your inbox. Subscribe to France Media's e-newsletters.
Click here.