BARDAS, Bain Capital Plan $600M Redevelopment of Hollywood TV Studio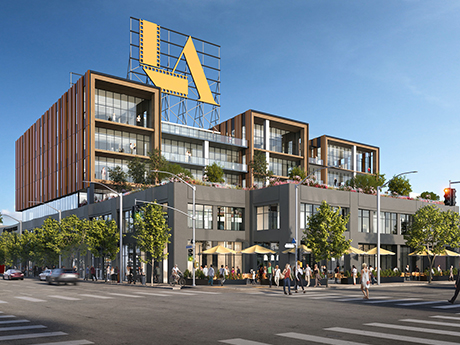 LOS ANGELES — A joint venture between two developers, locally based firm BARDAS Investment Group and Boston-based Bain Capital Real Estate, has unveiled plans for the $600 million redevelopment of a former TV studio at 6311 Romaine St. in the Hollywood neighborhood of Los Angeles.
The facility, which currently spans 6.4 acres and two full city blocks, was originally constructed in phases between 1930 and 1966. Over the years, the site, which currently features 183,000 square feet of creative office and studio space, has housed the headquarters operations of Technicolor and Metro Pictures Corp. The redevelopment would convert the facility into an urban studio campus totaling 620,000 square feet.
As part of the redevelopment, the joint venture plans to preserve several of the facility's buildings that were originally constructed at the height of Technicolor's success. New production facilities will be meshed with reimagined office space, and the facility will be rebranded as Echelon Television Center.
More specifically, the original art deco facade on the northern block will enclose a studio lot. This space will be bookended by a new mid-rise creative office building with private outdoor terraces framing views of the Hollywood Hills. The new construction will also replace a parking lot and two dilapidated buildings on Santa Monica Boulevard.
On the southern block, the developers plan to replace a vacant parking lot with four large soundstages flanking an expansive basecamp, plus a six-story office building with flexible workspace and production support space as well as private rooftop office bungalows and decks.
"We have strong conviction in the secular demand drivers underpinning the continued growth of the media and entertainment industry," says Joe Marconi, managing director at Bain Capital Real Estate. "We are extremely excited to breathe life back into this site, honoring its past while delivering an exceptional project curated for today's content creators in the heart of Hollywood."
"The old home to Technicolor and Metro Pictures represents another great opportunity to keep 'Hollywood in Hollywood,'" adds David Simon, founder and managing principal at BARDAS Investment Group.
BARDAS and Bain Capital formed a joint venture in 2019 with a specific goal of acquiring and repositioning creative office and studio production facilities that serve the entertainment and media industries. The partnership purchased 6311 Romaine Street in March. A tentative completion date for the redevelopment was not disclosed.
The joint venture's Echelon brand provides hospitality programming and services, including wellness platforms, branded food-and-beverage operators and onsite management catering to the needs of the media and entertainment community.
— Taylor Williams
Get more news delivered to your inbox. Subscribe to France Media's e-newsletters.
Click here.