Boston Needs More Quality Retail Space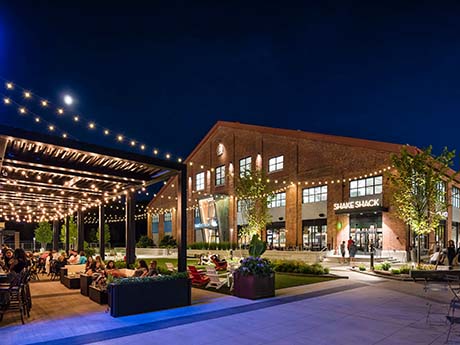 By Taylor Williams
As an exceptionally dense, compact market that's only bordered by land on three sides, metro Boston and its brick-and-mortar retail sectors have long been subject to shortages of quality retail space. 
Even during the height of the pandemic, when some retailers and restaurants went under and sent vacated space back to the market, prime locations were quickly reabsorbed. As it did nationally during the shutdown of the U.S. economy, rent growth in Boston's retail market subsided temporarily, only to rebound quickly via pent-up demand. 
Now, the economy has experienced two consecutive quarters of negative GDP growth — the traditional definition of a recession — and consumers' disposable incomes are being severely stretched by 40-year inflationary highs. Yet Boston's healthy proportion of young people and strong growth in high-paying industries like tech, healthcare and life sciences still have numerous retail users and brokers feeling bullish on the market. But even the most aggressive and well-thought-out expansion plans can fall flat in the absence of good physical space in which to grow. 
A Tight Market
According to data compiled by Newmark, there is roughly 500,000 square feet of pure-play retail space currently under construction throughout the Boston area. While construction timelines are fluid, the full-service real estate firm estimates that about 290,000 square feet will be delivered by the end of the year. But in 2023, the pipeline grows considerably thinner, with 86,000 square feet of new supply expected to be added in the first quarter of next year and just 30,000 square feet in the second quarter.
The supply constraints extend to both raw land and turnkey storefronts, according to Corey Bialow, founder and CEO of Bialow Real Estate, a retail tenant rep serving the greater Boston area. 
"Some of our clients are declining to move forward with new openings even after closing on land because they feel like financing or construction costs are too expensive," he says. "Even in the suburbs, construction costs are often more than 30 percent over pre-COVID levels, which can make or break the budget of a small business. And while construction has been very expensive for some time, capital used to be cheap. Now, the fact that some smaller retail borrowers can't afford debt-service coverage is throwing deals out of whack."
Even if construction costs eased and supply chains became disentangled overnight, that wouldn't translate to an immediate uptick in new development, Bialow notes, mainly because permitting processes tend to be very time-consuming in the Boston area. In addition, owners of prime infill sites that could support new retail space can likely get higher prices from developers of more in-demand product.
"There's so much demand for life sciences right now," says Bialow. "There's a great property, a former car dealership right off Route 128 in Needham that would have been great for a mixed-use project with retail, but it's likely to become a life sciences development. That's great for the community because it creates high-paying jobs, but not for the retail sector."
"There's minimal new construction, not only because the market is so land-constrained, but also because the land that is available is generally not going retail, but rather last-mile industrial, residential or life sciences," concurs Brian Roache, managing director in the Boston office of national brokerage firm Atlantic Retail. "Boston's education market has driven the growth of tech and life sciences industries, which should continue to be strong, though there are concerns about the costs of housing those employees."
A prime example of this trend involves CambridgeSide, a former enclosed mall that originally opened in 1990 along the banks of the Charles River. The owner, New England Development, is redeveloping the property into a mixed-use destination that features strong life sciences and residential components. 
The site still houses ample retailers, restaurants and entertainment venues. But New England Development has made clear that the site is now meant to function as a desirable place to work and live, as well as to shop and dine. Most recently, the development team topped out a 350,000-square-foot life sciences building known as 20 CambridgeSide.
Tom Wilder, principal at Boston-based developer Wilder, has also seen this trend play out at Arsenal Yards, his company's flagship development in Watertown that it owns in partnership with Boylston Properties. Last winter, ownership announced that its new, 165,000-square-foot life sciences facility at Arsenal Yards had been fully preleased. Completion of this facility is slated for the fourth quarter.
"In terms of ground-up opportunities, life sciences or residential plays are priced based on density, but the retail is a key amenity to both of those uses," Wilder says. "We've done many tours at Arsenal Yards with life sciences companies that are focused on retaining their millennial employees who want places to live, dine, socialize, work out and everything else."
An added benefit of including a life sciences component in a mixed-use project lies in the fact that these workers generally can't work from home, and their presence supports daytime foot traffic and retail/restaurant sales.
"Life sciences users were among the first to return to the workplace because they need to be in their labs," Wilder says. "Now the administrative people have come back, though we have noticed that the traditional office space in our portfolio has been slower to return than life sciences. Those facilities don't have quite the same density as office because labs take up a lot of space, but they've been strong contributors to daytime traffic."
At its heart, however, Arsenal Yards is still a destination to shop, dine and be entertained. The development is currently 95 percent leased following the execution of eight new retail and restaurant leases over the last several months. These include fast-casual, healthy dining concepts Pokeworks, Vitality Bowls and Kuri Sushi USA, as well as locally based brewery Mighty Squirrel Brewing Co. and Taffer's Tavern, a cocktail lounge founded by hospitality entrepreneur and TV star Jon Taffer. 
Additional Challenges
Even when quality retail and restaurant spaces do become available and both sides agree to a deal, the same macroeconomic forces put added pressure on the cost and timelines needed to launch a concept. 
"In the past, a restaurant may have needed 90 to 120 days to complete a buildout, whereas a dry goods or apparel concept maybe only needed 60 to 90 days," explains Evan Eisenhardt, senior vice president of leasing at Linear Retail Properties, which owns about 90 such assets throughout New England. "Now those costs and lead times have increased, so we try to dive deep and understand those variables as they relate to supply chains."
"As long as a tenant is working diligently to get open, we'll give them as much time as we reasonably can to get there," he continues. "But they have to hit milestones. For example, in the permitting process, we give them time to get those permits so long as they pursue them, as indicated by providing construction plans and proof of application in a timely manner. In those situations, there are opportunities to extend rent commencement, and we have thoughtful conversations to find the right leasing language to address those issues."
While landlords still seemingly have the upper hand in supply-constrained, rent-appreciating markets like Boston, Eisenhardt says that it's ultimately in owners' best interest to have regular communication with tenants and take a relationship-driven approach to the deal. "Now more than ever, you need good partners to do deals with to navigate the challenges of opening and operating in this environment," he says.
Don Mace, vice president of leasing at KeyPoint Partners, a commercial real estate services firm based in Burlington, says that the incessant upward trajectory of construction costs have taken a particularly big toll on the tenant side of the market. 
"We really need for construction costs to stabilize or abate so that we can get back to a more balanced market," says Mace. "Right now, we're seeing more placeholder deals in which the commencement of rent payment is being deferred because of extremely high construction costs. In addition, many municipalities are understaffed as far as the process of applying for and securing construction permits is concerned."
On the demand side, Mace says that the appetite for space is strong across the board, from small-shop inline locations to big boxes along major thoroughfares. "Right now, there are literally no box spaces available from Boston until you get to [New Hampshire]'s Fox Run Mall," he says. "We're also marketing some small-shop space in Harvard Square, and we probably get one inquiry per hour on those listings. Tenants are really trying to out-position one another with higher offers on rent when quality space is on the line."
Bialow says that in these situations, he advises his tenant clients to remain patient, difficult as that may be. "We're doing long-term leases, so as a tenant, you can't just take the best space that's available, or you could regret it," he says. "When deals do start to move forward, due to high inflation, we're seeing many suburban landlords insist on annual rent increases, whereas it used to be more common to do 10 to 15 percent increases every five years."
Final Thoughts
Sources also say that Boston's retail and restaurant market engineered a relatively soft landing from the initial stages of COVID-19, which has further kept supply growth in check and occupancy rates strong.
"We haven't seen the large vacancies we expected to see at the start of the pandemic," says Roache. "Without that dip, it's become a given that good space that's unencumbered will receive inquiries on it as soon as it's listed and will usually fill up in a matter of months."
In addition, data recently collected by JLL reveals that the average retail rent across the Boston area could grow by as much as 4.7 percent in 2022 on a year-over-year basis. JLL's analysis also found that at roughly 123,000 square feet, net absorption of retail space in 2021 was 97 percent higher than in 2019. While some of that activity is tied to space becoming unexpectedly available due to COVID-19, it nonetheless reveals just how quickly available space gets taken down in this market. 
One issue that still troubles both tenants and landlords is just how hard the current reality of rampant inflation and the future possibility of a recession will affect consumer spending. 
"We haven't seen a slowdown in demand from retail tenants yet, despite reports on the broader economy," says Roache. "Right now, we see merchant builders of small strip centers getting the rents they need to justify those construction costs, but that could change if retailers decide to pull back on new expansions based on changes in consumer spending habits."
"Right now, inflationary impacts are being felt most strongly on construction costs — it's still too early to say what the impact will be on consumer spending," adds Wilder. "That's why it's so important for us as landlords to collaborate with tenants and do things with the property that convert dwell time into transactions for retailers."
"Activations, green space, children's play areas, public art, fire pit evenings, outdoor fitness classes — those are the kinds of activities and features that got people to come out during COVID and support the retail and restaurants," he concludes. "We'll continue to promote those offerings, regardless of economic circumstances."
— This article originally appeared in the June/July 2022 issue of Northeast Real Estate Business magazine.
Get more news delivered to your inbox. Subscribe to France Media's e-newsletters.
Click here.