KANSAS CITY, MO. — Co-developers Brain Group and Mercier Street are underway on the conversion of the former Westport Middle and Westport High School campuses in Kansas City into Park 39, a $250 million mixed-use development. The live-work-play campus will be situated on 16 acres at 39th and McGee streets in the city's Midtown district.
Anchoring the project is The Residences at Park 39, a 138-unit apartment community within the four-story former Westport High School. Upon completion, The Residences will include flexible work areas, a fitness center and mailroom, auditorium transformed into modules, conference rooms and library and event spaces for groups large and small.
Individual residences will have open floor plans with high ceilings and modern finishes for kitchens, bathrooms and living areas. Each unit will have its own washer and dryer and will range from 400 square feet to 1,600 square feet in size, with expected monthly rents ranging from $950 to $2,000. The building's new infrastructure will include smart technology and updated electrical, plumbing and fire alarm and protection systems.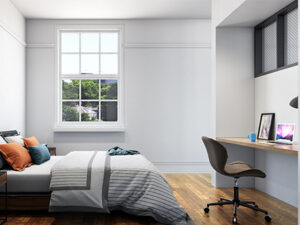 The original brick-and-stone façade and the front entry of the high school's original 1908-era building are being preserved and restored, as are the original hardwood floors and ceramic tile. The development team will update the building's skylights and replace the oversized windows at the former high school, which comprises three buildings built in different eras.
"The design approach is complementary, not competitive [with the existing building] , in order to blend with the beautiful historic fabric," says Kristine Sutherlin, an architect at Burns & McDonnell who is leading the architectural team for The Residences. "We're bringing it back to its original beauty but with an approach that is timeless."
Ryan Cos. U.S. Inc. is serving as general contractor for The Residences, which is set to come on line in the fall.
Across 39th Street to the north will be Plexpod at Park 39, a seven-story office building formerly home to Westport Middle School. More than 163,000 square feet of office space with flexible leasing options is available for lease. The construction timeline for the office component was not disclosed.
Throughout the project, commercial space will be available for office, retail and restaurant tenants, as well as flexible workspaces and a conference center. Two 10,000-square-foot plates of commercial space are available immediately south of The Residences, and a 3,500-square-foot building at Warwick Boulevard and 39th Street is available for retail and restaurant tenants. Additionally, a 1.5-acre lot on the campus will be developed in a later phase or as a build-to-suit.
"We're very excited about this new project because we are revitalizing historic buildings that were vacant, and we're bringing them back to life to create a more sustainable neighborhood that people and businesses can enjoy," says Andrew Brain, CEO of Brain Group. "We're creating a more vibrant and multifaceted community while retaining the deep roots, spirit and character of this incredible Kansas City neighborhood."
In addition to Brain Group and Mercier Street, development and capital partners on the project include HP Development Partners 2, Dwight Capital, Arvest Bank, National Trust Community Investment Corp. and Commerce Bank.
— John Nelson