Breakthrough Properties Begins Construction of One Canal Life Sciences Property in East Cambridge, Massachusetts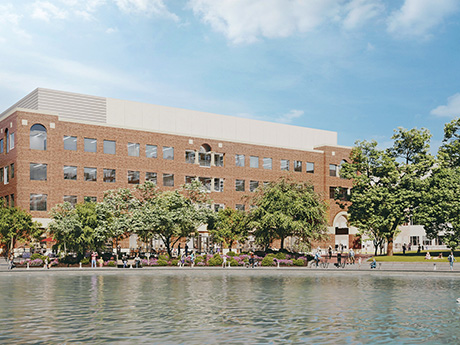 CAMBRIDGE, MASS. — Breakthrough Properties, a joint venture between Tishman Speyer and Bellco Capital, has begun construction of One Canal by Breakthrough, a life sciences development project in Cambridge, about two miles from downtown Boston.
The property is located on the city's First Street Corridor overlooking Canal Park and the Charles River in the East Cambridge neighborhood and is adjacent to CambridgeSide – a gated regional mall that is being redeveloped and includes 650,000 square feet of office, life sciences and residential space — and the 4.5-million-square-foot Cambridge Crossing innovation hub.
Breakthrough acquired the four-story building last year and is modernizing it to provide 105,000 square feet of high-quality research and development space. The property will feature a ground floor lounge, private outdoor meeting spaces, concierge, fitness center, on-site shops and adjacent parking.
A timeline for the redevelopment — which aims for Fitwel, WELL and LEED Gold certifications — has not been announced.
A flurry of life sciences developments are underway in the Boston metro area. Recently announced projects include Phase I of Assembly Innovation Park, a 485,000-square-foot life sciences tower in the Boston suburb of Somerville; and Allston LabWorks, a 580,905-square-foot life sciences, retail, and multi-family development in Boston's Allston area. Funding for both projects made headlines earlier this week.
East Cambridge, in particular, has a life sciences job vacancy rate of only about 1 percent, according to Breakthrough. Both Harvard University and the Massachusetts Institute of Technology are within two miles of the One Canal project.
Breakthrough Properties announced earlier this year that it has raised $3 billion in direct capital and co-investments to expand a global portfolio of life science properties. The joint venture was formed in 2019 and currently has a pipeline of 4.6 million square feet under development.
Projects are located in Boston; San Diego; Philadelphia; Amsterdam, Netherlands; Oxford, UK; and Cambridge, Massachusetts. In Boston, the company recently delivered The 105 by Breakthrough at 105 West First St., which will serve as CRISPR Therapeutics' US facility.
— Katie Sloan
Get more news delivered to your inbox. Subscribe to France Media's e-newsletters.
Click here.