Chetrit Group to Build 4 MSF Waterfront Development in Miami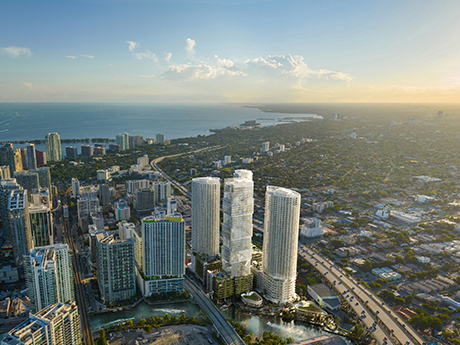 MIAMI — The Chetrit Group, a privately held New York City-based developer, plans to develop The River District, a 4 million-square-foot mixed-use destination in Miami. The project will span more than six acres along the Miami River waterfront. Total development costs will exceed $1 billion, according to Bloomberg. The Chetrit Group previously secured a $310 million loan from Madison Realty Group to fund the project's first two phases of construction.
Occupying the delta between I-95, Southwest Second Avenue and Jose Marti Park, The River District will feature four ground-up skyscrapers — a condominium tower, office tower and two high-rise apartment buildings — as well as a pair of two-story waterfront retail buildings, a marina and new streetscapes.
Overall the project will comprise 1,600 residences, an undisclosed amount of Class A office space, 30,000 square feet of retail space, a boat marina that can accommodate 60-foot vessels, 2,000 covered parking spots and restaurants and nightlife venues.
"The River District is going to create a riverwalk experience for the first time in the city, and we expect to completely transform how people in the area live, work and play," says Michael Chetrit, principal of Chetrit Group.
The first building to come to market at The River District will be a high-end condominium community. Douglas Elliman Development Marketing is handling sales for individual condos and plans to launch in early 2023. Chetrit Group plans to also break ground on the condo tower in early 2023, with a target completion date set for 2026.
Chetrit Group partnered with David Grutman of Groot Hospitality, a nightlife and hospitality operator, to deliver new culinary and residential concepts exclusive to The River District. Some of Groot's existing concepts include the goodtime hotel, nightclubs LIV and Story and restaurants Gekkō, Papi Steak, Swan and Komodo.
"The River District is going to be a highlight in Miami's ongoing transformation," says Grutman. "We plan to feature versions of our existing concepts, as well as all new ideas, across residential, restaurant and entertainment spaces."
Local architecture firm Kobi Karp Architecture and Interior Design is the master architect for The River District and is designing the overall development with a tropical Brazilian motif. The design team also includes interior designers Rockwell Group and IDDI.
— John Nelson