Concept of 'Home' Pervades Design of Multifamily Projects in Northeast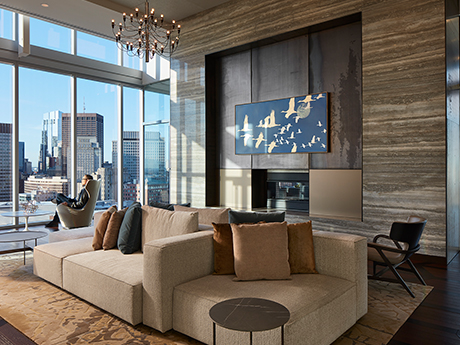 By Clara Wineberg, principal and executive director, SCB Boston
As we have all been forced to reexamine how we interact with and live in our homes during two years of a global pandemic, lessons learned for architects, developers and interior designers have been bountiful. 
In early 2020, those of us in the multifamily industry were wary about how we would make it all work; now, however, we realize the challenges we have faced in the last 24 months have provided immense opportunities to improve design of modern housing communities. 
In 2022 and beyond, multifamily design will continue to evolve to meet the changing definition of "home," and how it connects us to our loved ones, communities and even ourselves.
Everything From Home 
While home used to be just a place to hang one's hat at the end of the day, in 2020, home took on a whole new meaning. 
It became not only the place we rest, but also our workplace, our children's classroom, our fitness center and our entertainment venue. Our whole lives were — and to some extent still are — encapsulated within our homes. We expect this trend to continue moving into the future post-pandemic world. 
The impact of this shift in the definition of "home" has been significant to multifamily design. We are working to create spaces that accommodate this multitude of needs: Flexibility, relaxation, timelessness and a respite are key factors and concepts that put particular emphasis on effectively utilizing every square inch of a unit.  
Unsurprisingly, the space for a home office, for example, is more of a design mandate now than it ever has been. But how do we add a dedicated space without expanding the unit size? And can this space serve needs beyond work? 
With many projects we designed during the pandemic, we were able to create dedicated workspaces that can be used for home offices today, but could also function as nurseries, Peloton studios, dressing rooms or extended living spaces down the road. It's all about flexibility and adaptability.   
Shifting priorities have certainly emerged. One example of this can be seen in the evolution of kitchens and, more specifically, the now-ubiquitous kitchen island. The kitchen island is quite possibly the most flexible design feature of a home, serving a multitude of functions such as meal prep surface, dining table, homework area, workspace and a game and craft table.
 Today, we are seeing some developers shift from offering dedicated areas for dining tables within units to instead utilizing those spaces to increase the size and functionality of the kitchen island, extend the living area or create a dedicated office space. Simple overhangs and outlets, as well as USB portals, allow for expanded uses such as homework and workspaces and the ability to free up other areas within compact units.  
 Another trend making an impact on multifamily design is the idea of an adaptable unit that can change in function through the lifespan of its residents. How can we create spaces that can cater to the wide-ranging needs of various types of households?  
For us designers, it was both fascinating and highly informative to see how people adapted and reimagined their spaces during the pandemic. We think there are some real lasting lessons regarding adaptability to be taken from this social experience.  
Connection Via Amenities  
 Any discussion of multifamily design is incomplete without touching on amenities. In multifamily design, you must consider the project holistically; the unit design will impact the amenities and vice versa.  
Designers must start with an understanding that in these buildings, the "home" extends beyond the doors of a unit into shared community spaces. In 2022, the functionality of common amenity spaces is more important than ever; some of these considerations will ultimately enhance the resident experience for years to come.  
Coworking spaces within multifamily buildings have become more functional and dynamic as a result of work-from-home and hybrid work models being adopted by employers as we move to a post-pandemic world. 
With this in mind, SCB has modeled the types of spaces and resources that will support a workforce from home, including individual workspaces and meeting rooms of various sizes. Further, these spaces offer collaborative technologies — printers, laser cutters and even hospitality-level services and products ­­­— to make working from home that much easier and enjoyable. 
 We are also seeing a dramatic increase of attention being paid to amenities for the smallest (and fluffiest) building residents. With an overall increase in the number of pets living in multifamily buildings, we must consider what makes life better for both residents and their beloved animals. 
For example, at Hub50House, one of SCB's projects in Boston, we designed an elevated and covered "Woof Deck" dog park for pets to enjoy the outdoors while their owners get to know other residents in the building.   
Importance of Wellness 
The health and wellness industry was already growing when the pandemic began, but has since taken on a whole new level of importance in our lives. This extends to multifamily design as well. 
We are continuing to see a greater emphasis on indoor/outdoor living across all geographic regions, including those with typically cooler climates. Of particular note are some new and exciting takes on outdoor spaces that may be open to the public and that promote community connectivity and engagement. 
For resident-only amenities, these features may include large terraces and outdoor places to gather, indoor/outdoor fitness areas and even "sky parks" in lieu of private balconies. With the inclusion of strong Wi-Fi and access to electricity, these gathering spots create micro-communities or extended work-from-home offices while offering respite and change of scenery.   
Lasting Impacts 
Historically, cities have always been built records of our history. Architectural styles reflect their places in time, while building materials change based on innovations and technology. 
The last 24 months of the pandemic have offered architects opportunities to reflect on the decisions we make, the buildings we design and their impacts on the communities we work in. 
As a result, we've learned valuable lessons about resiliency and how it can drive design and overall growth. In the year ahead, these trends will all be complemented in one way or another by a commitment to sustainability and decarbonization, urban adaptability and a slight redefinition of what makes a place feel like home.
 — This article originally appeared in the January/February 2022 issue of Northeast Real Estate Business magazine.
Get more news delivered to your inbox. Subscribe to France Media's e-newsletters.
Click here.