Five Factors Defining the Grand Rapids Office Market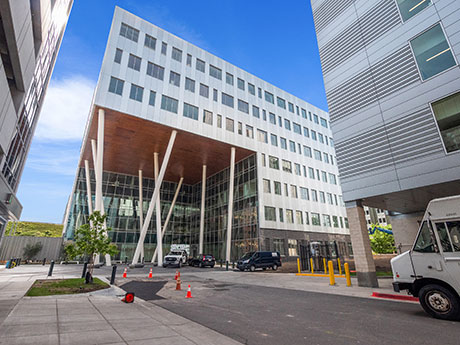 By Jeff Karger, JLL
There's no doubt that the office market today is much different than what it was five years ago.
Employers across the nation have had to adjust their work models, time and time again, to meet the needs of their employees — and those in Grand Rapids are no exception.
As landlords, employers and employees adapt to these changes, it's important to understand the direction of the office market. Below, check out five factors that are defining it.
1. A flight to quality
Like many other cities across the nation, Grand Rapids is experiencing a resounding flight to quality. Employers are seeking Class A and trophy spaces to appeal to their employees and offer them an experience, rather than just a cubicle to work in. Some of these office features can include free fitness centers, onsite cafés, coffee shops and restaurants, outdoor terraces and more.
Plus, according to JLL research, 59 percent of employees expect to work at a company that supports their health and well-being. Interestingly enough, employees prioritize this over salary — a key reason why companies and landlords alike are investing in amenitized spaces with up-to-date HVAC systems, exercise classes and healthy food options.
Flight to quality can extend beyond an office space, too. Office buildings located in walkable cities near restaurants, retail, childcare and health options are adding a key element of convenience for employees who are being encouraged to return to the office. 
Newly constructed office buildings are also embracing a "what employees want" mentality. Take the office complex at the Grand Rapids Innovation Park, for instance. This 333,000-square-foot, two-building complex touts quick access to local highways, covered parking, fitness centers, a rooftop deck and floor-to-ceiling windows. It's also situated near numerous dining, retail and entertainment options.
2. Hybrid work models, transformed office designs
According to JLL research, hybrid work is here to stay. In fact, 77 percent of business decision makers agree that offering hybrid working will be critical to attracting and retaining talent. 
As companies shift to permanently adopt this new way of working, they're also changing the way they use their office spaces. Many are rightsizing to reflect fewer employees in the office at a time. Those savings, in turn, are being used by employers to either upgrade their spaces or move to nicer ones.
These updates translate to fewer cubicles and more collaborative working spaces designed to spark creativity for in-person meetings. All in all, greater investments are being made in shared common areas, such as kitchen areas and conference rooms. 
3. Adaptive reuse
While most industries are adapting hybrid work models, some have altogether eliminated their office spaces. A number of call center companies in Grand Rapids, for example, have vacated their spaces to opt for fully remote work models.
This, paired with the increase in flight to quality in Grand Rapids, begs the question: What happens to Class B and C office buildings?
The answer? Adaptive reuse.
While some of these buildings are being renovated to Class A or trophy spaces, many of them are being sold and converted for other uses, such as apartment buildings or hotels. 
In fact, Family Church recently purchased the 132,127-squre-foot former Huntington Bank headquarters in Holland Township for $7 million. The church plans to repurpose the space for fellowship, worship and educational purposes.
4. Strategic construction
While office construction has increased across some cities, Grand Rapids has remained relatively conservative when it comes to this. In fact, buildings tend to go up only if they're more than 50 percent preleased.
This bodes well for the Grand Rapids market, as it's helped to maintain a relatively steady vacancy rate, which currently sits at 13.1 percent — a slight increase from the 11.8 percent vacancy rate in the second quarter and 12.8 percent in the first quarter.
These strategic construction decisions have also contributed to increased rental rates. While leasing has remained relatively unchanged over the past few quarters, rent growth has steadily climbed, increasing 3.9 percent since the end of 2021.
5. Increased suburban interest
In Grand Rapids, companies have also sparked a renewed interest in suburban office spaces. This comes as no surprise, given a variety of these office options offer free parking, walkability within office parks and to nearby amenities, and shorter commute times for many employees.
In particular, Grand Rapids' southeast suburban market has seen notable growth, with 4.6 million square feet of inventory, compared with other areas like the northwest and northeast, which offer 630,000 square feet of inventory and 760,000 square feet of inventory, respectively. 
For these reasons, companies in Grand Rapids like Wells Fargo, Morgan Stanley and Aon have all opted for suburban office spaces. 
Despite the inevitable adoption of hybrid work, the office market in Grand Rapids is here to stay. As the epicenter of company culture, the office will continue to foster collaboration and community.
Jeff Karger is a senior vice president with JLL. This article originally appeared in the November 2022 issue of Heartland Real Estate Business magazine. 
Get more news delivered to your inbox. Subscribe to France Media's e-newsletters.
Click here.