GM, LG Energy Solution Plan $2.6B Electric Vehicle Battery Cell Manufacturing Plant in Lansing, Michigan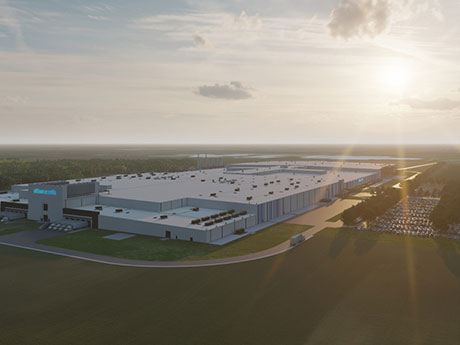 LANSING, MICH. — Ultium Cells, a joint venture between General Motors Co. (NYSE: GM) and LG Energy Solution, has unveiled plans for a $2.6 billion investment to build its third battery cell manufacturing plant in the United States.
The facility, which will be located in Lansing, the state capital, is part of a larger $7 billion investment in four Michigan manufacturing sites to increase battery cell and electric truck manufacturing capacity. Detroit-based GM says this is the single largest investment announcement in its history. The Michigan Strategic Fund Board approved $824.1 million in incentives for the projects, according to local media reports.
Ultium Cells will build the new plant in Lansing on land leased from GM. The facility is expected to create 1,700 new jobs when fully operational. Site preparation on the roughly 2.8 million-square-foot property is scheduled to begin this summer, and the plant is expected to open in late 2024. The facility will supply battery cells to Orion Assembly in Michigan and other GM electric vehicle (EV) assembly plants.
"This significant investment demonstrates our commitment to strengthen our Michigan and U.S. manufacturing presence and grow good-paying jobs," says Mary Barra, GM chair and CEO. "We will have the products, the battery cell capacity and the vehicle assembly capacity to be the EV leader by mid-decade."
The Lansing facility joins Ultium Cells battery cell manufacturing sites being constructed in Ohio and Tennessee.
"With a shared vision, GM and LG Energy Solution pioneered the EV sector by seizing new opportunities in the market well before anyone else did," says Young-Soo Kwon, CEO of LG Energy Solution. "Our third battery manufacturing plant, fittingly located in America's automotive heartland, will serve as a gateway to charge thousands and later millions of EVs in the future."
In addition to the construction of the Lansing facility, GM's future plans include the $4 billion conversion of its assembly plant in Orion Township, Mich., for production of the Chevrolet Silverado EV and the electric GMC Sierra. The Orion and Lansing plants will support an increase in annual full-size electric truck production capacity to 600,000 trucks, according to GM. Additionally, GM is investing more than $510 million in its two existing Lansing-area vehicle assembly plants for near-term product enhancements.
GM says that by the end of 2025, it will be capable of producing over 1 million electric vehicles in North America per year. GM projects it will convert 50 percent of its North American assembly capacity to EV production by 2030.
GM employs over 89,000 people in the U.S. and has invested $31.1 billion in its U.S. facilities since 2011. The company's stock price opened at $53.56 per share Wednesday, Jan. 26, up slightly from $52.04 per share one year ago. South Korea-based LG Energy Solution delivers advanced lithium-ion batteries for EVs, mobility and IT applications, and energy storage systems.
— Kristin Hiller
Get more news delivered to your inbox. Subscribe to France Media's e-newsletters.
Click here.