High Demand for Raleigh-Durham Multifamily Drives Record Sales Volume, Pricing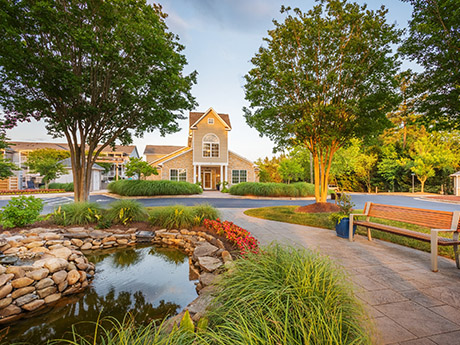 Raleigh-Durham is increasingly popping up at the top of shopping lists for multifamily investors, and buyer demand — coupled with strong rent growth — is resulting in record sale prices.
As of this writing, 2021 is on pace to be one of the best years ever in terms of total transaction volume. As capital continues to flow into the market across the spectrum of investor groups from institutions to high net worth individuals, cap rates also have dropped into record territory. Just about every sale in the market is trading at a cap rate in the 3s, and even sub-3 percent in some cases.
For example, Northmarq recently brokered the sale of the 489-unit Indigo Apartments in Morrisville on behalf of Blue Heron Asset Management. The asset sold for $121.9 million. The deal was one of the largest single-property multifamily sales in North Carolina in 2021, and the largest in Raleigh-Durham's history upon closing. The property received multiple qualified offers before selling to Toronto-based Starlight Investments for $249,000 per unit, surpassing initial pricing guidance by nearly 20 percent.
The phenomenon of lower return expectations and compressed cap rates is not unique to the Raleigh-Durham market. That trend is occurring throughout the Sun Belt. But what is notable is the unprecedented level of investor interest — and capital — pointed at the Research Triangle. The 2022 Emerging Trends in Real Estate report published by PwC and the Urban Land Institute ranked Raleigh-Durham as the No. 2 market in the country to watch for overall real estate prospects.
The main driver behind that demand is Raleigh-Durham's growth story — growing population, growing employment and a strong economy overall. The Research Triangle demonstrated incredible resiliency during the pandemic. Total employment is now in excess of pre-pandemic levels, and the market is enjoying a flurry of economic activity.
Perhaps at no other time in the market's history has there been as much regional collaboration, optimism and promise for the future. Sustained population growth and new job announcements in high-wage technology, life sciences and healthcare industries continue to fuel demand for every sector of the real estate market.
Affordability is a big part of what's attracting talent to the region. People also are moving to the area with the promise of not just finding jobs, but the opportunity to land high-paying jobs of the future. Anchored by top-ranked universities, namely Duke University in Durham, University of North Carolina at Chapel Hill and North Carolina State University, world-class medical centers and the seat of state government, the Research Triangle is proving to be a magnet for talent and a cluster of innovation.
Total employment in Raleigh-Durham is expected to expand by nearly 38,000 jobs in 2021, which reflects an annual growth of 4 percent. Over the past two years, the Triangle has seen major expansion announcements from the likes of Apple, Google, Fujifilm Diosynth and Eli Lilly, among others.
Although growth is occurring across the market, there are notable hot spots in Cary, Morrisville, Downtown Raleigh and Downtown Durham. The area surrounding the Research Triangle Park (RTP) has also emerged as a node of activity as the research park continues to see targeted investment and development aimed at creating more of a live-work-play hub. The Greater Durham Chamber of Commerce reported $1.7 billion in private investment in Durham County in 2020 with projects located in and around RTP dominating that activity.
The growing population is also spurring demand for housing in both multifamily and single-family settings. Prices for single-family homes have surged, which is pushing more demand into multifamily as a preferred alternative to homeowning. According to the S&P CoreLogic Case-Shiller Index, prices for homes in Raleigh under $320,000 increased 21.7 percent over the past year.
On the multifamily side, robust renter demand for units is driving the local vacancy rate to new lows and pushing rents to all-time highs. During the third quarter, absorption of apartment units totaled nearly 3,000 units, bringing the total for the first nine months of the year to approximately 7,900 units. This marks a steep increase from recent years when average absorption levels were closer to 4,700 units per year.
According to research from CoStar Group, occupancies are hovering at 95.3 percent with annual rent growth at a staggering 19.3 percent. Given the underlying demand and rent growth, it is no surprise that development activity is picking up. There are 9,936 units currently under construction, and Northmarq expects about 7,100 units to be delivered in 2022.
The strong fundamentals are a big part of the reason that investors are willing to be aggressive on pricing. Although there are always exceptions in every market, broadly speaking, there is rent growth being achieved in every multifamily property type. That evidence makes it easier for investment groups to underwrite deals with bullish rent growth projections, especially in the first and second years of their hold period. Other contributing factors to current pricing levels are lower yield expectations and low capital costs, including the ability to use low-cost bridge debt to facilitate transactions.
Northmarq expects the healthy pace of sales activity to carry over into 2022. Transaction volumes also are poised to move higher next year along with ongoing evolution of Raleigh-Durham's multifamily product. For example, there are only a handful of urban, high-rise properties currently in the market.
However, one new high-rise — The Walter at North Hills — is poised for completion and multiple others are on the drawing board that will reshape the skylines of Raleigh and Durham. These new projects are expected to set a new high watermark on rent per square foot upon delivery.
As the rent ceiling continues to rise, it is also raising the bar on the price per unit investors are willing to pay, and that trend will continue as long as Raleigh-Durham is at the top of investor's shopping list.
— By Jeff Glenn, Managing Director, Investment Sales of Northmarq. This article was originally published in the January 2022 issue of Southeast Real Estate Business.
Get more news delivered to your inbox. Subscribe to France Media's e-newsletters.
Click here.