Houston Office Market Continues Forward Slog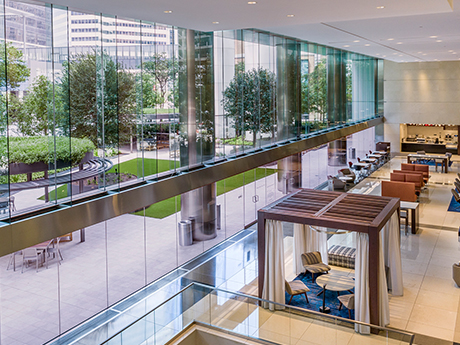 By Chip Colvill, executive vice president, Cushman & Wakefield
Like many U.S. cities in the post-pandemic world, Houston's office sector faces a long road to recovery.  
Historically, office demand follows office job creation — and job growth has been a bright spot of the Houston economy in 2022. Unfortunately, the U.S. economy seems to be slowing, and the outlook remains highly uncertain. Odds of a recession have risen; inflation and wage pressures remain elevated, and higher interest rates are impacting various parts of the economy, including commercial real estate.
Throughout the United States as well as in Houston, the correlation between job growth and office demand is tenuous, given that many businesses are still recalibrating workplace strategies to allow remote and hybrid work schedules. However, new jobs — even more flexible, hybrid jobs — will necessitate various types of workspaces, including demand for office and flexible office space.
Newer office buildings across Houston have thrived despite the market's elevated Class A vacancy rate of approximately 26 percent. Each new quarter of data continues to confirm the flight-to-quality trend and the existence of a bifurcated office sector between older and newer office product. 
Higher-quality and newer office space is dominating as a product that users are demanding while lower-quality and older office buildings are working hard to attract occupiers. This pressure has resulted in millions of dollars being spent across the city on renovations of older buildings to remain relevant and competitive in the market.
With rising interest rates and increasing labor and material costs, the cost to construct new office buildings also continues to rise. This has caused many developers — and their lenders and financial partners — to require significant preleasing to kick off new developments. 
This requirement, combined with a current lack of liquidity in the market, has throttled back new developments. However, this is good news for the existing building inventory, as it affords owners of these properties the opportunity to capture market share and increase their occupancy levels. 
The presence of client-based services, coworking areas and in-demand tenant amenities continues to transform office buildings as landlords find ways to stand out from the competition and remain ahead of an ever-changing real estate industry. Tenant expectations and demands continue to escalate as employers recognize now more than ever that employee satisfaction is critical to success. 
It's all about the amenities and employee experience. Office building location is also a key focus as more and more employers look to establish their offices in locales that make it easier for their employees to get (back) to the office. 
Backing Up
Houston experienced a "double-whammy" impact from the pandemic. Decreased worldwide demand for fossil fuels caused an unprecedented, albeit short-term, reduction in oil prices. The resulting merger, acquisition and bankruptcy activity in the energy sector has taken a toll, and many energy-related tenants have vacated spaces or begun marketing space for sublease during the past two years. 
As the energy sector has settled, we are seeing more and more oil and gas tenants getting back in the market, and they seem to be doing more with fewer employees. With that said, we are seeing continued job growth in the energy sector, which has always been Houston's "wild card" for employment growth and office demand.  
Despite the huge push for renewable, green energy alternatives, fossil fuels aren't going away anytime soon. And with many major energy companies diversifying into the renewable energy sector, as well as many new start-up renewable energy firms being created, Houston will continue its key position as the "energy capital of the world." 
Due to an unusually high office vacancy rate going into the pandemic, the Houston office market will require years of healthy economic growth and absorption before returning to a balanced, stabilized dynamic. In addition, Houston's office metrics are still being combatted by two key components. 
First, sublease space continues to expire and become "direct available" space. Second, lease terms on prior "future available" space will continue to expire, and these spaces are being added to the overall inventory of vacant space.  We anticipate that available sublease space may continue to increase with sublease listings lagging until now, as companies are finally getting back to the office, allowing them to determine future office employee head counts and whether they will have excess space going forward. 
We have  seen some large tenants sign leases for less space than what was previously leased as they attempt to add a work-from-home component to their office space needs. The work-from-home phenomenon may turn out to be short-lived, and many employers could phase it out in the future. Requiring employees to be in the office full-time would force office users to lease expansion space going forward, which most employees want anyway.
 The bright spot in the Houston Class A office market has been leasing volume and velocity. The market remains very active in terms of gross leasing activity, and this trend indicates that some tenants are expanding their footprints and that economic conditions are improving.  
In some cases, the larger footprint is simply to give their employees more "elbow room" as part of elevating the appeal of the physical space. Tenants with lease expirations as distant as 2026 are actively surveying market options to plan ahead for office space needs and to capitalize on current competitive market conditions. 
This is causing many landlords to preempt future lease expirations and incentivizing their existing tenants to renew early. We saw significant short-term leasing activity during the pandemic, but tenants are now signing leases on a long-term basis, as was the norm pre-COVID.
Final Thoughts
Uncertainty remains certain in the Houston office market, and this uncertainty has been more prolonged than many industry professionals originally anticipated. 
The impact of the pandemic on our market was quite different than a typical recession, and the aftermath has included increased levels of ambiguity related to office usage and the future of the workplace. Nevertheless, there are some clear indicators of patterns returning to normal, which we expect to continue. 
Office usage levels have increased as employees are coming back to the office; leasing activity is on the rise, and the labor market is ever-growing. Our clients need our professional guidance now more than ever to successfully navigate these turbulent times. The office market will get through this period of challenges as it always has. It has always been said Houston is a "resilient city," and we are proving this once again. ν
— This article originally appeared in the November 2022 issue of Texas Real Estate Business magazine.
Get more news delivered to your inbox. Subscribe to France Media's e-newsletters.
Click here.