Houston's Outlying Submarkets Offer Promising Industrial Opportunities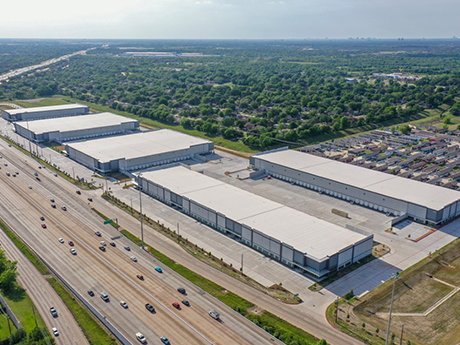 By David Ebro, president of Levey Group
Despite the nearly 6.4 million square feet of new project starts during the fourth quarter of 2022, which grew the volume of Houston's industrial space currently under construction to 33.5 million square feet, the market posted a record 30.3 million square feet of net absorption for the year. This activity drove Houston's vacancy rate down to 3.8 percent — a decline of 220 basis points from the end of 2021.
The remarkable growth throughout the Houston MSA — the nation's fourth-largest metropolitan area — has developers racing to find buildable sites both within and beyond the city limits. As a result, industrial development is bulging out of the city and into submarkets such as Baytown, Richmond and Brookshire as developers pursue more economically feasible land among these growing population centers.
Beyond favorable land opportunities, Houston's outlying submarkets offer the workforces that tenants require for their warehouse and distribution operations. These growing submarkets are also generating an increasing amount of demand from e-commerce users in the consumer goods sector.
Record Growth East of Houston
Much of the industrial growth can be found east of town, near and along the Houston Ship Channel. For the 12-month period ending November 2022, total cargo handled, as measured by 20-foot equivalent units (TEUs), increased 17 percent over the same 12-month period ending in November 2021, according to data from CBRE.
This increase in TEU volume at the Port of Houston was driven largely by persistent consumer demand and the numerous factors plaguing the western seaboard ports. These ports are struggling with labor shortages, extremely limited availability and high costs of industrial real estate, as well as municipal constraints that are stifling the supply of new industrial warehouses.
For context, warehouse and distribution space within California's Inland Empire had a total vacancy rate of 0.5 percent at the end of the third quarter of 2022 and an average gross asking rate of $1.46 per month per square foot, according to data from CBRE. By comparison, at the end of the third quarter of 2022, Houston had a total vacancy of 4.4 percent, and average gross asking rate of $0.75 per month per square foot.
Historically speaking, higher transportation and logistics costs for eastbound freight in reaching the Port of Houston (via the Panama Canal) made western seaboard ports a more attractive destination than Houston. However, the West Coast's supply and demand imbalance for industrial space, resulting in very limited availability and higher rent costs (among other factors cited above) has fueled the Port of Houston's rapid growth such that it is now viewed as a comparatively attractive alternative.
As a result, 31.1 percent of Houston's total absorption of industrial space in 2022 occurred in the southeast submarket, where the vacancy rate for warehouse and distribution space is a mere 2.4 percent, per CBRE.
Other Submarkets on The Move
Outside the east and southeast Houston submarkets, one can follow the growth in the region's top-selling residential communities surrounding Houston to identify where new industrial projects have opened and where future ones are planned.
South of Houston in Pearland, the 1,200-acre Lower Kirby mixed-use development has attracted the likes of Tool-Flo Manufacturing, Mitsubishi Heavy Industries Compressor International and Dover Energy. With modern business parks and land opportunities accessible from Highway 288 and Beltway 8, other users are expected to follow.
Northwest of Houston in Waller County, a partnership between Parkside Capital and an undisclosed local developer recently announced plans for a 2.5 million-square-foot logistics hub.
Accessibility to Major Thoroughfares  
For these and other submarket projects, accessibility to major thoroughfares like Houston's Beltway 8 and Grand Parkway tollroads is a requirement.
How important is proximity to major thoroughfares? Very simply put, developers are not building a competitive product if the project is not on or within two miles of a major freeway. The conversation in Houston is not how close a project is to a major thoroughfare, but rather how close it is to the on and off ramps of these transportation nodes.
For warehouse and distribution users, minutes are money. Multiply those minutes by hundreds of daily deliveries, and it becomes apparent how those minutes can make the difference, particularly for last-mile distribution centers.
As always, some submarkets that are tighter and more restrictive than others. In these locations, users often have no choice but to overlook some of the inefficiencies inherent in limited freeway access.
Houston Submarkets Offer Share of Challenges
Developers of industrial projects in outlying Houston submarkets should be mindful of nearby neighborhoods and maintain an adequate buffer from residential settings. When this spacing is not possible, ground-level screening, building setbacks, attractive landscaping and nuisance restrictions go a long way toward appeasing residents of nearby neighborhoods. Another considerations is proximity to schools to ensure truck routes steer clear of school zones and heavy pedestrian foot traffic.
Also, the Harris County Flood Control District has increased the detention ratio required for impervious cover. In addition, FEMA is in the process of re-drawing the flood maps to designate additional areas that were previously not considered in the flood plain, in the flood plain.
There are also new requirements for elevating foundations above the 500-year flood plain. None of these enhanced local regulations are insurmountable, but collectively, they present increased obstacles to new industrial development and drive up the cost of new construction.
Looking Ahead
The healthy fundamentals for Houston's industrial market are largely driven by tenant requirements for warehousing and distributing consumer goods.
Although the city is more economically diverse and resilient than it was in generations past, Houston is not immune to a nationwide contraction. Unfortunately, there is an increasing likelihood of a Federal Reserve-induced national recession that has the potential to diminish the high level of consumer demand that has largely fueled the boom we have experienced in Houston's Industrial market.
But the fed's actions will also stifle new industrial supply growth through 2023. This simultaneous choking of new supply will help mitigate — if not offset entirely — the magnitude of the supply and demand imbalance in Houston's industrial market resulting from a national recession.
Fortunately, Houston's population growth remains a reliable demand driver for industrial space. This growth is over a decade in the making and has continued through the Great Recession of 2008, the fracking bust of 2015, Hurricane Harvey in 2017 and the seemingly never-ending COVID-19 pandemic. Even the Greater Houston Partnership's Houston Region Economic Outlook's "worse-case recession scenario" forecasts job gains throughout the greater Houston MSA of more than 30,000 workers.
As companies seek accessible port locations to ship, receive and manufacture microchips, semiconductors, medical devices, building materials and other items previously stored overseas and in other U.S. markets, Houston should increasingly rise on their radars as a desirable market for the manufacturing, warehousing and distribution of these products. Against this backdrop, expect Houston's outlying submarkets to continue to make headlines when it comes to attracting the region's future industrial projects.
Get more news delivered to your inbox. Subscribe to France Media's e-newsletters.
Click here.