Howard Hughes Breaks Ground on 37,000-Acre Teravalis Mixed-Use Project in Phoenix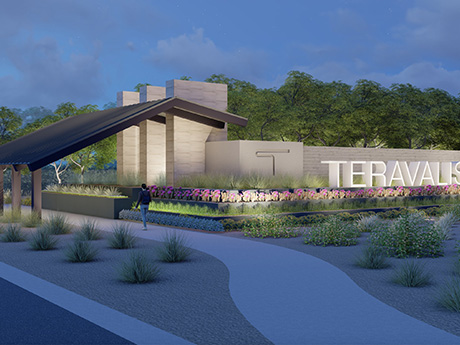 PHOENIX — Dallas-based developer Howard Hughes Corp. (NYSE: HHC) has broken ground on Teravalis, a 37,000-acre master-planned community that will be located in the West Valley area of Phoenix.
Preliminary plans for the development call for 100,000 single-family homes and 55 million square feet of commercial space. Previously known as Douglas Ranch, the project marks the largest master-planned community in the state, according to the development team.
Teravalis — the name of which means "land of the valley" — will be developed with an emphasis on public space and the natural environment. Ecological sustainability will also be a focal point of the construction process. "Teravalis is an eco-friendly, sustainable community that sets the bar high for other cities to model," says Eric Orsborn, mayor of Buckeye, a city located roughly 35 miles west of Phoenix.
Arizona Gov. Doug Ducey also credits the development with "answering the call" of increased housing demand. "Since 2015, Arizona has welcomed over 584,000 new residents, and we don't expect that momentum to stop anytime soon," says Ducey. "This increases the demand for housing opportunities, and Howard Hughes is providing quality housing options for current and future Arizonans."
The development team also notes that the location in the West Valley represents a strategic positioning that capitalizes on the significant growth of Phoenix. In the past 10 years, the city has seen 80 percent population growth. This includes approximately 100,000 tech workers and 30,000 graduating university students each year.
Planned construction of Interstate 11, which will connect Phoenix, Las Vegas and Southern California (and eventually Canada and Mexico), likewise makes the area attractive to developers. Logistics operators for Teravalis will have the opportunity to avail themselves of supply chain access to and from the West Coast.
Other master-planned communities in the Howard Hughes portfolio include developments in Las Vegas; Houston; Columbia, Maryland; and Honolulu. "Teravalis joins these great American communities which offer an exceptional quality of life and will continue to define how we live and thrive for generations to come," says David O'Reilly, chief executive officer of Howard Hughes.
Howard Hughes plans to announce builders by the end of this year and to hold a grand opening event for the initial phase in late 2024. The company's stock price opened at $60.14 per on Monday, Oct. 31, down from $87.38 per share a year ago.
— Hayden Spiess
Get more news delivered to your inbox. Subscribe to France Media's e-newsletters.
Click here.