Hyatt Agrees to Acquire Dream Hotel Group for $125M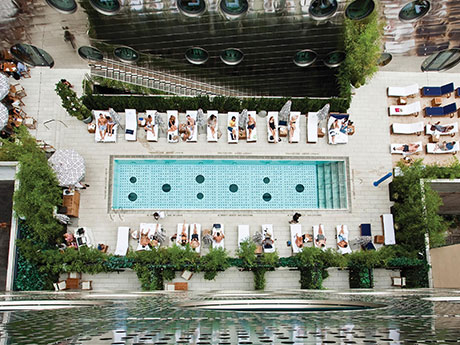 CHICAGO — Chicago-based Hyatt Hotel Corp. (NYSE: H) has agreed to acquire Dream Hotel Group's lifestyle hotel brand and management platform, including the Dream Hotels, The Chatwal Hotels and Unscripted Hotels brands. Upon closing, Hyatt will pay a base purchase price of $125 million, plus up to an additional $175 million over the next six years as new developments open.
The acquisition includes a portfolio of 12 managed or franchised lifestyle hotels, with another 24 signed long-term management agreements for hotels expected to open in the future. The acquisition will add more than 1,700 rooms to Hyatt's lifestyle portfolio and increase Hyatt's room count in New York City by more than 30 percent.
Hyatt says that Dream Hotel Group properties are known for their vibrant dining and nightlife experiences, including restaurants, entertainment venues and exclusive night clubs. The acquisition will extend Hyatt's footprint in markets such as Nashville, Tenn.; Los Angeles; Miami; Durham, N.C.; several locations in New York City; and one in the Catskill Mountains of Upstate New York. Signed contracts include additional destinations such as Las Vegas, the island of Saint Lucia in the Caribbean and Doha, Qatar.
The transaction is expected to close in the coming months, subject to customary closing conditions. Following completion of the acquisition, Hyatt will work to welcome the new properties into the World of Hyatt loyalty program.
"Hyatt has a proven track record of preserving what makes lifestyle hotels special and is the ideal new home for our growing Dream Hotel Group brands," says Sant Singh Chatwal, founder of Dream Hotel Group. Chatwal will continue to own four open and two future hotels that are expected to join the Hyatt portfolio. Dream Hotel Group CEO Jay Stein will join Hyatt as head of Dream Hotels to guide the integration of the Dream brands into the Hyatt portfolio.
Moelis & Co. LLC served as financial advisor to Hyatt, and Latham & Watkins LLP acted as its legal advisor.
As of Sept. 30, Hyatt's portfolio included more than 1,200 hotels and all-inclusive properties in 72 countries across six continents. New York City-based Dream Hotel Group encompasses three business lines: proprietary brands, hotel management and dining and nightlife.
Hyatt's stock price opened at $98.62 per share on Wednesday, Nov. 30, up from $78.77 one year ago.
— Kristin Hiller