In St. Louis' Post-Pandemic Office Market, Quality Is Key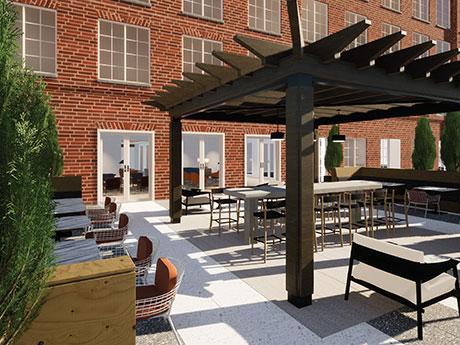 By Artie Kerckhoff and Joshua Allen, CBRE
For businesses, the conversation around the return to office has shifted. Most companies find themselves considering how to entice workers back instead of when to call them back. It's an interesting dynamic, born out of stopgap remote-working policies and catalyzed by an employee's market.
Where does this leave the St. Louis office market? The metro's overall office vacancy rate remained steady at 12.9 percent at the end of the third quarter.
Yet, leasing velocity has shown significant improvement with leases signed at newly constructed buildings like Forsyth Pointe & Commerce Tower in Clayton and [email protected] in Creve Coeur. In addition, a handful of tenants have signed new leases at existing prime Class A, amenity-rich buildings such as Centene Plaza C Building, The Plaza in Clayton and Shaw Park Plaza. 
The reason for this uptick is a trend that's playing out in St. Louis and across the country: an overall flight to quality.
Prime at a premium
At the onset of the pandemic, office users signed short-term extensions and took a wait-and-see approach to get through the immediate crisis. Now, as those extensions expire, they're migrating to prime Class A office space with collaborative, amenity-rich environments to attract employees back to the office. These assets are the clear winner over non-prime Class A space when it comes to post-pandemic office leasing.
Currently, St. Louis has 22.3 million square feet of Class A space between downtown, Mid County and West County. Of that space, only 7.6 percent — or 1.7 million square feet — is considered prime. 
Because of this scarcity, asking rates for prime Class A space can carry a premium of nearly 50 percent depending on the market. For example, in Mid County, which includes downtown Clayton, prime carries an average premium of 26 percent over non-prime. In West County, it carries a 29 percent premium, and downtown has the largest spread with a 42 percent premium.
Despite these premiums, overall vacancy is low among prime Class A assets. In Mid County, non-prime vacancy is 9.5 percent and prime is 6.4 percent. In West County, non-prime is 12.5 percent and prime is 6.4 percent. Downtown represents the largest gap with non-prime at 19.4 percent and prime at 8.8 percent.
Appetite for amenities
As St. Louis businesses return to the office, they're seeking to offer a wide range of amenities and lifestyle-centered designs like green space, collaborative hubs, fitness centers and food and beverage service. Assets with the most amenities stand to lease up quicker than their counterparts as a result.
For example, [email protected] is a five-story office building in Creve Coeur "designed for employees' well-being and connection" and its amenities deliver just that. The building includes a staffed coffee bar, micro-market, training room, fitness center, basketball court, putting green and multiple collaboration areas and huddle rooms. These amenities enticed companies like BSA LifeStructures, Assured Partners and FM Global.
Additionally, Centene Plaza's onsite world-class fitness facilities, outdoor terrace dining and café, and central location in downtown Clayton have attracted big-name tenants like Bank of America, Fifth Third Bank and Rubin Brown. 
Lastly, Forsyth Pointe & Commerce Tower, a 500,000-square-foot project in Clayton, landed Husch Blackwell, UBS and Northern Trust with street-level retail, a one-acre garden terrace and a state-of-the-art fitness facility.
Investing in flight
St. Louis companies' flight to quality is also buoying older assets with owners willing to invest in capital improvements to remain competitive in attracting and retaining tenants. During the pandemic, owners of existing non-prime Class A buildings read the writing on the wall and redesigned the workplace experience by adding amenities. 
In St. Louis' fluid, post-pandemic office environment, these owners stand to be the biggest winners in leasing volume. Meanwhile, owners of new assets purpose-built to meet the new expectations of companies and employees also stand to win deal volume, as well as experience reasonably low vacancy and top-of-market rates for the foreseeable future. 
And while there will always be users in need of traditional office space, owners of those assets will need to differentiate their properties to be competitive in a market with over 28 million square feet of Class A space.
Artie Kerckhoff is a senior vice president and Joshua Allen is a field research manager with CBRE. This article originally appeared in the January 2023 issue of Heartland Real Estate Business magazine. 
Get more news delivered to your inbox. Subscribe to France Media's e-newsletters.
Click here.