InterFace Panel: Labor Issues Hurt Margins, Investor Confidence in Seniors Housing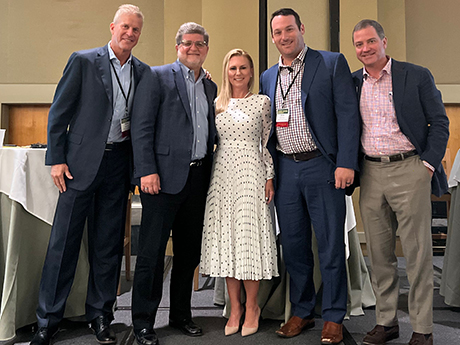 By Taylor Williams
ATLANTA —  The labor shortage that continues to plague the seniors housing industry is taking a toll on the capital markets side of the business as owner-operators find themselves underwriting sharper costs that are ultimately causing profit margins to shrink and spooking some potential investors.
The origin of the dearth of qualified and committed staffers at all levels of seniors housing can largely be attributed to the pandemic. But other macro-level factors — low overall unemployment, stiff competition with hospitality and healthcare users, elevated demand for flexible work routines — are amplifying the problem, even as COVID retreats into the background of everyday life.
According to data obtained by the St. Louis Federal Reserve, since January 2020, some 400,000 nursing home and assisted living employees have left the profession. In addition, a 2021 study by the American Healthcare Association and National Center for Assisted Living revealed that across approximately 14,000 surveyed properties, 99 percent of nursing homes and 96 percent of assisted living facilities reported staffing shortages of varying degrees.
Higher labor costs put pressure on operating costs, which are further strained amid 40-year inflationary highs and the rising costs of capital that said inflation has subsequently prompted. For many owners and operators, expenses are accelerating faster than income and occupancy across their portfolios — a pattern that investors understandably don't like to see.
At the ninth annual InterFace Seniors Housing Southeast conference on Wednesday, Aug. 17, a panel of industry leaders identified labor as the biggest culprit within this dynamic. The quintet of seniors housing veterans spoke to the crowd at the Westin Buckhead Atlanta hotel as part of the "state of the industry" panel. Steve Gilleland, chief investment officer of Senior Living Investment Brokerage (SLIB) moderated the discussion. Seniors Housing Business, a magazine published by France Media, hosted the event in conjunction with the Atlanta-based publisher's InterFace Conference Group.
 In their analysis, the executives shared strategies on rectifying the labor shortage, as well as anecdotal evidence of how their equity partners have reacted to this cost stressor.
"Capital sources are very much aware of how much labor costs are eating into margins, but we can't address it fast enough to satisfy the expectations on returns that a lot of capital partners have," said Sevy Petras, CEO of Priority Life Care, a third-party operator based in Indiana. "We anticipate that it will take another year or two for the industry to catch up with those costs and return to similar margins."
Petras added that her company has gone on the offensive in terms of sourcing and retaining labor, with teams becoming more incentivized to recruit and incorporate more sophisticated technological processes when screening prospects.
"The days of posting and praying are gone," Petras said. "We now view open positions like we view open units, and we've created a marketing plan around filling them the same way we fill residences."
Panelist Jesse Marinko, CEO and founder of Phoenix Senior Living, said that investor profiles and underwriting haven't really changed in response to labor. But the capital markets' overarching response to the shortage — which has essentially been to slow down — has prompted his firm to think differently about the mix of units and services offered at its properties.
"You want to find a narrative that capital sources can buy into," he said. "In that context, we talk a lot about buying above replacement costs, but replacement costs have gone up as margins have gone down. That prevents you from getting past a lot of the gatekeepers on investment committees. So now we're talking about mix changes."
Specifically, Marinko said that the current market conditions favor projects with heavier independent living components relative to assisted living and memory care. As residents in these units tend to, as the name implies, require less assistance, this solution represents a workaround of sorts to the labor issue. Panelist Judd Harper, president of The Arbor Co., which operates about 50 communities nationwide, quickly concurred with Marinko's points.
"Our development partners are moving toward heavier independent living components due to staffing," he said. "In terms of acquisitions, we used to have a ton of turnaround and opportunities that our partners would bring us to manage after acquiring them, and we just don't see much of that anymore."
Panelist Doug Schiffer, president and COO of St. Louis-based Allegro Senior Living, elaborated on this notion by stating that some capital sources are shifting strategies and chasing active adult deals. The elevated interest in active adult relative to traditional types of seniors housing lies in the fact that these properties tend to be age-restricted and cater to a younger segment of the population that doesn't need round-the-clock or semi-regular care.
"These investment committees look at pro formas and the return capabilities, and what they see is margins that are simply much tighter," he said. "Because of that, it often feels as if they're looking for a new industry, and active adult has entered the seniors housing mix because it's much less dependent on human capital. Instead of a staff of dozens and dozens of folks, with active adult you've probably only got seven or eight people working onsite."
At another point in the discussion, Harper shared some of the innovative approaches his firm has taken to the labor crisis, including tying executive bonuses and other incentives to rates of labor retention as opposed to income-driven metrics. Harper also defined the labor shortage as a function of manpower rather than pay rates and budgeting.
"Wage issues have gone up and are somewhat resolved, particularly for our front-line staff, which was something the industry needed and has positively impacted other aspects of the business," Harper said. "So while we don't have the wage battle that we did a year ago, we have a problem with people not showing up for interviews or training after we hire them."
This practice of "ghosting" employers following a verbal commitment is a new development in the ongoing labor struggle, but it's hardly the only variable in the manpower equation, as other panelists pointed out. For example, within the skilled nursing segment of the continuum of care, there are minimum staff-to-resident ratios that must be legally adhered to. And while legal regulations of staff-to-resident numbers may be absent in other segments of care, there are still accepted and established industry standards that, if not met, can lead to serious operational inefficiencies.
In addition, the simple fact that, even with the innovations that have arisen during the pandemic, seniors housing staffers cannot work remotely, and that can be a deal-breaker. This holds especially true with regard to younger members of the labor force who tend to value that piece of a job offer. For these reasons, operators continue to seek employees who are truly passionate about the industry, even at the risk of further complicating their labor situations.
"You have to have a lot of heart to work in this industry," concluded Shiffer. "Whether you work directly with residents onsite or provide guidance to those individuals, these are tough jobs. And this is the No. 1 thing we're dealing with right now."
As challenging as the labor market currently is in seniors housing, the practices that owners and operators have created and adopted in response should ultimately translate to more operational efficiency in the future, the panel agreed.
"Times like these force you to question how you do business," Marinko said. "This is a long-term problem that doesn't have a quick fix. Our HR department has become very analytical about the numbers of calls, candidates and resumés we're getting. The process of how we drive these candidates through has become a science that helps us better understand resource allocation."
Get more news delivered to your inbox. Subscribe to France Media's e-newsletters.
Click here.