JLL Arranges $389.2M Refinancing of One Wilshire Data Center in Downtown Los Angeles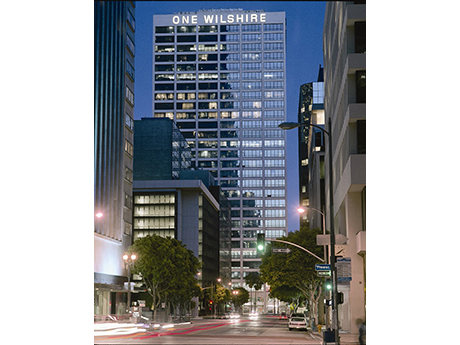 LOS ANGELES — JLL has arranged the $389.2 million refinancing of One Wilshire, a multi-tenant data center located at 624 S. Grand Ave. in downtown Los Angeles. The borrower is GI Partners, an alternative investment firm based in San Francisco.
The 30-story, 661,553-square-foot data center features five separate utility power risers and 13 onsite generators with fuel storage for 24 hours of operation, along with separate and redundant data risers. The property also features office space, a multi-tower antenna array and fiber connectivity to the rooftop.
Kevin MacKenzie, Brian Torp, Jake Wagner, Samuel Godfrey and Darren Eades of JLL arranged the 10-year, fixed-rate, non-recourse, interest-only loan through Goldman Sachs.
"As one of the largest internet exchanges in the world, One Wilshire is truly a best-in-class asset recognized as the premier telecommunications hub of the Western United States," says MacKenzie. "GI Partners has done an excellent job managing the asset to maximize utilization and creating significant value."
The demand for fast, secure and reliable data storage and delivery is at an all-time high and will continue to escalate for the foreseeable future thanks to the widespread appeal of content streaming services, social media and virtual connectivity.
As a data center market, Los Angeles is one of the most in-demand metros thanks to its population and concentration of tech, media, entertainment and financial services industries, among others. According to JLL Research's most recent Data Center Outlook, the Los Angeles data center market absorbed 7 megawatts (MW) of space during the first half of 2021, a 250 percent increase over the 2 MW absorption levels in 2020.
One Wilshire was 89 percent leased to major interexchange and local exchange carriers, financial services companies, data communication companies and Internet service providers at the time of the loan closing.
Hines has managed One Wilshire since 2007. The Houston-based firm sold the asset in 2013 to GI Partners for $437.5 million. The former office building opened in 1966 and was renovated in 1992 and 2001. According to the property website, One Wilshire is one of the top three telecom centers in the world and is a primary terminus for fiber-optic cable routes between Asia and North America.
GI Partners has raised over $29 billion in capital from institutional investors around the world to invest in private equity, real estate and data infrastructure strategies. The firm primarily focuses on investing in and managing technology-advantaged real estate, including data centers. Founded in 2001, GI Partners has offices in San Francisco; Chicago; New York; Greenwich, Conn.; and Scottsdale, Ariz.
— John Nelson
Get more news delivered to your inbox. Subscribe to France Media's e-newsletters.
Click here.