JRK Property Holdings Initiates Newly Closed $1B Multifamily Fund with $168.5M in Acquisitions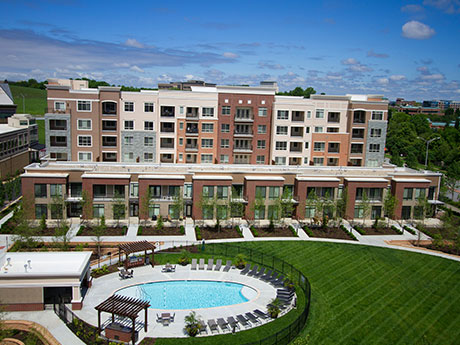 LEAWOOD, KAN. AND SARASOTA, FLA. – JRK Property Holdings has acquired Residences at Park Place, a 258-unit mid-rise apartment and townhome community in the Kansas City suburb of Leawood, from VanTrust Real Estate. JRK is also under contract to purchase a luxury high-rise community located in downtown Sarasota from a separate seller. The total acquisition price for both properties $168.5 million.
Los Angeles-based JRK is acquiring the properties through its newest multifamily value-add fund: the $1 billion JRK Platform V, which targets multifamily investments built after 1990. JRK presently owns and operates $7 billion in multifamily assets through its predecessor funds.
Built in phases between 2014 and 2019 by the seller, Residences at Park Place is the residential component of Park Place Village, a mixed-use development offering retail, restaurants and nearly 500,000 square feet of office space. The property comprises three mid-rise apartment buildings offering one-, two- and three-bedroom apartment homes and a separate four-story residential building offering one- and two-bedroom loft units.
Community amenities include a saltwater pool with grilling area, media and game rooms, coworking space, two 24-hour fitness facilities and customized concierge services. The property was 98 percent leased at closing.
"The dramatic rise in interest rates has created a negative leverage environment, which has made it difficult to transact over the past year," says James Broyer, president of investments for JRK. "We have remained patient and disciplined during this period of market dislocation. As we begin to see the headwinds subside, we are able to acquire these outstanding assets with positive leverage to borrowing costs resulting in attractive yield for our investors from day one."
JRK leveraged the acquisition of Residences at Park Place with long-term financing through Fannie Mae at a fixed rate of 4.78 percent. Annie Rice of Jones Lang LaSalle Capital Markets' Los Angeles office arranged the financing. David Gaines, Jim Gates and Adam Tilton of Jones Lang LaSalle in the firm's Chicago and Kansas City offices represented the seller in the transaction.
"We're thrilled to have begun deployment of our latest fund with two institutional-quality assets located in preeminent locations within rapidly growing markets for north of a 5.5 percent capitalization rate," says Daniel Lippman, president of JRK.
— Kari Lloyd