Key Trends That Will Reshape Healthcare Design in 2023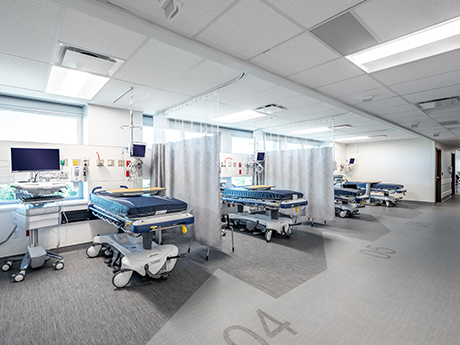 By Julie Frazier, AIA, principal, Perkins & Will
The past few years have shown that hospitals need to be more flexible and resilient to prepare for any situation, in addition to being calm, healing places for patients. As the healthcare industry continues to evolve, architects and designers are becoming increasingly responsible for responding to the ever-changing needs of the industry and rethinking how hospitals are designed.
In 2023, key trends that will reshape healthcare include the prioritization of patient and caregiver wellness, sustainability-driven design and improvements in adaptability and resilience.
Fostering Patient, Caregiver Wellness
A hospital consists of many moving parts, and every department plays an important role in keeping the facility running efficiently to provide quality care. Implementing thoughtful design practices that improve mood and reduce stress can lead to better care, faster recovery and shorter stays for patients.
Utilizing a restorative design approach can transform a clinical space from an institutional-like setting to a healing environment. Elements such as natural daylight, softer lighting, Zen spaces and gardens will continue to rise in popularity as healthcare professionals and operators introduce more wellness-based design strategies to enhance the clinical experience.
One of the main goals in patient wellness is to minimize sensory stressors and help patients feel at peace. For example, Texas Orthopedic Hospital in Houston was recently completed using innovative strategies such as access to natural light in clinical spaces such as the prep/post anesthesia care units (PACU) in a surgery department. A joint venture between HCA Houston Healthcare and Fondren Orthopedic Group is developing Texas Orthopedic Hospital.
Natural light has not only been proven to reduce anxiety in patients, but also to have a calming effect on staff members as well. Architects and designers must continue to study patient experience in order to better understand practices like this one that can make hospital visits less unnerving and more comfortable for everyone involved.
Staff members need to be prioritized in healthcare design, as they are essential to the functionality and efficiency of hospitals. Designing rooms where staffers can retreat during the day enables them to step away from the hustle of the hospital and take an emotional and physical pause.
Soft color palettes, comfortable chairs and quality acoustics allow for moments of relaxations, leaving staff members feeling recharged and ready to provide exceptional care. Incorporating these elements will not only attract new employees, but also play a big role in staff retention.
In 2023, we'll likely see an emphasis on equitable healthcare for all — extending patient and staff wellness beyond regular hospital operations. In certain states such as Texas, we are seeing many facilities allow for better access via public transportation as well as provide bilingual services and a myriad of other strategies that support those who frequent clinical spaces.
There has also been a shift in the way the spaces that house these services are designed. We are seeing more visioning sessions conducted as community gathering meetings to understand the needs of the people that the facilities serve.
The Importance of Adaptability, Resilience
Healthcare facilities need spaces that can be adapted effectively and efficiently in high-priority situations and returned to normal shortly after. With this in mind, healthcare operators should future-proof facilities for unpredictable circumstances such as global illnesses or extreme weather conditions. Agile hospitals will no longer be luxuries, but rather top priorities when designing healthcare facilities, prompting a new status quo in the sector.
The past few years have proven that flexibility — as defined by creating seamless transitions from one use to the next — is optimal in hospital operations. Strategies such as installing moveable walls that can turn smaller rooms into bigger ones, providing additional treatment areas in emergency department observation units and turning ambulance bays into educational spaces are a few ways that adaptable design supports various hospital operations. Implementing these flexible design elements will enable hospitals to transform spaces to fit various needs.
Considering impacts from beyond a building level, using strategies such as insulating pipes and creating redundant systems are crucial in the event that the electrical grid is overwhelmed and shuts down. Implementing microgrids and using alternative sustainable energy sources are two methods that mitigate risk for necessary operations that are dependent on electrical sources. 
Embracing Sustainability-Driven Design
Hospitals are active facilities with robust systems that operate day and night, 24/7. In an effort to address climate change and reduce energy consumption, it is essential that these facilities incorporate green design elements and sustainable concepts within their budgets, without compromising quality of service.
While costly, the amount of energy saved ultimately tends to offset the initial expenses that go into designing a green hospital. In 2023, sustainable design strategies will be more important than ever as climate change is addressed across the globe.
Healthcare facilities should help people and the planet, as they consume more power and resources than commercial buildings. Utilizing renewable energy sources and green power is an essential practice in reducing energy use in healthcare facilities, as lighting, heating and water make up a majority of the overall consumption. Hospitals also contribute a great deal of waste with the disposal of materials containing acid gases and metals. By sourcing local and regional sustainable materials, hospitals can reduce emissions and air pollutants.
From energy use and occupant health to waste management, designing healthcare facilities in 2023 will involve a commitment to sustainability and a healthier future. Trends such as sustainability-driven design, improvements in adaptability and resilience and the prioritization of patient and staff wellness will continue to be important in 2023 and beyond. It is essential for healthcare facilities to adapt to new trends so that they can continue to serve as beacons of hope to their communities and remain places that people turn to for quality care.
— Perkins & Will is a Chicago-based design and planning firm that is active in Texas.
Get more news delivered to your inbox. Subscribe to France Media's e-newsletters.
Click here.