Las Vegas' Office Market is on the Road to Quality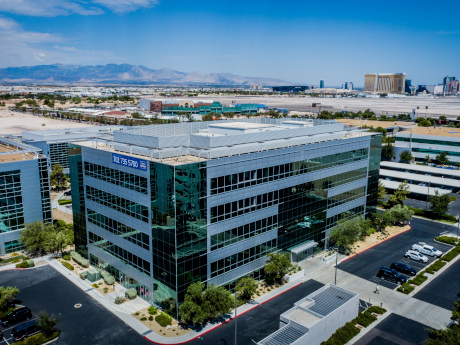 By Patti Dillon, SIOR, Senior Vice President, Colliers
While the key measures of the Southern Nevada economy have improved since the COVID lockdowns, some have improved more than others. The future of the office market is strong, but it will be weighted toward newer Class A mixed-use office assets. Employers are feeling the pressure to attract and retain the best talent in a tight labor market.
There are plenty of vacant positions. However, available and willing workers are still scarce, which is driving the need for office locations of employers to be more inviting. According to DETR, Southern Nevada's office job market added 24,000 jobs between May 2021 and May 2022. Unemployment in the Las Vegas-Paradise MSA was 5.2 percent in May 2022. Over the past 12 months, total employment in Southern Nevada increased by 87,100 jobs, a 3 percent increase.
After experiencing a significant expansion last quarter, Southern Nevada's office market cooled at midyear. Net absorption remained positive, at 45,443 square feet, but did not keep pace with the 129,272 square feet of new development. This lifted vacancy to 12.7 percent this quarter from 12.5 percent one quarter ago. Asking rental rates increased to $2.37 per square foot on a full-service basis.
While the hybrid workplace will continue to be an option for some sectors, as local companies expand their workforce and are forced to pay higher wages and offer more competitive benefits packages, they want their employees together in the office. Therefore, employers are seeking office environments where employees want to be. That typically means modern amenities, natural light and high-quality buildings with common communal areas where their employees can interact with one another. They are willing to pay a premium to be in these locations to make their employees happy. Walkability is becoming the number one key factor in corporate location decisions.
The weighted average asking rental rate for office space in Southern Nevada was $2.37 per square foot FSG this quarter, $0.14 higher than one year ago. This quarter's increase brought asking rents to their highest level yet recorded. The Southwest was the Valley's most expensive submarket, with an average asking rate of $2.74 per square foot. The least expensive submarket was West Central.
The industries most active in occupying office space over the past four quarters in Southern Nevada were involved in amusement and recreation (16.4 percent), government (16.4 percent) and professional and business services (15.7 percent). Local companies took 37.2 percent of the leased square footage we tracked over the past four quarters. Companies headquartered in the Southeast states took 17.8 percent of the space occupied, followed by the Mid-Atlantic at 13.2 percent and Northeast at 12.8 percent.
To start the third quarter of 2022, office vacancy increased slightly to 12.7 percent, from last quarter's 12.5 percent, the lowest rate Southern Nevada's office market had seen since the Great Recession. Office vacancy was 1.6 points lower than one year ago.
Companies are looking for amenity-rich environments for their employees that offer plenty of retail directly below or within a short distance from their office space. Freeway access and location centrality are also crucial factors in these corporate decisions. Locations that are equidistant from all submarkets are more potent attractors. We are still seeing a definite trend of flight to quality. Tenant retention has waned in older locations, with companies seeking state-of-the-art connectivity, flexibility, efficiency, contemporary "healthy" building designs, cultural activities, high-quality entertainment and locations that provide a "live, work, play" balance.
Older functionally obsolete buildings are becoming less desirable, facing significantly high deferred capital expenditures and are hard-pressed to compete with new product. The cost to upgrade these properties by modernizing elevators, upgrading building systems, bringing in new data infrastructure, upgrading the building facades and wayfinding to compete forces them to push lease rates and they still struggle to compete. It makes the rent differential slimmer and worth the move based on the long-term effects on employee retention. Larger, newly developed mixed-use projects in the higher demand areas do well in this climate and have experienced a higher absorption rate than their competitors.
Closing mid-year 2022, office investments had a sales volume of $358.7 million in 45 sales totaling 1,164,204 square feet with an average sales price of $308.15 per square foot. The average cap rate was 7.2 percent. The second quarter of 2022 was less active than the first quarter in investment sales but was still strong. On the other hand, user sales improved quarter over quarter with a sales volume of $74.1 million in 43 sales totaling 279,120 square feet and an average sales price of $265.61. User sales in the second quarter represented a shift to smaller office buildings.
Southern Nevada's office market likely will end 2022 with strong net absorption but increased vacancy. The Valley's office inventory is set to expand by 382,109 square feet. While this space is 41 percent pre-leased, representing future net absorption, it will add as much as 225,000 square feet of vacant space to the market.
Get more news delivered to your inbox. Subscribe to France Media's e-newsletters.
Click here.