Lee & Associates Maintains Expansion Strategy Despite Choppy Economic Waters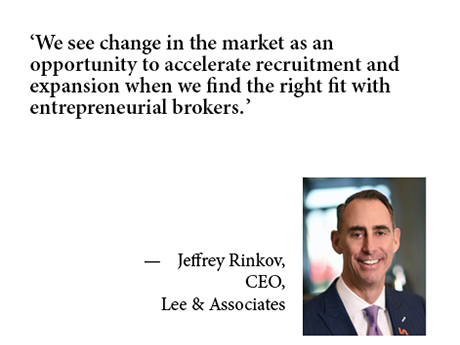 Against the backdrop of higher interest rates and the collapse of commercial real estate investment transactions, large brokerages have begun to reduce staff and other expenses to weather growing uncertainty over property values. But executives at Lee & Associates Commercial Real Estate Services consider it an ideal environment to continue an expansion that has added more than ten new locations over the last few years.
Earlier this month, Lee & Associates announced the opening of an office in Baton Rouge, La. In November, they opened an office in Calgary, Alberta. In the same month, a satellite office in Nashville, Tenn. transitioned to a freestanding office, a designation that provides brokers in the office with the opportunity to fully benefit from the Lee & Associates capital structure — namely, to participate in funding the brokerage's future growth and reaping the potential rewards.
Those additions followed new office expansions in downtown Los Angeles, San Francisco and Omaha, Neb., earlier in the year. The Southern California-based brokerage anticipates announcing two more openings in early 2023, eventually increasing its footprint to around 90 locations from more than 70 today, says Jeffrey Rinkov, CEO of Lee & Associates.
"We see some of our competitors cutting headcount and resources — and possibly physical locations. We're going in the opposite direction," he declares. "I would say that our expansion pipeline is larger than it ever has been — we still have 15 or so markets in the United States and Canada that we are looking to add."
Internal Financing
Rather than focusing on trends or a market's strengths, weaknesses or size, Lee & Associates' expansion strategy is based on finding the right people and satisfying the needs of its clients, he adds. And while the company is adding brand new markets, in some cases it is increasing its presence in cities where it already operates.
Key to the approach is the firm's expansion funds, in which principal brokers across the Lee & Associates company have the option to invest. The company closed its third such multimillion-dollar fund in the first quarter of 2022.
"All of the capital that fuels our expansion comes from internal sources, and we've been very good about deploying it efficiently," Rinkov points out. "The structure sends a powerful message that not only are our brokers committed to expanding, but that we also have the capital to deploy for expansion. As a result, we do not have any debt at the corporate or office level."
The approach is part and parcel of a capital structure that sets the brokerage apart from other commercial real estate service providers, he says. While the firm's capital may appear modest compared to the large brokerages, it has the flexibility to seize opportunities in a slowing market. Indeed, this may be the most opportune time to expand in the last five to seven years, he adds.
"We may be looking toward a recession and lower transactions volumes, but our capital is very nimble and absolutely allows us to be aggressive when others are retreating," Rinkov notes. "We see change in the market as an opportunity to accelerate recruitment and expansion when we find the right fit with entrepreneurial brokers."
Bottom-Up Strategy
Lee & Associates' expansion strategy is focused on a couple of goals. One is to provide brokers with the tools, staffing, education and other resources to optimize client services. Another is to provide brokers with a clear path to becoming Lee & Associates shareholders so that they can participate in the growth and profitability of their local office, as well as the overall firm, Rinkov says.
The latter goal is aligned with the primary aim of any other corporation — particularly publicly traded competitors — which is to benefit shareholders, he acknowledges. But it just so happens that in the case of Lee & Associates, the shareholders are within the company rather than on Wall Street.
"We've approached our structure from the perspective of, 'How can we create an ecosystem that offers best-in-class client experiences but has different and better compensation models, while giving our people opportunities to build equity and wealth?" Rinkov says. "Within our industry, I don't think our model of ownership in the company is understood very well."
The differentiation extends to the leadership structure, which Rinkov describes as an inverted pyramid. As CEO, he has a vision of what the company wants to accomplish. But ultimately leaders of individual offices determine the overarching goals.
"Being a top-down company is really the antithesis of what Lee & Associates is," he concludes. "Unlike a traditional corporation, we are focused on entrepreneurial local market leadership and ownership, and I think that promotes collaboration over competition throughout the company as a whole."
— By Joe Gose. Lee & Associates is a content partner of REBusinessOnline. For more articles from and news about Lee & Associates, click here.