Logistics, Life Sciences at Center of Philadelphia's New, Transformational Development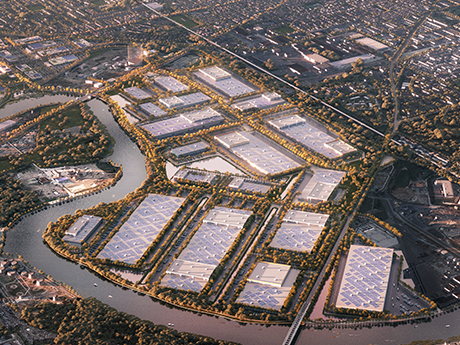 By Andrew Chused, founding partner, head of investments, Hilco Redevelopment Partners
From the nation's beginning to modern times, Philadelphia has been a bellwether city with a proud legacy of leading the nation to many of its firsts, including the country's inaugural medical school, library, hospital, business school and stock exchange.
In this city of firsts, Hilco Redevelopment Partners (HRP) is unlocking and reinventing a large portion of the city: the former 1,300-acre Philadelphia Energy Solutions (PES) site on the city's southwest side.
Not only is the redevelopment of this site transforming a relic of the city's industrial age into a new, sustainable economy for the first time, but the project will also transform the way logistics and life sciences companies grow in southwest Philadelphia.
An Economic Hub
The site, aptly named The Bellwether District, represents a new ecosystem for a variety of tenants, including logistics, e-commerce and life sciences. Located in the shadows of University City and along the Schuylkill River, the project will create over 32,000 jobs and serve as an economic catalyst that drives growth to the city and region for generations to come.
Upon its acquisition of the property in June of 2020, HRP quickly began the decommissioning, abatement and demolition of the 150-year-old oil refinery. Today, approximately 80 percent of the site has been abated and demolished.
This significant progress will enable HRP to begin the earthwork at the site at the beginning of 2023, making way for two state-of-the-art warehouses of approximately 300,000 and 700,000 square feet, as well as two life sciences buildings totaling roughly 300,000 square feet.
The Bellwether District's infill location near the heart of Philadelphia — including Center City, University City, the Navy Yard, Philaport and Philadelphia International Airport — provides an unprecedented opportunity for tenants of various sizes and industries to locate to a site that's been inaccessible for over a century.
The enormous scale of the site, all within the city limits, also allows the development team to attract an array of tenants that want to benefit from a strong labor pool, regional connectivity and advantageous tax benefits — all while having the flexibility to adapt as their businesses change.
Life Sciences Hub 
Forward-thinking since its founding, Philadelphia has long been home to world-class research, development and medical institutions, as well as leading centers of higher education.
These sectors have powered significant economic growth, and the City of Philadelphia is now nationally recognized as a Top 5 life sciences cluster in the United States, according to a recent report from JLL. This growth has generated unprecedented demand for lab space throughout Philadelphia. Yet even with 1 million square feet in development, supply is still limited relative to demand.
The Bellwether District will be able to meet those needs by offering both speculative and build-to-suit facilities. The first two buildings set for groundbreaking next year will each have more than 150,000 square feet of space and will be designed to accommodate biomanufacturing/Good Manufacturing Practice (GMP) users. The single-story design of the first two purpose-built buildings and corresponding utility infrastructure should attract a wide array of GMP users, as space of this nature has been historically uncommon in Philadelphia.
The Bellwether District's proximity to Philadelphia International Airport and University City means companies can operate their research, development and manufacturing centers near key transit hubs and talent pools. It also means that by remaining within Philadelphia, companies can consolidate operations locally and take advantage of what the city has to offer.
Designed for Logistics
E-commerce's continued proliferation into our everyday lives has resulted in strong demand for distribution facilities and has left warehouse availability at all-time lows across the United States. Philadelphia is no exception; the vacancy rate of bulk industrial space in the metro area was 2.4 percent at the end of the third quarter, according to Cushman & Wakefield.
The boom in online retailing has fueled this demand. The U.S. Census Bureau reports that online retail accounted for 14.5 percent of total sales in the second quarter of 2022 and could grow to 30 percent by 2025. Consequently, CBRE estimates that 1.3 billion square feet of new distribution space will be needed nationwide to meet that demand. As the time from placing an online order to a customer receiving it reduces from days to hours, being near dense populations, both locally and regionally, will be critical to meeting the demands of the future consumer.
With most available industrial land in Philadelphia located on the northeast side, there is an incentive for logistics firms to choose suburban locations. This is because these facilities in Delaware County or Southern New Jersey may actually be closer to Philadelphia's Center City District than northeastern Philadelphia.
The Bellwether District's location changes this calculus for firms via its proximity just a few miles from Philadelphia's Center City District and its nearly 1.6 million consumers. In addition, tenants can reach a third of the U.S. population within eight hours of driving from the site.
Rarely does such a huge piece of land strategically located to Center City with access to water, rail, major highways and air transport become available. These attributes ensure appeal to a wide variety of users, including food, e-commerce and logistics.
Opportunity Abounds
The repurposing of a large-scale petroleum refinery is inherently an exercise in sustainability. Philadelphia carbon emissions were reduced by 16 percent with the end of refining at the site, and 99 percent of the legacy petroleum has been removed.
The Bellwether District will also incorporate other forward-thinking initiatives. In addition to raising the site out of the floodplain, thousands of trees will be planted. A microgrid will also be constructed, allowing tenants to secure the power they need while also diversifying the energy sources to include renewables, thus enabling companies to further reduce their carbon emissions.
With the sheer scope of the project, The Bellwether District affords future tenants the ability to customize their buildings and site layouts without the normal restraints of traditional real estate opportunities.
— Hilco Redevelopment Partners is a vertically integrated real estate investment and redevelopment company that reimagines, remediates, and redevelops obsolete industrial sites across the United States.
Get more news delivered to your inbox. Subscribe to France Media's e-newsletters.
Click here.