Louisville's Bulk Industrial Development Pipeline Surges in 2022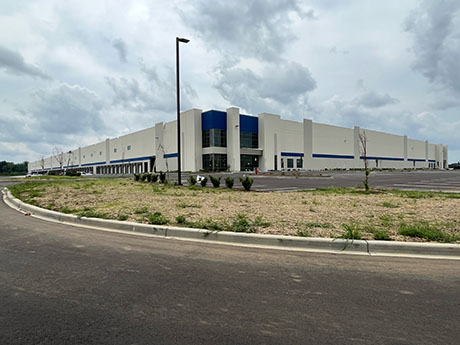 With vacancy in Louisville's industrial bulk market sitting at 1.7 percent, an increase of supply is sorely needed. Fortunately, plenty is on the way. At the halfway point of 2022, over 9.5 million square feet of bulk inventory is under construction, with approximately 4.8 million square feet slated for completion by year-end.
Due to the demand for big box distribution warehouse space, which skyrocketed due to COVID-19 and the increase of online ordering and e-commerce fulfillment, absorption (12.9 million square feet) outpaced construction (9.9 million square feet) to the tune of 3 million square feet, and depleted vacancies in the process.
Average asking rent increased from $4.79 per square foot to $5.26 in the second quarter and is up 26.7 percent from $4.15 at this time last year. This can mainly be attributed to overall increase in demand and increased construction costs.
With nearly 5 million square feet of new speculative product hitting the market by year-end, coupled with recent completions of approximately 3 million square feet and 1.6 million square feet of sublease space expected to hit the market in the near future, deal rates are expected to steady and could potentially decrease as competition among landlords increases over the next few quarters.
Several prominent developers responded to the spike in demand in 2020 and 2021 where leasing activity topped 14.8 million square feet. The majority of new speculative construction is occurring in the typical hot spots — Southern Indiana/River Ridge (3.3 million square feet) and Bullitt County (3.2 million square feet). River Ridge has been attractive due to its ease of entry, but a recent moratorium on speculative development will certainly slow new construction moving forward. Bullitt County development has been bolstered since the opening of the new I-65 interchange between Highways 480 and 245, despite natural gas still not being available for new development.
VanTrust Real Estate is underway with construction of a 1 million-square-foot building in River Ridge that will be complete in the second quarter of 2023. EQT Exeter recently completed a 563,032-square-foot building in River Ridge that will be purchased by STAG Industrial. Additionally, America Place will soon complete construction on two new spec buildings within River Ridge that will add a total of 570,000 square feet by the end of 2022.
EQT Exeter is also nearing completion of its Derby Logistics development, a two-building, 1.5 million-square-foot project in Bullitt County, about 974,050 square feet of which is preleased to Arvato. Core5 Industrial Partners will deliver two buildings totaling 863,324 square feet in Bullitt County around the end of the year.
Nearing completion in Louisville's South submarket are IDI's 499,275-square-foot building and Dermody Properties' two buildings totaling 412,160 square feet within Renaissance Business Park, 208,300 square feet of which is preleased to Fisher & Paykel. Other notable development underway includes Flint's two-building project on 100 acres in Shelby County that will deliver more than 1.5 million square feet in 2023 and Browning's 711,975-square-foot building at Velocity 65 Trade Center that will add to Bullitt County's 19 million square feet of bulk inventory in 2023.
Weiland North American Recycling broke ground on its $100 million, 79-acre facility in Shelby County totaling 100,000 square feet. The facility will be used to melt copper and copper-alloy for recycling. The investment is expected to bring 75 high-paying jobs to the area and be operational by late 2023.
Leasing activity in the bulk sector has remained strong through the first half of 2022 with over 3.9 million square feet of activity, up from 3.5 million square feet in second-quarter 2021. Over the past five years, Louisville has averaged 5.3 million square feet of bulk leasing volume per year, and the trend should continue into the first half of 2023. Build-to-suit development totaling 1 million square feet will help positive absorption remain strong as it has over the past seven years.
Bullitt County has seen the most leasing activity (1.4 million square feet) year-to-date, with the South submarket at nearly 1.1 million square feet thanks to five new transactions so far in 2022. Given the construction completions pending in all submarkets, prospective tenants should have plenty of options in the area to choose from.
Investment traffic has slowed through the first half of 2022 as interest rates and inflation concerns have caused buyers to reassess valuations, cap rates and long-term cost of capital. In fact, a few projects that were on the market at the beginning of the year have since been taken off the market, and a couple that were previously under contract did not transfer due to volatility in the capital markets.
Lack of available land sites persists as well. Almost all of the logical sites have been consumed and developed over the past four years by active bulk developers. Land aggregation, costs and regulatory issues around zoning and developing land for industrial use will continue to rise. Long-term, tenants may have fewer choices as they attempt to right-size their Louisville operations.
Now that Louisville's bulk market is ripe with options and opportunity, the wave of demand should continue.
— By Greg Charmoli, Senior Director, Cushman & Wakefield | Commercial Kentucky. This article was originally published in the September 2022 issue of Southeast Real Estate Business.
Get more news delivered to your inbox. Subscribe to France Media's e-newsletters.
Click here.