Major Tech Acquisitions, Expansions Fuel Growth Throughout Allen, Texas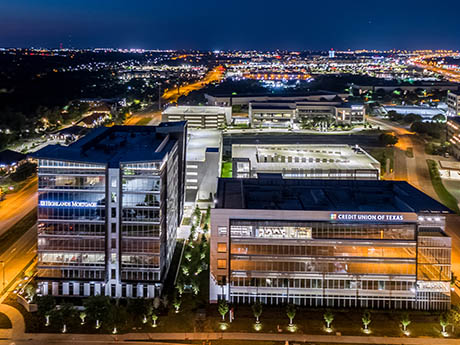 By The Allen Economic Development Corp.
Austin is often in the spotlight as one of the country's top tech hubs, but Allen, a growing suburb located north of Dallas, has emerged as a mini tech hub in its own right.
Most recently, the Allen Economic Development Corp. (AEDC) announced that Pushpay, a provider of payments and engagement solutions for faith-based and nonprofit businesses, has signed a lease at One Bethany West as the company looks to expand its presence in North Texas. Pushpay is one of several companies that has in recent years discovered that Allen has the right combination of qualities and amenities to support tech companies seeking a new home.
Pushpay is one of several companies that has in recent years discovered that Allen has the right combination of qualities and amenities to support tech companies seeking a new home.
Pushpay will occupy 10,000 square feet of office space in the 17-acre Watters Creek campus, which will be accessible to its employees in the metroplex, many of which include associates from its subsidiary, Resi Media.
"Pushpay and Resi are the perfect additions to the growing roster of tech-focused companies in Allen," says David Ellis, assistant director at AEDC. "Our highly skilled workforce, established and dependable infrastructure and high quality of life all provide companies with the type of amenities that employers are eager to surround themselves with."
Pushpay CEO Molly Matthews agrees.
"Allen offered the right location to support our future growth initiatives and provides employees in the area a higher-quality office space," says Matthews. "Direct access to shopping and dining, and the central location within the Dallas-Fort Worth (DFW) metroplex make this a vibrant location for our team as we continue to expand."
Additional commercial projects supported by AEDC this year include the Allen Tech Hub, a 105,000-square-foot Class A office building in the Watters Creek District that opened this year.
Frank Poradish, founder of Brass Roots Technologies, said in 2021 that Allen was the right city to move his growing company from nearby Plano.
"Allen is a great place for companies of any size," Poradish said at the time. "I can't say enough good things about how helpful Allen was when we were relocating — helping us meet people, make connections and just being Texas-friendly."
Brass Roots Technologies, which specializes in engineering design of advanced optics and electronics for high-performance display and imaging systems, was acquired by Christie Digital Systems USA in mid-May. Christie is a global visual and audio technologies company that helped revolutionize the movie industry with digital cinema projection. 
In announcing the acquisition, Christie noted that Brass Roots Technologies' assets will help diversify and advance Christie's engineering capabilities.
Poradish says the company will continue operating under the Christie name from its Allen headquarters, noting the area's available talent pool in the process.
"Christie is a large company with offices all over the world," says Poradish. "Us being here in Allen, near Texas Instruments, where some of the core technology comes from, is a good thing. If you want to find people with a particular set of skills, they exist here in North Texas."
AEDC's research shows that tech employees now represent 15.3 percent of the city's workforce, well above the national proportion of 10.8 percent. In addition, Allen's total technology jobs have increased by 7.3 percent in the past 10 years, compared to a national increase of 1.8 percent.
The Brass Roots Technologies deal is the latest in a string of high-profile acquisitions of Allen companies that have either been announced or executed in the past few years. 
In March 2022, streaming giant Netflix acquired independent game developer Boss Fight Entertainment to help expand its gaming catalogue. Netflix said that Boss Fight Entertainment would continue operating out of its Allen headquarters while also maintaining studios in Austin and Seattle.
Likewise, Motorola Solutions purchased WatchGuard Inc., a locally based provider of mobile video solutions for law enforcement, in 2019. The acquisition allowed Motorola to expand its video and video analytics portfolio. Another Allen company, Forte Payment Systems, was acquired in 2018 by CSG Systems to advance CSG's portfolio of public cloud offerings.
Additionally, Refinitiv, one of the largest providers of financial markets data and infrastructure, acquired GIACT, an industry leader in payments and identity fraud protection, in 2020. Refinitiv employs more than 100 people in the Allen area. GIACT established the business at the outset in Allen, and around 70 percent of the employees live in the city.
Refinitiv cited the quality talent for sales, technology and engineering positions as a major reason behind keeping its office in Allen. Proximity to DFW International Airport, quality schools and clients also played a role.
While area employers attract existing tech talent, the Allen Independent School District (ISD) is fostering the technology workers of the future. The Allen ISD STEAM Center, which opened in 2019, serves 17,000 to 18,000 students in grades pre-K through 12 each year, providing instruction and experiences in the science, technology, engineering, arts and mathematics disciplines.
Larry Labue, executive director of the STEAM Center, says that these disciplines were the original focus for the center, but that arts were added to the concept to create the current acronym.
"Most people don't think about the arts with STEM, but when you're thinking about the engineering design process and all the creative things that happen within STEM, it made complete sense to add 'arts' to the name," Labue says.
The STEAM Center also serves as a destination for elementary and middle school experiences, designed with the intention of providing a foundational system to promote curiosity, cultivate future in-demand skills and prepare students to succeed in STEAM-related areas.
"We're constantly looking to improve our student experience," says Daniel Soliz, director of Allen ISD student services. "This comprehensive approach will help us embed those experiences early."
The school district also boasts a number of partnerships with industry leaders in robotics and computer science. Soliz said all students have the opportunity to benefit from these partnerships and programs due to the district's structure.
"There's so much ownership at every level for every student because we are a one-high-school town," he says. "So we know that ultimately, every kid in our district is going to land at Allen High School." 
"They may go to one of our 18 elementary schools or one of our three middle schools, but at the end of day, they're all Allen Eagles," he continues. "And we invest greatly to make sure we are maximizing opportunities and positive impacts on those students."
With burgeoning talent being fostered through the Allen ISD and a setting filled with attractive quality-of-life features, a prolific existing talent pool and easy access to airports, there is no doubt Allen will continue to attract tech companies that seek the right spot for their businesses to thrive. ν