McHugh Construction Breaks Ground on FlyOver Flying Ride Attraction at Chicago's Navy Pier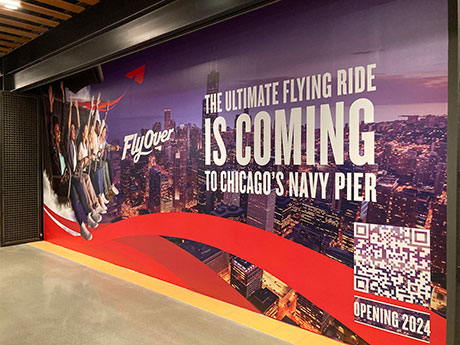 CHICAGO — McHugh Construction has broken ground on a 48,000-square-foot space that will house FlyOver, a new flying ride attraction at Chicago's Navy Pier. Expected to open in spring 2024, FlyOver replaces Navy Pier's longtime IMAX theater, located near the Centennial Wheel on the west end of the pier. The attraction will provide guests with the feeling of flight as they hang suspended from moving seats with their feet dangling below.
The ride will also feature films projected on a 65-foot wrap-around screen that will showcase Chicago as well as iconic landscapes from around the globe. The attraction will provide a multi-sensory experience, complete with mist, wind and scents. FlyOver, from global attractions and hospitality company Pursuit, will be the first ride of its kind in Chicago. The experience will be similar to FlyOver attractions in Las Vegas, Canada and Iceland. Chicago-based Epstein is the architect. Project costs are estimated at $13 million.