Metro Boise's Population Growth Spurs Low Office Vacancy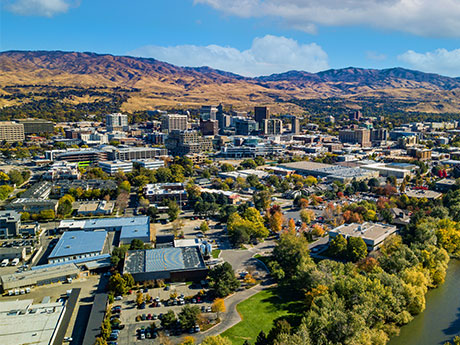 By Karena Gilbert, Office & Investment Associate, Colliers
With a population of a little more than 795,000, the Boise metro area has consistently ranked as one of the fastest-growing places in the nation. Ada and Canyon counties saw a population increase of 7.8 percent from 2020 to 2022. This growth has brought both business and talent to the Boise area and around the state. In a city already ripe with highly skilled, educated and community-minded people, the influx of more talent helped stimulate the growth of local and newly planted companies. Unemployment was 2.4 percent in June 2022, its lowest since May 2018. We are once again seeing companies that have to work to attract and retain employees in this growing market. 
Boise office tenants have returned to work. There is a degree of remote work, along with the adoption of hybrid work, as many employers and employees are unsure how many days per week anyone will be required in the office. There is a strong desire to have employees back to work as it fuels collaboration, mentorship and training. Companies that had thought about reducing their footprint are now reconsidering and finding value in having a collaborative environment. Boise has smaller office users on average, with 75 percent of leased office space under 4,000 square feet.
The parking garages have also made a full recovery since the pandemic began, measured by revenue and visit count. Parking in downtown Boise went from a waitlist in January 2020 to nearly vacant during the pandemic and now the waitlists have returned. Downtown Boise will add 2,100 new parking spaces over the next three years in response to this demand. 
As Boise's population increased, so, too, did the sprawl. This, of course, has impacted commute times. With employers working to attract and retain talent — and desirable talent residing in different submarkets — companies are opening second and third locations to go where the workers are. Some have one office in downtown Boise and another in Meridian or Nampa, for example. This move to satellite offices, along with considering different office configurations, was in the works pre-pandemic but has since accelerated. We are also seeing a demand for co-working space for those requiring small, virtual or incubator locations to grow their business. 
Office vacancy is at 4.2 percent, decreasing this quarter, while net absorption was up both quarterly and year to date. Rents continue to hold and vacancy remains low. As people have returned to work — showing stabilization and less uncertainty — investors have seen opportunity in southwestern Idaho's Treasure Valley. The sprawl and shift to suburbs provide opportunities for both owner-users and investors. We have seen an uptick in interest from institutional and out-of-state investors. In this submarket, about 43 percent of building sales were less than 4,000 square feet, while 32 percent were in the 10,000- to 20,000-square-foot range. Cap rates were averaging 5 percent at the end of the second quarter. 
Boise has seen some sublease space come online with companies embracing the idea of remote work. Employers appreciate hiring employees regardless of location or lease commitment restrictions that impede their ability to move. Although sometimes limiting for tenants, sublease space can offer top-quality options, high-end finishes, a quick move-in and, in some cases, may come furnished with newly purchased or even unused furniture. 
Asking rates are averaging $20.27 in the Treasure Valley and the gap between asking and effective rates remains minimal. Low vacancy, construction costs and supply chain issues have impacted both rent and term. The generous concessions we're seeing on a national level are not being seen in Boise. Tenants have shown a preference for high-quality, Class A space. 
Tenants are also looking for move-in ready spaces to occupy as many don't have time to wait. To shorten the duration between vacancy and move-in, there has been a trend toward spec office interior space from shell. This provides a finished space ready for move-in for the tenant and rent for the landlord. In situations where spec build is not of interest to the landlord, a test fit lends the visual some tenants need, saving time and money getting to permit and construction.  
Boise has seen a lot of growth in the market. Many firms are working to recast their property strategies and decide how much office space will be needed going forward. It seems larger cities have had a harder time than Boise. The area offers a wonderful downtown community, and it's been great to see people back to work and enjoying the city. 
Get more news delivered to your inbox. Subscribe to France Media's e-newsletters.
Click here.