Midway Unveils Plans for 70-Acre Watermark Mixed-Use Development in Houston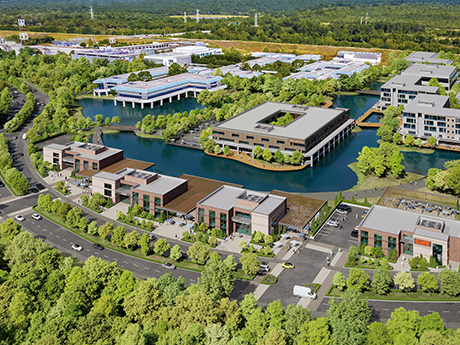 HOUSTON — Locally based investment and development firm Midway has unveiled plans for Watermark District at Woodcreek, a 70-acre mixed-use development that will be located at the site of the former ConocoPhillips headquarters campus in West Houston.
Once completed, Watermark will house 650,000 square feet of Class A office space, with a focus on natural light and flexible floor plans. The development will also include retail and restaurant space and boutique hotels. Midway also plans to modernize the existing 100,000-square-foot wellness and fitness facility. Construction is scheduled to begin in the first half of 2023.
Midway also intends to repurpose a portion of the site's existing infrastructure, which includes 16 three-story office pavilions connected by bridges over ponds and grassy areas. Repurposing existing buildings contributes to Midway's intention toward environmental sustainability in the project.
To that end, the firm has partnered with 374Water to introduce an integrated wastewater management system to the development. Wastewater, along with food wastes, will be processed and recovered as clean water, energy and minerals. Plans for infrastructural upgrades also include a new urban grid system.
Architect Kevin Roche designed the property in 1978 for Conoco with an aesthetic emulating that of a Japanese fishing village. Accordingly, the property features waterfront views and outdoor walkways.
"Watermark will enhance the experience of those who work, live and visit the Energy Corridor District by creating a thriving walkable destination that caters to all," says Elijah Williams, executive director of The Energy Corridor District. "The innovative, environmentally sustainable features Midway has planned for Watermark are consistent with the values of the district and our major employers, who are leading the global energy transition."
— Hayden Spiess
Get more news delivered to your inbox. Subscribe to France Media's e-newsletters.
Click here.