Marcus & Millichap Webcast Panelists Divided on Remote Work, United in Retail Outlook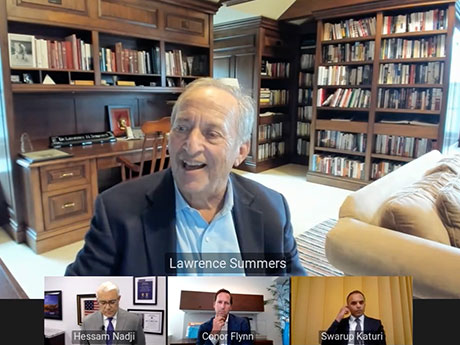 CALABASAS, CALIF. — While the widespread adoption of the hybrid work-from-home model resulting from the COVID-19 pandemic is having a dampening effect on demand for office space, it also is proving to have a positive impact on certain segments of retail. Those were some of the key takeaways from a webcast hosted by Marcus & Millichap that featured Dr. Lawrence Summers, former secretary of the U.S. Department of the Treasury, who offered his insights on timely commercial real estate issues and the near-term outlook for the U.S. economy.
Moderated by Marcus & Millichap CEO Hessam Nadji on Tuesday, Sept. 13, other featured speakers during the hour-long webcast included Conor Flynn, CEO of Kimco Realty Corp. (NYSE: KIM), and Swarup Katuri, managing partner at Brookfield Asset Management. The webinar, which was geared toward current and prospective investors in commercial real estate, attracted several thousand viewers, according to Marcus & Millichap, which is headquartered in Calabasas.
"I think the sign is clear: Nobody is going to be going into the office more than they were before [the pandemic], and a lot of people are going to be going in less. Less because there's going to be more flexibility, less because there's some people who are going to go substantially on remote," explained Summers, former chief economist of the World Bank and president emeritus of Harvard University.
In fact, Summers believes that the total hours logged in American offices on an annual basis have already seen their peak for the next 15 years.
The muted demand for office space is reflected in the data. Year-to-date through the second quarter, the U.S. office market posted total net absorption of negative 13.1 million square feet (including subleases), according to JLL.
In the second quarter alone, the office market nationally suffered 7.8 million square feet of net occupancy loss. This was disproportionately found in Class B and C space, which accounted for 69.4 percent of negative net absorption despite comprising 41.7 percent of inventory, reports JLL
A flight to quality space among office tenants has led to a widening divergence in absorption and rent growth based on building age and amenities.
Different Strokes for Different Folks
While government mandates and company guidelines implemented during the pandemic forced workers to stay home and carry out their responsibilities remotely, the easing of restrictions beginning in mid-2021 has left this to the discretion of individual companies. Nadji noted that a growing number of major firms are requiring their employees to come into the office five days a week or lose their jobs, while other companies "embrace the hybrid work environment" that entails working from home a few days a week.
Summers observed that "the kind of people who become CEOs are the kind of people who really love the office and love work and love the interaction and love the challenge. People who are into a balanced life between their hobbies, their kids and their jobs don't tend on average to be the people who become CEOs. So, the idea that CEOs would have a greater taste for life in the office than their employees is kind of what you would figure would be the case."
The remote work phenomenon has also led to a growing number of workers migrating to the suburbs. As Summers acknowledged, working from home even only a few days a week leads workers to be "more comfortable living an hour away from the office."
Katuri and Flynn offered differing views on the remote worker concept.
As managing partner in Brookfield's Real Estate Group, Katuri is responsible for business development and investment activities in the multifamily sector. Based in Toronto, Brookfield is one of the largest apartment owners and managers in the U.S. with an ownership stake in about 58,000 apartments, according to the firm's website.
In short, Brookfield's leadership team prefers the office setting. "We've been in the office full time, and we think that it creates a lot of collaboration between our deal teams as we work on new investments," said Katuri, although he did not dispute the idea that the hybrid model is a force. "We believe that there will be more flexibility in work schedules and office space usage. But I do think our take is that the office will still be used, it's just with more flexibility than it was pre-pandemic."
Flynn said Kimco has embraced the hybrid work model. "We're fortunate that a lot of our offices are actually right at the shopping centers that we own, so we have boots on the ground managing [the properties]. We have a lot of people that we want in the field, so the hybrid model, for us anyway, we think is here to stay."
Kimco closed the company's largest merger ever while working remotely, Flynn pointed out. The company also has generated "record operating results" while working remotely. Kimco's second-quarter results saw leased occupancy increase to 95.1 percent, up 120 basis points year-over-year.
From a consumer demand standpoint, the food and beverage category has benefitted from the new work-from-home model, according to Flynn
"If you are working from home, or you have a hybrid work model, every time you have an additional meal at home, or near where you live, typically it's at the shopping center," explained Flynn.
But the hybrid work model presents challenges as well, Flynn freely admitted. "The hardest thing to try to figure out when you're in a hybrid model like we are today is how you go about training and making sure your culture is one that gets transferred to the new recruits. That is still something that is a work in progress."
The likely solution, he said, is to host more team and training events to bring employees together.
A Retail Giant
Based in Jericho, New York, Kimco Realty is North America's largest publicly traded owner and operator of open-air, grocery-anchored shopping centers and mixed-use assets. As of June 30, Kimco owned interests in 533 U.S. shopping centers and mixed-use assets comprising 92 million square feet of gross leasable space.
Flynn reported strong leasing performance and an encouraging view of the job market. "The job market is as strong as it's ever been, and I still feel like that's going to continue through next year primarily because if you look at our momentum on the leasing front, we've seen record leasing demand for space and have the highest number signed but not yet opened retailer demand going forward," said Flynn.
The company's grocery-anchored portfolio is located in major Sun Belt and coastal markets. Eighty-five percent of the company's annual base rent comes from properties in top major metro markets.
"The Kimco consumer lives in the first-ring suburb of the top major metro markets," Flynn pointed out during the webcast. Kimco is seeing a great deal of engagement from this consumer, which Flynn partially attributes to a population eager to get back to their normal routine. Consumers have a heightened interest in experiencing stores, restaurants and bars after losing access to those establishments during the pandemic, says Flynn.
Regardless of geographic caveats, the panelists' outlook on the future of retail is overwhelmingly positive. JLL's report on retail for the second quarter showed total net absorption of 18.9 million square feet, the sixth consecutive quarter of positive absorption.
When it comes to the relationship between telecommuting and retail performance, Nadji's response to Flynn's assessment of the current strength of the retail and job markets rings especially true: "When it comes to retail, judging the book by its cover is a mistake; that's for sure."
Economic Outlook
The day the webinar took place the Dow Jones Industrial Average tumbled more than 1,200 points — a nearly 4 percent drop — after newly released data from the Bureau of Labor Statistics showed that the Consumer Price Index increased 0.1 percent in August from the prior month and was up 8.3 percent year over year.
The bond market also has exhibited signs of volatility. The 10-year Treasury yield, a benchmark for permanent financing in commercial real estate, has risen from 1.6 percent to about 3.5 percent since the start of the year.
Katuri of Brookfield sees a dichotomy in today's economy that is playing out in the apartment sector. "When we look at our operating fundamentals, they are as strong as they've ever been. And that's juxtaposed with a capital markets environment where borrowing costs are higher; liquidity is generally lower because of [changing] regulations on banks."
Although there is no denying the sobering reality that a recession will likely come "within the next couple of years," Summers is adamant that we are not in one now. "I think consumer demand is relatively robust. I think the problem is that we're not going to stop the 6-percent-plus inflation that we have interfering with that robust demand. That will likely lead to recession. But we're not in a recession right now," reiterated Summers.
The former Treasury secretary also sees the trajectory of a recession and recovery as being somewhat dependent upon the actions and strategies adopted by the Federal Reserve. On Wednesday, Sept. 21, the Fed raised its benchmark federal funds rate 75 basis points for the third consecutive meeting.
The fed funds rate, which is the interest rate at which banks and other depository institutions lend money to each other on an overnight basis, now ranges from 3 to 3.25 percent. The Fed which is trying to aggressively tamp down inflation, also signaled more rate hikes are likely in the coming months.
Nadji affirmed Summers' assessment and added, "Let's get the pain over with. Let's do it as expeditiously as possible and move on hopefully to the next real economic cycle."
The CEO of Marcus & Millichap believes that commercial real estate remains a "compelling investment opportunity" because the asset class acts as a hedge against inflation and compares favorably with alternative investments.
Summers concurred. "I would, in general, share your judgment that for a large number of [investment] portfolios, there should be a very prominent, perhaps much larger, place for commercial real estate."
—Hayden Spiess
Get more news delivered to your inbox. Subscribe to France Media's e-newsletters.
Click here.