NAHB Survey Reveals Decline in Developer Confidence in Third Quarter, Forecasts Decrease in 2023 Multifamily Starts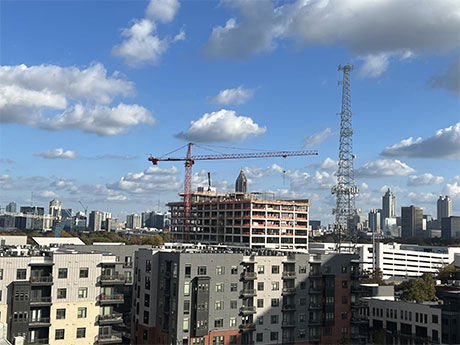 WASHINGTON, D.C. — Confidence in the market for new multifamily housing development notably declined in the third quarter of 2022, according to results from a survey of 63 multifamily builders conducted by the National Association of Home Builders (NAHB), which is based in Washington, D.C.
The survey is conducted quarterly and produces two separate indices — new multifamily production and multifamily rental occupancy in the current versus preceding quarter.
"Although demand for multifamily housing remains strong in many parts of the country, some multifamily developers are starting to see signs of a slowdown," says Sean Kelly, chairman of NAHB's Multifamily Council. "The ongoing problems of scarcity and high cost of land and materials are making it difficult to go forward with certain projects, particularly affordable housing projects."
Confidence in Multifamily Production Decreases
The Multifamily Production Index (MPI) measures builder and developer sentiments regarding current production conditions in the market — including the construction of affordable housing units, market-rate units, and for-sale units or condominiums — on a scale of 0 to 100. A number below 50 indicates that more respondents reported that conditions in the market are worsening than reported conditions are improving.
All three components of the MPI saw decreases in the third quarter. Confidence in affordable housing units fell nine points to 36, market rate apartments dropped 13 points to 39 and for-sale units dropped 10 points to 23.
Overall, the MPI reading showed a decline of 10 points to 32, compared with the previous quarter.
Multifamily Occupancy Sentiment Index Plummets
The Multifamily Occupancy Index (MOI) measures the survey respondents' sentiment regarding occupancy rates in existing apartments. The MOI is a weighted average of occupancy rates across units in class A, B and C communities. Like the MPI, the MOI is measured on a scale of 0 to 100, with a number below 50 indicating a decrease in occupancy.
The MOI fell 15 points to 45 in the third quarter. This is the lowest reading the NAHB has observed since the spring of 2020, at the onset of the COVID-19 pandemic.
NAHB predicts that low developer confidence will spur a significant decline in multifamily starts in 2023. "Multifamily developers are becoming cautious, as supply constraints have caused a large backlog of projects started but not yet completed to accumulate in the pipeline," says NAHB Chief Economist Robert Diez.
— Channing Hamilton
Get more news delivered to your inbox. Subscribe to France Media's e-newsletters.
Click here.