Outdoor Hospitality Properties Draw Greater Investment Interest Following Rapid Growth During the Pandemic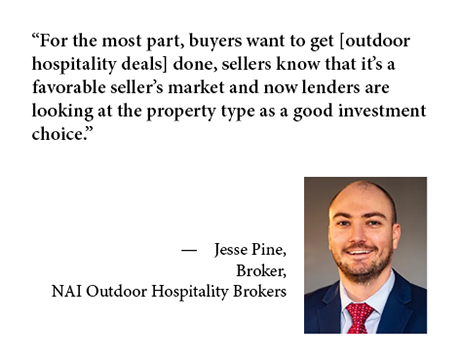 Where do people go to "get away from it all" — especially when the world shuts down? Many seek relaxation and recreation in the great outdoors. Interest in camping — especially the subset of high-end camping often referred to as "glamorous camping" or "glamping" — grew steadily in the years before the pandemic. The arrival of COVID and the desire for socially distanced vacations created a rapid increase in demand and revenue. The result for commercial real estate has been a large increase in the number of investors interested in outdoor hospitality properties.
"Before 2020, the trend was already very strong; the pandemic just accelerated it," says Sean Wood, associate broker at NAI Outdoor Hospitality Brokers.
Wood cites the Kampgrounds of America (KOA) 2021 Annual North American Camping Report: "From 2014 to 2018, there was consistent growth of about 2 million new households per year getting into camping across North America. From 2018 to 2019, we saw a jump from 39.2 million to 41.9 million households that went camping. And then in 2020, we saw an explosion in interest: from 41.9 million households to 48.2 million households camping each year."
The specialists at NAI Outdoor Hospitality Brokers expect this renewed attention to camping will shape consumer tastes for years to come, fueled in part by sustained interest from Millennials and a growing number of Gen Zers who want to relax and seek adventure in the great outdoors. [1]
Defining Outdoor Hospitality
The term "outdoor hospitality" encompasses anywhere guests go for an outdoor experience. The term covers everything from primitive tent camping sites to dude ranches and fishing resorts, explains Bob Kaplan, founder and managing broker at NAI Outdoor Hospitality Brokers. However, the focus of NAI's outdoor hospitality group is primarily recreational vehicle (RV) parks, campgrounds and glamping retreats.
"Generally, these properties are near a national park or major outdoor demand driver, although many are near cities," Kaplan says. "As far as the size of this niche sector, there are about 14,000 privately owned outdoor hospitality properties in the country, not including national or state park campgrounds."
Sites average about 100 spaces per RV park currently, with many properties also offering cottages, cabins, yurts and tent sites. The National Association of RV Parks and Campgrounds (ARVC) expects 80,000 additional pads to be built this year. NAI Outdoor Hospitality Brokers expects the average number of spaces on these new pads will rise considerably in 2022. For newly built properties, the average number of spaces will be closer to 150, says Jesse Pine, broker at NAI Outdoor Hospitality Brokers.
Consolidating Outdoor Hospitality Ownership
Kaplan estimates that currently 80 percent of the outdoor hospitality properties in the United States are owned by individual owner/operators. Conversely, Equity Lifestyle Properties and Sun Communities are REITs that currently own large portions of the outdoor lifestyle properties in the country and are very active in this space. KOA is a system of privately held campgrounds that has over 500 franchise outdoor hospitality properties. Equity Lifestyle Properties, Sun Communities and KOA together represent the largest plurality of investment in this sector.
Beyond these entities, the industry is currently rather fragmented amongst individual investors. However, much like the process of portfolio creation that has come to dominate manufactured housing communities or self-storage markets, larger investors have grown increasingly interested in owning multiple outdoor hospitality spaces. Especially over the past four or five years, consolidation of ownership has accelerated as many new investors (some with backgrounds in hotels, manufactured housing communities or other commercial real estate spaces) seek to become multi-unit owners.
These interested parties include equity partners and syndicators. Meanwhile a number of smaller owner/operators leaving the market, retiring from a labor-intensive business — especially while the market is so favorable to sellers.
The acquisition of Kern River Sequoia RV Resort in Kernville, California is a good example of many of the typical considerations that NAI Outdoor Hospitality Brokers has seen in this space lately. "The buyer was a small-to-midsize investment group that has bought seven parks in the last two years. The park has a destination element and had been in existence for 70 years. It is well located, with a good history," says Pine.
As with many such properties, Pine explains, "the buyers were looking to upgrade and improve operations." With an increased demand for amenities (including internet access and improved connections to utilities like water and electricity), such value-add transactions have become common.
Differentiation Based on Location
"Regionally, the southern half of the United States has more outdoor hospitality trading activity because there are more RV parks," Pine explains. "In the South, parks are also generally open year-round, as opposed to the northern half of the United States, where parks are usually run on a more seasonal basis.
"Texas is the single largest state for RV parks. It currently has the most RV parks and the most parks being built," says Pine. "Texas is very busy, with a large number of transactions due to the number of properties in the state. It's the largest market in the industry, followed by Florida and then California."
Fewer Impediments than in Years Past
Pine explains that many RV parks operate like "a hotel without walls," where the properties are focused on guest experience. There are no tenants and no leases. But unlike a hotel, outdoor hospitality properties "have a lot fewer capital expenditures, and there are no property improvement plans (PIPs) to consider."
Before 2019, finding financing for these hospitality spaces could be challenging, but as the outdoor hospitality industry has flourished, so have the options for financing. "For the most part, buyers want to get the deal done, sellers know that it's a favorable seller's market and now lenders are looking at the property type as a good investment choice," says Pine.
The timeline for marketing these properties has shortened considerably with the influx of interested parties in the industry, especially if the property is large enough to attract regional investors, Kaplan adds.
Pine does note, however, that other difficulties, including building costs and labor shortages, have limited industry growth somewhat.
Still, changing investor appetite, increased financing sources and alignment with the recreational interests of Millennials and Gen Z make for a healthy long-term outlook for this niche sector.
This article was written in conjunction with NAI Global, a content partner of REBusinessOnline. For more articles from and news about NAI Global, click here.
[1] https://observer.com/2021/07/how-covid-19-made-rv-living-a-young-persons-game-interview-with-outdoorsy-ceo/
Get more news delivered to your inbox. Subscribe to France Media's e-newsletters.
Click here.