New 76ers Arena Has Game-Changing Potential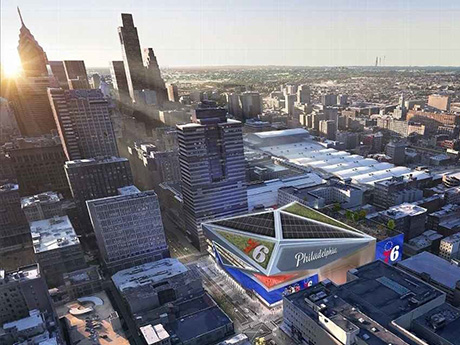 By Taylor Williams
Though very much in its infancy, the Philadelphia 76ers' recent decision to assemble a development team and file a formal proposal for a new arena at the current site of Fashion District Philadelphia has drawn the city's retail market into speculation on how buildings, operators and streetscapes will be impacted.
Known as 76 Place, the $1.3 billion venue would theoretically anchor the Market East corridor that connects Center City to Chinatown and Old City via its location atop the city's largest public transit hub. The ability to centralize the arrival of fans, shoppers and diners from all cardinal directions, as well as multiple states, automatically sparks excitement for growth opportunities in the world of retail real estate. This project would immediately check that box. 
"The announcement of the new 76ers arena has generated a lot of discussion in the retail world," says Steve Gartner, executive vice president at CBRE. "Bringing an arena to downtown Center City, especially one that's adjacent to a convention center, will allow Philadelphia to hold more concerts and global events, like political conventions, that impact retailers and restaurants. These positive impacts will permeate the fabric of all of
downtown." 
"The retail community is very excited about this project; there's not a lot of downside besides some nightmare traffic situations or Chinatown not getting a fair shake (more on that later)," concurs Larry Steinberg, senior managing director at Colliers who has been active in the market for more than 25 years. "We're already seeing evidence of how this can be a major entertainment hub, and not just an arena, by adding street-level retail and dining and experiential entertainment." 
Gartner adds that he can envision hotels around Market East, some of which he says have not been rehabbed in  years, being either renovated or expanded in response to the project. 
Generations of Philadelphians have only seen the major professional sports teams play in purpose-built stadiums in South Philadelphia. But Gartner believes that the new location — not to mention the revamped and revitalized entertainment scene around it — will change how Philadelphians think about and consume their professional sports. And that's a big deal in a town known for having some of the most fierce and loyal sports fans in the
country.  
"Unfortunately, if and until the new arena opens, Market East will sort of be in purgatory, but that's the price of long-term progress," he concludes.
The newly formed development entity is known as 76 Devcorp and is targeting the 2031-2032 NBA season for the launch of the new arena. That date coincides with the NBA team's lease expiration at its current home, Wells Fargo Center. The team is led by Campus Apartments CEO David Adelman and includes Josh Harris and David Blitzer of Harris Blitzer Sports & Entertainment, which owns the 76ers.
Under the current timeline, the development team would secure entitlements and approvals through 2024, undertake design until 2026, conduct demolitions in 2027 and physically construct the facility between 2028 and 2031.
But distant as those dates are and encumbered by obstacles as the path to fruition may be, the initiative starts with immediate, present-day recognition of the fact that the district is not validating its hype as a shopping, dining and entertainment hotspot. 
"Market East is currently struggling and not being activated to its full potential," says Adelman. "We want to open up the ground floor, invite people in and activate the spaces inside and outside the arena. We plan to do this by bringing local businesses and restaurants from neighboring communities inside the arena and partnering with existing retailers to act as a connection point to surrounding blocks."
Adelman's team has already commissioned streetscape renderings to give visual credence to how the project would enliven the surrounding area. Given that the 76ers will only use the arena about 40 times per year — playoff appearances notwithstanding — Adelman knows that creating appeal and vibrancy beyond basketball will be equally key to the success of the project.
"Our plan is to create an environment that activates the neighborhood on both event and non-event days, and that generates activity and brings new customers for businesses in the arena and in the surrounding community," he says. "Visitors will not only come to see games, but also to enjoy a night out, stay overnight in hotels and experience all that Center City has to offer."  
Backing Up
A partnership between Pennsylvania Real Estate Investment Trust (PREIT) and Los Angeles-based shopping center owner-operator Macerich (which declined to be interviewed for this story) debuted Fashion District in fall 2019. 
The onset of COVID-19 within six months of the launch injured the newly opened project. PREIT would eventually relinquish control of the development in early 2021 after Macerich agreed to pay off $100 million of the locally based institution's corporate debt. 
A redevelopment of the former Gallery at Market East Mall, Fashion District leaned heavily into entertainment, anchored by large-scale concepts such as AMC Theatres, City Winery and Round1 Bowling. From the standpoint of food and beverage and soft goods uses, Fashion District was billed as an ideal destination for brands that were distinctly unique to Philadelphia. 
Through this carefully curated mix of tenants, Fashion District would, on paper, function as equal parts tourist magnet, local entrepreneur incubator and classic all-around shopping and dining district. Three years later, this framework still represents the means by which local retailers and restaurants in the area can thrive, albeit with a decidedly athletic bent this time around. 
"It's very important to us that our offerings are authentic to Philadelphia," says Adelman. "This means creating opportunities for home-grown businesses, not just through the foot traffic that is created as a result of this development, but also through opportunities to bring those businesses into the arena."
The Modern Vision
There's no denying that Fashion District was dealt a rough hand in terms of timing and a once-in-a-lifetime pandemic. But sources say that the area had its share of problems before COVID-19, some of which are still in the process of being resolved. 
"Market East has been a long-recovering area for us," says Paul Levy, president and CEO of Center City District. "Going back 50 years, it was eight department stores, and it's continued to make the slow transition. The Gallery was built in the '80s and renovated before the pandemic to Fashion District, and COVID broke some of the momentum we were building in Market East."
That was then. In terms of now, imbuing the area with a strong sense of security within a vibrant shopping, dining and entertainment district will be a key consideration for 76 Devcorp. 
"Like many big cities, we've had issues with crime and shoplifting, and a lot of stores that had entrances on Market Street ended up closing their entrances due to the vagrancy and crime," explains Steinberg. "Retailers want the security of an indoor industry, and we don't know how that's going to play out yet, but security and safety have to be a big part of what's being designed."
But with ample time to sort out these issues, the mood today remains one of excitement, driven by the realization that the site has so much potential. 
Sources say that at this point, the presumptive plan is that the entertainment spaces located at the north end of the three-block site would likely be demolished to make way for the new arena. The other two blocks would likely remain intact as shopping and dining destinations, though some heavy rebranding and merchandising shakeups could inevitably come to pass. 
"It's a remarkable site for an arena, right on top of our regional rail line, with everyone from the surrounding Pennsylvania, Delaware and New Jersey and western suburbs having access," says Levy. "Plus it bumps up against two parking garages, and there's probably 10,000 more parking spaces within four or five blocks. So it's incredibly well-situated and could be a huge stimulus."
Levy further notes that there are also five hotels and a Macy's department store within a couple blocks of the site, as well as a new multifamily development with retail and restaurant space right across the street. Lastly, he and Steinberg both point out that Macerich owns several other parcels on the block south of Market Street, and Steinberg says that the California-based owner-operator has already acknowledged the potential for arena-related plans for those sites.
The potential synergy between all of these in-place components should, in Levy's view, "stimulate new and existing businesses while also creating demand for real estate that's been underperforming." 
The Chinatown Factor
All sources interviewed for this story indicated that pushback from Chinatown residents, business owners and community leaders may well represent the biggest hurdle for the  arena to clear. Despite the lengthiness of the development timeline, Adelman's team has already begun the outreach process with these parties.
On a broader level of community outreach and collaboration, 76 Devcorp also expects to enter into a Community Benefits Agreement (CBA) with local business units and organizations. The CBA will be designed to ensure the forthcoming arena has a positive and lasting impact, from the start of construction to opening and beyond. But even within that all-encompassing context of community partnerships, Chinatown represents a special case.
That's partially because Chinatown and the City of Philadelphia share some history, not all of which is good, according to John Chin, executive director of the Philadelphia Chinatown Development Corp. 
"Chinatown lies in the middle of two urban renewal districts — areas that the government has identified as needing investment," say Chin. "In that sense, they look at the neighborhood as a real estate area and not as an ethnic community. And historically, their approach has been to develop the area with larger economic growth initiatives in mind, and those projects that have come along on vacant land have had no benefit to Chinatown."
Among those projects that Chin recalls are the locating of a Greyhound bus station in the 1980s; the proposal to build a federal detention center; the construction of the Philadelphia Convention Center on the neighborhood's border; and the routing of the I-676/Vine Street Expressway through the middle the community. Chin also notes that construction of The Gallery at Market East in the 1980s, which impacted the southern end of Chinatown, also bears placement on this list.
These grievances are not lost on the development team, nor the retail real estate community at large. 
"We are fully aware of the history of past projects that have threatened or harmed the Chinatown community,  and we understand the apprehension that some people may have before learning more about the project, our approach and commitment," acknowledges Adelman. "Yet this project is different from past projects or proposals because we are not actively displacing businesses or residents."
"Rather, we are proposing the redevelopment of an existing entertainment hub," he continues. "Furthermore, we are engaging with the community before anything is set in stone so that we can hear feedback, collaboratively address concerns and proactively create solutions. We are going to make significant investments in those solutions, which will be decided upon in partnership with community stakeholders."
Adelman also says that his team knows that integration with Chinatown will be "of critical importance" to the success of the project and can be best achieved by working closely with community leaders. The dialogue is already underway. 
One short-term solution that Steinberg says has been anecdotally proposed involves having the arena's front entrance face Chinatown on Filbert Street instead of on Market Street. "If Chinatown feels like it's not another wall separating them from the action, they're likely to be more receptive," he says.
Chin concedes that thus far, the driving forces behind the new arena are saying all the right things. But it will take time to commission and execute the kind of painstaking market research that can provide empirical data to the effect that Chinatown's residents and businesses are not in danger of being displaced or priced out. 
"When we listen to the 76ers, they tell us that their analysis shows that spin-off business and their investment in Market Street East will help it become a more attractive destination, which it's not right now," says Chin. "Their narrative is that a 76ers investment will bring foot traffic to Chinatown that will help small businesses, though more analysis and investigation is needed to ensure that it's beneficial to Chinatown."
But with that revitalization could come an increase in real estate values, which would in turn spur higher rents and property taxes that would be borne by local business owners. In addition, sources say that the homes, culture and cost of living of many Chinatown residents would be jeopardized by a sports arena-driven gentrification movement.
"Chinatown is a historically vibrant community that has often been an entry point for immigrants and is also home to a significant number of lower-income families," says Levy. "So there's anxiety about whether it will remain affordable for those people, which is normal for these kinds of large projects, and fortunately we have time to think it through."
"There are also concerns about what the ground floor of the arena will be like and what potential there is for local, Asian-themed restaurants and other businesses to move in so that the arena and Chinatown and Market East can all merge together," Levy continues. "The promise of what the developers are talking about lies in interconnectivity with Chinatown in ways that other developments haven't been able to achieve in the past."
"We can't afford to have real estate pricing pressure force people out, because it could lead to leasing to clientele and businesses that can afford the rent and put us on track to losing Chinatown's authenticity as a hub for celebration of Asian culture," concludes Chin. 
"The development team is coming to us with a seriousness about understanding and listening to our concerns and presenting a pitch and philosophy that embraces and invests in low-income communities," he continues. "Those are comforting messages to hear, but the benefits that are being touted need to be analyzed and played out, and we're still a long way from seeing that data."
To be sure, it's within the real estate that the vast potential for economic growth, as well as the equally significant margin for human and business disruption, resides. Only time will tell how these delicate dynamics will unfold. But the fact that all parties involved in the project have time on their side bodes well for the prospect of devising solutions that can work for everyone.
— This article originally appeared in the October 2022 issue of Northeast Real Estate Business magazine.
Get more news delivered to your inbox. Subscribe to France Media's e-newsletters.
Click here.