New Orleans Apartment Market is Performing Well Due to High Barriers to Entry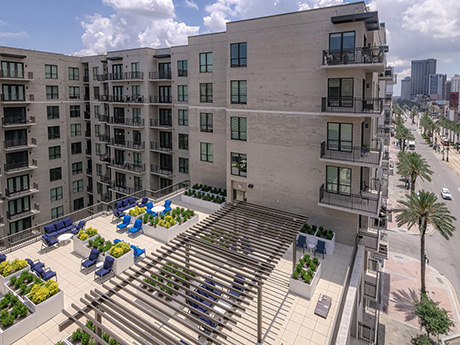 Increased interest rates and challenging insurance costs would normally stifle a multifamily market. However, an inventory constrained by a lack of land, supply chain issues, labor shortages and the increased cost of homeownership have contributed to a further stabilization of the metro New Orleans multifamily market.
The overall vacancy factor for our seven primary submarkets that make up metro New Orleans are in the 5 to 6 percent range. We anticipate occupancy rates to steadily increase going forward as new construction has stalled and rising interest rates have delayed many tenants from transitioning to homeownership.
Overall rental rates in the metro average in the $1,250 to $1,350 per month range. The rents represent a 3.5 percent increase over the past 12 months. It should be noted that some submarkets have seen considerably higher increases. The highest rental rates reported in the metro for garden-style communities are in Eastern St. Tammany Parish, where the newest inventory exists.
The highest rents in New Orleans are downtown in the CBD/Warehouse District. These communities comprise mid-rise and high-rise developments and command rents exceeding $2.50 per square foot. The downtown market experienced some softness during the COVID-19 pandemic but made a robust recovery once restrictions were lifted. Rumors of the urban core market not returning to pre-pandemic levels have vanished.
The most affordable rents in the metro are found in Eastern New Orleans and Algiers, and each submarket has approximately 4,000 units built in the 1970s. Like the rest of the country, there is a vast need for additional affordable housing that will only be met through subsidies and public-private partnerships.
Unlike other metro areas, New Orleans and its surrounding areas offer limited opportunities for unbridled apartment development. These restraints are both geographic and socio-economic. Fewer than 1,000 new units were added to our inventory of approximately 60,000 units over the past 12 months.
Two market-rate developments that are under construction and worth noting are The Metro at Clearview and The Waters at Mahattan. The Metro at Clearview is a $55 million property being developed by Audubon Communities that will feature 270 apartments. This community is part of a $100 million mixed-use development that integrates medical and retail sectors on the site of the former Clearview Mall in Metairie. Additionally, The Waters at Manhattan, located on the west bank of Jefferson Parish in Harvey, is being developed by the STOA Group. The property will feature 360 units and is expected to be completed in March 2023.
The multifamily sector has been the preferred real estate class for over two decades. Although the cloud of COVID-19 presented challenges to operators, demand has strengthened further. This is evidenced by the abundance of equity that is flowing into multifamily housing. Investors have taken notice that they can achieve a higher yield in New Orleans and throughout the state of Louisiana as compared to other larger Sun Belt markets.
Over the past 18 months we have seen multifamily sales of approximately $500 million. These conveyances have ranged from Class A institutional properties to affordable and value-add assets. Transfers worth noting include Canal 1535, a 330-unit, Class A development located in downtown New Orleans that was acquired by Passco Cos. for $120 million; the 336-unit Lumiere Apartments located in Metairie sold for $55 million; The Kushner Cos. of New York recently acquired The Mason at Fremaux Park (276 units) for $54.7 million; Greenbrier Estates, a 144-unit property in Slidell, sold for $26.6 million; and Lakeside Apartments, a 250-unit community developed as a mixed-income property in Slidell, sold for $29.2 million.
The one constant in any market is change as occupancy changes daily and rental rates change frequently. However, the need for housing will always exist and, as a result, investor demand should remain strong. The added benefit of investing in the New Orleans market are the barriers to entry, which continue to attract investor interest.
— By Larry Schedler, Cheryl Short and Christian Schedler, principals at Larry G. Schedler & Associates Inc. This article originally appeared in the October 2022 issue of Southeast Real Estate Business.
Get more news delivered to your inbox. Subscribe to France Media's e-newsletters.
Click here.