By Taylor Williams
North Texas is attracting new and existing entertainment concepts at a frenetic pace as operators of these facilities seek to position themselves squarely in pathways of major growth and capitalize on any remaining pent-up demand from the pandemic.
According to a 2022 report from the North Central Texas Council of Governments, the region's population surpassed 8 million last year. In addition, more than 20 cities in North Texas — the area that includes and surrounds the Dallas-Fort Worth (DFW) metroplex — saw their populations swell by 10 percent or more on a year-over-year basis between mid-2021 and mid-2022. This growth inevitably encompasses key demographics that entertainment operators covet, including families with children and young working professionals.
High-paying jobs continue to flow into DFW in the form of corporate relocations and consolidations. Developer KDC recently began construction on Wells Fargo's 850,000-square-foot regional campus in Irving. New pieces of the PGA of America's headquarters campus in Frisco are coming on line every quarter and sparking feverish development in surrounding neighborhoods. Global engineering consultant AECOM and construction machinery manufacturer Caterpillar are also in the process of relocating their headquarters from Los Angeles to Dallas, among others.
Checking the two boxes that are job and population growth is standard practice for any commercial site selection endeavor. But the proliferation of entertainment concepts across North Texas goes well beyond job and population growth. So what makes the region such a fertile hotspot for new entertainment concepts? In the eyes of one broker, it's partially a matter of simple cultural and geographic traits.
"We don't have mountains or an ocean in DFW, so most people here spend a lot of their disposable incomes on dining out and entertainment," says Matthew Rosenfeld, executive vice president – director of brokerage at Weitzman's DFW office. "It's just what they do. Movie theaters have always been popular here, but they've become more expensive, and some people prefer to wait and stream them more cheaply."
"Taking theaters out of the equation leaves restaurants as the main attraction," Rosenfeld continues. "And building on the basic restaurant model is where entertainment concepts come into play because they give people more options for date nights, family outings and corporate parties — all in extremely fun atmospheres."
There is evidence to support this notion of a cultural draw. For example, British entertainment concept Electric Shuffle, which offers a new take on the classic bar game (shuffleboard), decided to expand into the United States in 2021. Rather than pursuing a traditional gateway market like Manhattan or the Bay Area, the company sprung for a historic building in the Deep Ellum area of Dallas, opening in November of that year. At that time, Electric Shuffle USA CEO Gene Ball said, "From day one, we knew this neighborhood is where we wanted to launch the brand. With so much rich history, character and soul, we saw it as the perfect place to call home."
Sources attribute the recent entertainment boom in North Texas to numerous factors, but most agree that the supply of workable, available spaces is not one of them. Although the region has its share of distressed malls and big box stores, DFW still has a marketwide retail occupancy rate of about 95 percent, according to data from CBRE.
"We could see the trend of entertainment users backfilling anchor stores in malls pick back up, but a lot of those developments are pretty far down the road in terms of repurposing and backfilling their boxes to higher and better uses," says Rosenfeld. "There may be more opportunities in the future, but a lot of them are spoken for right now."
"There's definitely a shortage of spaces that can work for these entertainment concepts without heavy build-outs," adds Amy Nott, vice president at JLL's Dallas office. "It's tough to find turnkey spaces that meet specifications with regard to the ceiling height, overall building footprint and especially the ease and access of parking. That's why we see tenants and landlords finding creative ways to bring these concepts into their centers or buildings."
Nott references a client of hers, a church operator that recently lefts its current location, as an example of this creativity in action. The exceptionally high ceiling heights and vast swaths of parking that many churches have are conducive to housing entertainment uses, unconventional as that may sound.
Conceptual Evolution
Diversity is indeed becoming a hallmark of the North Texas entertainment scene, which is somewhat ironic given that DFW still houses the headquarters of pioneering entertainment concepts like Dave & Buster's, Main Event and Topgolf. The innovations that those companies put forth, from combining multiple attractions under one roof to thrusting a niche sport into the mainstream spotlight, are now being innovated upon themselves.
"Landlords are seeing a lot of traditional soft goods brick-and-mortar retailers that compete with e-commerce, and you just can't buy entertainment on Amazon," says John Day, partner Dallas-based Venture Commercial, a brokerage firm that specializes in entertainment deals. "The 25- to 35-year-old demographic has really driven the growth of live-work-play developments that are truly all-inclusive. We see those in parts of Dallas like Uptown, and it's multiplying."
Golf is perhaps the most visible example of this conceptual evolution. Topgolf's revolutionary ideas involving hitting bays, tracking technology, new ways of keeping score and promoting friendly competition — all while providing access to food, drink and other games — have given rise to a plethora of new golf-based concepts.
PopStroke, a minigolf concept that was co-founded and features courses designed by Tiger Woods, is expected to open a 13,000-square-foot facility at Grandscape by the end of the year. The 430-acre mixed-use and entertainment destination, which is located in the northern Dallas suburb of The Colony, also houses Puttery, a 21,000-square-foot facility with themed courses, multiple bars and lounges and a full-service restaurant.
Both concepts will join Andretti's Indoor Karting & Games as marquee attractions at Grandscape. Rosenfeld, a former professional golfer himself, says that these deals reflect shifting patterns in how entertainment facilities are designed, which is primarily to be leaner and more efficient in their use of space.
"In dense parts of the urban core like Uptown Dallas, you simply don't have 15 or 20 acres in which to drop a Topgolf," he says. "Land is too scarce and valuable and everything is going vertical. These operators know that there's demand for their concepts, but when you can't fit within the existing availabilities, you have to find ways to shrink your footprint and create a similar product at a smaller size and scale that will still be profitable."
"Across the entertainment spectrum, operators realized during COVID that they could, and in many cases had to, get leaner with their designs and format their operations more efficiently," adds Tim Henson, another partner at Venture Commercial. "A lot of operators are working on innovations that create these efficiencies and enhance their gross margins, and that form of evolution should continue as labor and other costs of occupancy go up."
More Examples
Grandscape also introduced a ferris wheel last fall. The 42-gondola ride is positioned near the Jurassic World dinosaur exhibition attraction that opened in 2021, the same year in which Immersive Gamebox, a British concept centered on interactive gaming and puzzle-solving, also debuted at Grandscape.
"The ferris wheel at Grandscape is an example of a development that offers something different in terms of entertainment," says Henson. He represented Dutch Wheels, which operates the "Grandscape Observation Wheel," in those negotiations.
"The operators wanted an experience — something that would look unique and noticeable from the skyline that was illuminated," Henson continues. "It's an example of an ancillary use that is part of a larger entertainment experience, but one that people might not necessarily choose for a purpose-driven visit."
As for Andretti's, whose locations include a smattering of arcade and virtual reality games to go with multiple racetracks, bowling and laser tag, DFW is one of its strongest markets. The Orlando-based concept is opening a 96,000-square-foot facility in Grand Prairie, located roughly midway between Dallas and Fort Worth, targeting a fourth-quarter launch. Shortly after that announcement, Andretti's doubled down on DFW, revealing plans to launch another facility at North City, a mixed-use development in Fort Worth.
"Andretti's sees DFW as a market that can support multiple locations so long as each one is spaced about 20 miles apart," says Henson, whose firm is the leasing agent for North City. "It could probably even do a fourth location in the metroplex because it draws from such a large trade area."
Incidentally, the announcement of Andretti's in Grand Prairie coincided with that of another golf-themed concept in that market. BigShots Golf, another tech-driven sporting experience, will open a 50,000-square-foot facility within EpicCentral, Grand Prairie's 172-acre entertainment destination. BigShots Golf will join a tenant roster that includes an indoor water park, family adventure park and multiple restaurants and bars. A target opening date was not disclosed.
Another entertainment destination of sorts is taking shape at The Farm at Allen, a 135-acre mixed-use development on the northeastern outskirts of Dallas. JaRyCo is developing The Farm, which announced last fall that High Five Entertainment would be bringing a 70,000-square-foot venue to the property. Slated for a fall opening, the facility will feature bowling, laser tag, axe throwing, escape rooms, minigolf and private event spaces.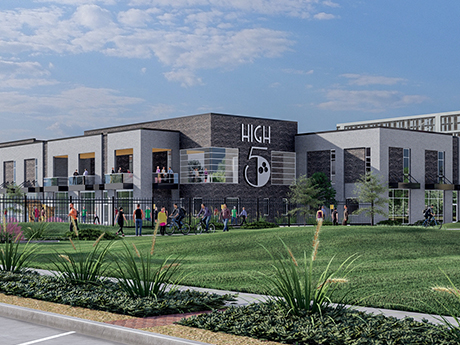 Chicken N Pickle, a concept that blends food and drink with what many people now realize is America's fastest-growing sport — pickleball — has also committed to The Farm at Allen. Details on the spatial footprint and construction timeline are still being finalized. Chicken N Pickle opened a venue in Grand Prairie in 2021 that offers lawn games, a rooftop bar and a full-service restaurant, in addition to numerous courts.
Sources point out that Chicken N Pickle makes sense for The Farm at Allen because both the facility and the project are being constructed from the ground up. That makes it easier for the development team to meet the concept's highly customized requirements while also cutting out time-consuming and potentially contentious discussions about tenant improvement (TI) dollars. In an environment in which construction costs never seem to stay down, TI represents a crucial point of the negotiating process, especially for deals involving vacated retail spaces.
"Tenant improvement dollars continue to be key points in lease negotiations due to the specialized, customized build-outs that these concepts require," explains Nott. "Owners are having to make concessions in the form of free rent, and many tenants are looking to buy because build-outs are so expensive — unless it's a market that they can't penetrate, like North Dallas."
Although landlords may often have to bend on their allocation of TI dollars to get a desired entertainment user in their space, Nott says that doesn't necessarily mean that tenants hold all the cards.
"When you have a market with 95 percent occupancy, you have to move fast as a tenant," she says. "But because landlords have spent so much money on tenant improvement, the owner doesn't want to compromise the success of the tenant. Free rent then becomes key in discussions. Operators can run into issues with municipalities and have delays, so they need the time and money to be able to offset any of those obstacles."
As for other key points in lease negotiations, co-tenancy clauses with existing retailers at centers have historically been known to delay progress as well. This is mainly because smaller users are wary of entertainment groups coming in and eating up their parking. However, that may be starting to change.
"Many retailers that historically said 'no' to entertainment, gyms and theaters — users that gobble up parking — are now realizing that they're great traffic generators that pull their core customers into other shops within the center," says Day. "While a traditional soft goods retailer pulls customers from within a 10- to 15-minute drive time, entertainment users pull from 20 to 30 minutes away, so they're expanding the reach of the customer base, which ultimately helps the soft goods retailers."
Next-Level Stuff
It's not uncommon for fast-growing markets in business-friendly states to be able to boast about healthy demand and leasing activity for entertainment concepts. It's another thing to have one of the world's largest operators target your market for a new development. But that's exactly what North Texas — specifically Frisco — is getting from Universal Studios.
Earlier this year, the Orlando-based entertainment behemoth announced that it would open a 97-acre theme park and hotel. The site is located east of the Dallas North Tollway and north of Panther Creek Parkway. The proposed park will be smaller than the entertainment giant's other resort destinations and will be designed to be more engaging for younger audiences via interactive shows, character meet and greets and unique merchandise. More details will likely be divulged later this year.
On the other side of the metroplex in North Richland Hills, a children's theme park dedicated to Peppa Pig, an iconic character within the family of toymaking giant Hasbro, is also in the works. British company Merlin Entertainments, which is perhaps best known for its 15-plus Legoland theme parks and discovery centers throughout North America, will operate the theme park. Construction details and timelines are still being finalized, but the park will be located at the site of the former Mountasia Family Fun Center and next to the NRH2O Family Water Park. 
While these two projects speak to the uniquely robust level of growth and opportunity in North Texas, on a more general level, they represent innovation, which is the force that propels the ship across all markets.
"Entertainment tenants will have to keep reinventing themselves to be successful, or it will be tempting at the end of their 10-year lease term for landlords to want to reinvent the space just to keep traffic flowing at their properties," says Nott. "Operators have to stay current and evolve to keep up with competition, and there's going to be more turnover in the future than there was in the past."
And on a non-real-estate level, all of these entertainment concepts, regardless of their size, theme and lineup of games and activities, offer a chance to bring families and friends together. Wherever there exists a need for that level of outside-the-home connection, so too will there be demand for entertainment centers.
"At the end of the day, these concepts provide the catalyst to enhance family dynamics and create memories," says Day. "Memories for kids and parents that last forever can be born in these places, when the son challenges the dad on the ninja course or when the 15-year-old with the learner's permit is racing the parents on go-karts or when the mom dominates at bowling. That's what entertainment concepts bring to consumers, and there's tremendous value in that."
— This article originally appeared in the May 2023 issue of Texas Real Estate Business magazine.