North Texas Mixed-Use Boom Moves Full Steam Ahead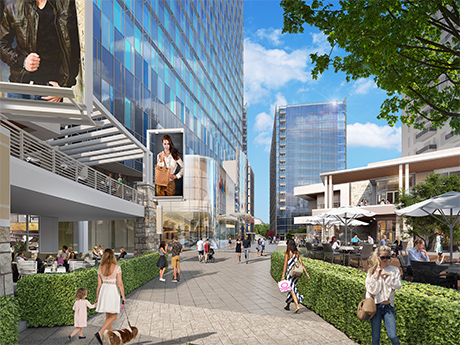 By Rob Welker, president and partner, Hoefer Welker; and Steven Janeway, principal and commercial practice leader, Hoefer Welker
As one of the biggest states, Texas regularly sees some of the largest demand in real estate development in the country. In recent years, North Texas specifically has experienced a rapid short-term increase in population, leading to a significant real estate development boom and driving up urban and workforce development, rental rates and sale values.
Mixed-use developments have led the charge in commercial real estate growth throughout the Dallas-Fort Worth (DFW) metroplex. Higher overall interest in a live-work-play lifestyle has contributed to the development of a larger number of spaces that provide corporate, retail and residential capabilities.
Gone are the days when corporate campuses and multifamily complexes were predominantly in the suburbs; tenants and employers have increasingly searched for living experiences in urban environments where they can combine the three biggest facets of their lives within a single destination. This provides the convenience that tenants crave and the access to a concentrated population that retailers and office users need to be successful.
The Coastal Exodus
As personal and business income tax rates, regulatory hurdles and costs of living abound in coastal markets, corporations have begun relocating their headquarters to areas like North Texas, where they can find lower rents, more space for development and educated workforces. Additionally, relocating to the Central Time Zone has proven beneficial for companies with international business operations, reducing travel time and shortening workdays for those with meetings across multiple time zones.
The San Antonio Business Journal reported earlier this year that 42 percent of domestic migration to Texas originates from California, including numerous California-based corporations. The same article reported that every single week, the state sees average net in-migration of about 4,000 people.
This influx of jobs and people has driven demand for high-density mixed-use developments in city centers — and heightened the need for nimble real estate and architecture firms with development expertise across multiple market sectors.
The pandemic caused the pace of new construction to slow in numerous commercial sectors, but mixed-use wasn't one of them. Consumer, tenant and investor demand for mixed-use projects and deals in North Texas remains stronger than ever.
This demand was outpacing development capabilities even before COVID-19, and all indications show it will continue for several years. Put simply, more people are moving to North Texas cities than developers can build for. While this imbalance has driven unprecedented economic growth for the area, it's also exacerbated the local impacts of current global challenges such as supply-chain and labor shortages, inflation and high development costs.
The Mixed-Use Experience
With the dramatic uptick in remote work during and following the pandemic, office-use tenants have continued to allow employees to work at least partially from their homes. The Great Resignation also transformed employees' expectations for amenities. It has redefined how far people are willing to relocate and how much more they will pay for convenience and a multifaceted living experience.
Today's workforce wants more when it comes to the proximity of amenities, whether it's restaurants, bars, outdoor spaces, dog parks, entertainment or other social environments. From retail tenants to employers, having access to thousands of people who work a few steps away — or within a quarter-mile radius — is a game-changing advantage.
While the pace of supply has continued to lag behind demand, North Texas is still ahead of the rest of the country when it comes to urban, mixed-use development.
The mixed-use boom — particularly the repurposing of preexisting urban spaces — has had many positive impacts. For one, it's far more environmentally friendly for people to live where they work, reducing gas emissions from commuting as well as the carbon footprint associated with building out suburban and rural areas.
A vertical rather than a horizontal approach to mixed-use and corporate workspaces has also increased walkability and positioned many DFW residents closer to public transportation. The establishment of denser retail communities in the metroplex's urban centers has also localized many resources and retail services, allowing for more sustainable sourcing and support for local businesses. 
Bigger in Texas
Two examples of this urban development in Dallas are in the Uptown neighborhood and Legacy West district. These areas are radically different from a decade ago, thanks to an influx of mixed-use developments.
Uptown was formerly devoid of residents outside of business employees, leaving the area vacant after the work day ended and people went home to the suburbs. Legacy West was also a desirable area for corporate headquarters but was largely detached from its surrounding suburbs. Urban development within these two areas has dramatically increased the residential population with the enticing additions of retail, restaurants and entertainment venues to the existing office environment
In another example of urban development, the forthcoming Offices at Grandscape, a 3.4 million-square-foot mixed-use development, will deliver an entirely novel retail experience to the area. Located in The Colony and designed by Hoefer Welker, Grandscape will provide 1.5 million square feet of leasable office and residential space in three 22-story buildings and a retail center in the heart of an open plaza. Consumer demand for high-touch, experiential retail drove the project's development.
Beyond its built-in audience of tenants, this lifestyle center is designed to be a destination hub for the region. More than a typical outdoor mall, Grandscape will include entertainment venues, a 200-foot-tall Ferris wheel and a minigolf venue in the center — drawing people to the heart of the complex where retail stores surround them. This movement toward experiential retail and high-quality amenities has been a significant driver in some of the area's most prominent mixed-use developments.
While remarkable strides have been made in transforming the area, the demand for mixed-use developments in DFW has shown no signs of slowing down. As people and companies continue to move to North Texas and drive economic and cultural growth, we as urban developers can expect these dynamic and exciting trends to continue for many years.
— Hoefer Welker is an interdisciplinary architecture, planning and interior design firm with offices in Dallas, Kansas City and Jacksonville.
Get more news delivered to your inbox. Subscribe to France Media's e-newsletters.
Click here.