Project Destined: Training a New and Diverse Generation for Real Estate Careers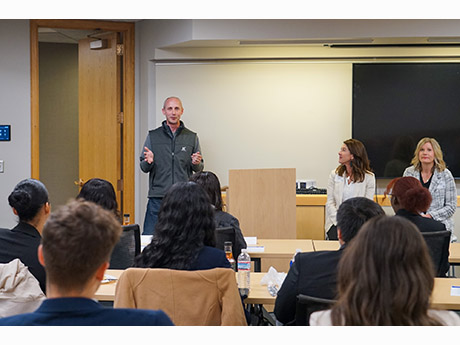 For the better part of the last two decades, billions of dollars have poured into underserved neighborhoods across the U.S. as corporations, millennials and real estate investors rediscovered downtowns and other urban districts. But to former Carlyle Group executive Cedric Bobo and real estate entrepreneur Fred Greene, young people who grew up in the neighborhoods were often excluded from playing a role in the transitions.
To remedy that problem, in 2016 they began training 15 Detroit high school students in real estate fundamentals and invested $150,000 to buy two properties with the idea of using the cash flow to fund scholarships. Soon after, Bobo and Greene officially launched Project Destined, an endeavor to effect social change in the commercial real estate industry by providing college students with financial literacy, entrepreneurship and real estate training.
"Cedric found that there was a real need for diverse talent in commercial real estate but that it was hard for companies to find it," reports Cristina Ciacciarelli, a junior at Burach College in New York City who completed the program in 2021 and now heads up corporate partnerships for Project Destined. "It was also hard for the companies to sell themselves to diverse talent even when visiting different universities because most students thought of real estate as being residential and weren't aware of the commercial side of the business. So, Project Destined is really helping to bridge that gap."
Project Destined partners with corporations in various cities to sponsor teams of college students for the training while providing mentorship and real-world experience. The entire program is run by undergraduate students, and, to date, roughly 60 companies have become team sponsors. So far, they have trained more than 4,500 participants, from all different backgrounds and areas of study, across 300 universities in the U.S., U.K., Europe and Canada.
"I thought real estate was about getting your realtor's license and selling houses," said Kenzer Hodgson Hammond, current Project Destined student on Team Northmarq. "This program taught me that real estate can change a community for the better. Project Destined and Northmarq helped me find what I am truly passionate about, so much so that I have decided to pursue a career in real estate. The program constantly pushes us to think outside of the box and has helped change the trajectory of my future."
The program's ability to connect college students to training is proving to be a huge benefit for commercial real estate companies, too. In Minneapolis, for example, Northmarq, a commercial real estate capital markets firm that provides investors with debt, equity, investment sales and loan servicing needs, became the first corporation based in the Twin Cities to sponsor a Project Destined team. Because Northmarq emphasizes contributing to the success of the communities in which it operates while broadening the pipeline of diverse, incoming talent, it was a natural fit.
"It's no secret that the commercial real estate industry is lagging behind when it comes to diversity," said Jay Donaldson, Northmarq's president of Fannie Mae & Federal Housing Administration (FHA) platforms, "The time for platitudes is long gone — the industry needs to act. This is why we are so thrilled to engage with the team at Project Destined. As the pipeline from organizations like Project Destined grows, our company will judge its success based on the positive changes we see in our incoming interns, analysts and participants in our associate producer program. We already have candidates from Project Destined committed to work at Northmarq, and I couldn't be more thrilled to see what the future holds."
Spotlighting Deal Techniques
College students who participate in the Project Destined program complete more than 40 hours of training broken into three rotations of focus: market research and property analysis, value and value creation, as well as deal financing. The curriculum consists of virtual lectures, an executive speaker series moderated by Bobo and office hours sessions with mentors from their sponsoring company.
"Working with our mentors from Northmarq has given me the confidence I need to succeed in commercial real estate," said Nykole Denise-Allen Clark, a current Project Destined student on Team Northmarq. "They have provided me with an in-depth real estate experience that has opened my eyes to the world of real estate."
To put the education into practical context, students work with two to four mentors at sponsor companies to structure and evaluate actual commercial real estate investments in the community and pitch their deals against other Project Destined teams in a Shark Tank-style competition. There are three contests throughout the program — one for each area of study — with scholarships as awards.
"The competitions are designed to give students a taste of what an investment memorandum looks like and how a presentation before an investment committee takes place," Ciacciarelli explains. "Across the board, whether they're studying nursing or finance, students that go through the program gain confidence and are able to walk an investor through a deal."
The Northmarq team is scheduled to wrap up its training in early December and has been competing against teams sponsored by Invesco in Dallas and by U.S. Bank in Minneapolis.
Ultimately, the students aim to leverage their experience to obtain internships, full-time employment and real estate certifications. In addition to working as a program manager for a couple of teams, for example, Ciacciarelli will spend next summer as a real estate capital markets analyst for a New York firm.
Another success story comes from a recent graduate of the program, Desiree Jones. She recently accepted an offer to join Northmarq as a commercial insurance analyst. "I would not have this amazing opportunity without my experience as an intern at Project Destined," she said. "This internship opened doors for me to network and excel in the finance industry."
Room to Grow
Project Destined received 11,000 applications for the fall 2022 program, and many of those students are in cities that don't have sponsors, Ciacciarelli says. But if companies that operate in those markets decide to sponsor a program — including firms already sponsoring a team in another city — then Project Destined can set it up within a few months.
Plus, while Project Destined primarily serves college students, it continues to work with high school students and has introduced an adult program. It also will customize a curriculum upon request for its corporate sponsors, such as an investment bootcamp for as many as 30 students, Ciacciarelli says.
At this point, however, what students really need is more sponsors. And for jobs that require experience, creativity and community connection, what sponsors need are more well-trained and diverse candidates.
"We have the capacity to deliver programming in any market — the talent and interest is already out there and ready to go," Ciacciarelli states. "The opportunity exists to expand and develop new programs for our corporate sponsors and bridge the gap between demand and equal access."
— By Joe Gose. Northmarq is a content partner of REBusinessOnline. For more articles from and news about Northmarq, click here.
To learn more about Project Destined, visit https://projectdestined.com/.
To learn more about Northmarq, visit https://www.northmarq.com/about/values/.
Get more news delivered to your inbox. Subscribe to France Media's e-newsletters.
Click here.