Office Designs, Layouts Look Different in Post-Pandemic Marketplace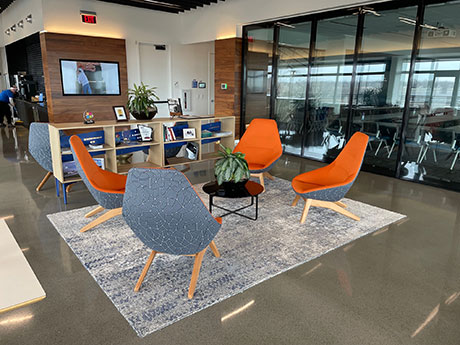 It's safe to say office space design has been transformed over the past two years in large part due to COVID-19 and the work-from-home experience. It has changed for now, the foreseeable future and maybe forever. 
Though many people are still working from home, others have returned to the office, even if only for a few days a week, and many of the office spaces are looking entirely different. While this may be happening in other markets, it is a trend we are seeing in the Milwaukee office market.
The idea of the design and aesthetic of the office has changed. Current trends in office design are focusing on safety and comfort, while also creating a sense of home at the office.
Tenants are being more thoughtful about their space layout and design. Instead of trying to fit as many people as possible into the space, tenants are occupying roughly the same size, or even slightly smaller spaces, but focusing on making those spaces more welcoming to help ease those workers coming back into the office, as well as recruiting new employees. 
Bring home into the office
This design trend has the goal to provide comfort and safety at every level and to make employees feel relaxed, as if they were at home. To foster this, designers have been incorporating residential elements such as comfortable sofas and chairs, soft lighting features in common spaces or artwork displayed throughout the office, or even using wood flooring to bring a sense of warmth to a space. 
From design aesthetics such as natural light, acoustics and greenery to a greater focus on safe, protected workspaces, designers and companies are looking for ways to maintain a healthy and happy working environment while improving productivity.
This trend is not limited to just the Milwaukee downtown submarket, but one we are seeing increase across the market. One of the office parks situated just outside of downtown, Honey Creek Corporate Center, is seeing this trend with almost all of the leases occurring over the last six months. 
 Bringing color into the mix
Another shift we are seeing in office interior design trends is the coloring of the physical space. This year, tenants are utilizing lighter colors in the office to help it appear brighter. The use of lighter colors with a mixture of grays, greens and neutrals is becoming common. Light wood looks mixed with pops of color on flooring and walls is a popular option in an office environment that is helping employees feel more cheerful and positive.
Color also helps companies stay on brand, and many tenants are finding unique ways to incorporate their logo or brand colors into the design of their space, including colored furnishings, pillows or even flooring. Luxury vinyl tile or plank enables tenants to even cut into the lobby flooring to display their brand logo. 
Aside from the company branding, color in flooring can add energy to a workspace. If an office uses an open floor plan, different pops of color are a great way to separate space and improve navigation. Using multiple flooring types is one way to aesthetically define different spaces.
Balancing spaces
Over the years, many companies have embraced the open-concept office design, but now flexible workspaces and "pod-style" layouts are more important than ever because of the pandemic. 
Today, when employees are back working in the office, they are often seeking private spots or enclaves where they can safely work. These open-office environments include smaller, private areas and "pod areas" with enough workspace, seating and outlet access so employees can make phone calls, participate in video conferences or work on projects safely.
When possible, one of the big office trends in 2022 is incorporating more natural lighting into the workspace. This includes the use of more window lines for large common areas and small-group collaborative spaces. In addition, the use of indirect or diffused light as well as lighting that mimics natural light creates a more inviting and comfortable work environment. 
As a landlord representative, we have been seeing this in the Milwaukee-area buildings we lease, and in our build-out work with architects and construction teams for our tenants. Allowing for these areas makes a space feel brighter and more comfortable to work in and is what our tenants are looking for when bringing employees back to the office, as well as for those recruiting and attracting additional talent to add to their team. 
Having these key components in an office setting is becoming almost a requirement to convince workers to want to work in a physical office versus remaining in a work-from-home setting.
The outdoors come inside
In addition to color choices and welcoming layouts, new office spaces are incorporating green options like plants, and interesting wallcovering designs are also gaining momentum. Many modern office spaces now feature living walls (also known as green walls), which are real gardens and plant displays that are fixed to interior walls. 
Not all tenants are going for a full green wall; however, many offices are embracing more plants in general. Some spaces don't have many windows or poor lighting, so incorporating greenery helps to add a bit of nature and bring the outdoors inside. Plants in office settings are not only part of the comforting, home-like trend, but they also provide numerous health benefits including noise reduction. 
Another benefit that tenants and landlords are looking to implement are air purification systems — like the bipolar ionization air purification system installed at Honey Creek Corporate Center — as a way to combat the spread of illness among office workers. 
Finally, many office designs are incorporating wallcoverings into their spaces, which can be used to showcase history and culture. Any pattern, texture or color on a wall, or a wood design, wallpaper or absorption paneling can add warmth and dimension to any space. Wallcoverings are great design tools for transforming plain offices into places where employees and guests feel welcome and comfortable. Floor-to-ceiling accent walls can help change a regular conference room into a warm meeting space.
These design moves are aimed at creating a comfortable and inviting office space welcoming people back into the physical office. The use of these design aspects — color, textures and sustainability — is continuing to gain momentum in Milwaukee and something we expect will only continue to build throughout 2022 and beyond.
Wally Sauthoff is a managing director with NAI Greywolf. This article originally appeared in the May 2022 issue of Heartland Real Estate Business magazine.
Get more news delivered to your inbox. Subscribe to France Media's e-newsletters.
Click here.