OKC Industrial Market Sees Record Development, Low Vacancy as 2022 Begins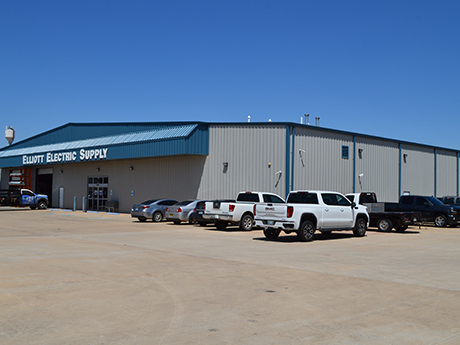 By Randy Lacey, SIOR, senior vice president, CBRE | Oklahoma City; and Chris Zach, CPA, associate, CBRE | Oklahoma City
Contrary to popular belief, the ongoing pandemic has been a boon to many aspects of the Oklahoma City economy.  
Industrial real estate growth has been more prominent than any other commercial sector. Those familiar with the city and surrounding area can vouch for the speed and intensity of housing demand and development, but industrial real estate has set itself apart over the last few years.
OKC is Here to Stay
Oklahoma City has a lot going for it. The market always has been well-positioned in terms of its central geographic location at the intersection of Interstates 35 and 40 and has seen tremendous growth and success in the last decade, with significant headway in the local industrial real estate market. 
The industry has proven its resiliency amid the pandemic and should continue to fare well into the future. But low costs of living and doing business have further  bolstered the appeal of the community.  
In fact, Oklahoma City is only one of 14 cities across the country to add more than 100,000 people in the last 10 years, according to 2020 data from the U.S. Census Bureau. Of the 25 largest cities by population, Oklahoma City had the sixth-fastest growth rate between 2010 and 2020 at 17.4 percent.
Even better, the city is putting its people to work. In the last quarter of 2021, Oklahoma City's unemployment rate dipped to 1.9 percent, a 30-year low. 
The Perfect Scenario
Oklahoma City's industrial market has undoubtedly benefitted as demand for e-commerce services and warehouse and distribution space has soared across the country. The pandemic certainly highlighted the need and urgency for reshoring manufacturing, diversifying sourcing and keeping "safety stock" nearby for future supply chain disruptions.
Further, the pandemic has made the internet the de facto forum for transacting many types of business. With e-commerce transactions growing as a total percentage of retail sales, more companies find themselves needing fulfillment centers to quickly and efficiently serve their customers and keep pace with the overall demand.  
Just last year, Amazon leased 101 acres of city-owned land alongside Will Rogers World Airport as part of an offering known as "Lariat Landing." The Seattle-based e-commerce giant has opened a 1.1 million-square-foot facility, bringing more than 500 full-time jobs with it.  
Oklahoma City is seeing other industrial successes as well. Cannabis suppliers have taken on a significant amount of industrial space. Medical marijuana was legalized in Oklahoma in mid-2018. Since that time, the number of new dispensaries to open in Oklahoma has been more  than double the number of new facilities to open in California, where recreational use is legal as well. 
Behind all these dispensaries are both processing and grow operations that are leading to healthier demand and absorption of significant amounts of warehouse space, in both rural and urban submarkets.  
Even more recently, mining operations for Bitcoin and other types of cryptocurrencies have brought new investment opportunities to the Oklahoma City industrial market. Data mining requires significant power consumption, and that is relatively affordable in the Sooner State.
Looking to locate in close proximity to Oklahoma Gas & Electric (OG &E) substations, these "mining farms" will develop their own facilities, sometimes bringing shipping containers onsite, or lease/buy existing sites. 
The growth of this vertical and its contributions to record-low vacancy should not be overlooked. For example, last year, an out-of-state data mining operators leased over 16,000 square feet on roughly nine acres of a traditionally oil- and gas-related property. Another such entity purchased over 28 acres in a surrounding city.
Numbers Don't Lie
Simply put, Oklahoma City's total volume of industrial sales skyrocketed from a little over $230 million in 2020 to a little over $430 million in 2021, according to research from CoStar Group. 
A quick glance at the data shows that more than half of that increase comes from outside investment from buyers in New York, California and Colorado alone.
Current prices are reflective of this level of demand and activity; the average market sale price is currently $71 per square foot versus the 10-year average of $52 per square foot. The shortage of available product only continues to put a strain on the market and drive up prices, with vacancy dipping below 3 percent in 2021, per CBRE's research.  
This stands in stark contrast to the approximately 5.6 percent vacancy rate that the market recorded just 10 years ago. Industrial rents have also risen in lockstep with demand; the market's average asking rate recently surpassed $6 per square foot, compared to roughly $4.75 per square foot only five years ago. Free rent, early occupancy, tenant improvements and other rental concessions are becoming increasingly rare in most industrial leases. 
Oklahoma City is seeing an incredible amount of development, but the community is coming to terms with the speed at which the landscape is changing after years of conservative levels of building. In the fist half of 2021 alone, there was approximately 1.7 million square feet of new product under development.  
By comparison, in the first half of 2020, there was less than 200,000 square feet of space under development. The attraction of out-of-state dollars has been evident. 
In the latter half of 2021, Dallas-based Blue Road Investments broke ground on SE Commerce Park, a 400,000-square-foot speculative industrial park that will be the largest in Oklahoma City history. On the southwest quadrant of the city is another 200,000-square-foot project that is set to be delivered this year by Dallas-based Sealy & Co.
Looking to the Future
Labor market analytics firm Emsi reports that between 2010 and 2020, the total number of warehouse and distribution jobs in Oklahoma City grew by 10,000, or 56 percent. When that figure is considered in conjunction with the strong growth rate of the local population, it becomes apparent that the ceiling for Oklahoma City's industrial expansion is quite high.
For now and for the foreseeable future, we certainly can expect more of the same. Big-time projects like Mom's Meals out of Iowa (200,000 square feet and 125 jobs) and Carvana out of Arizona, (190,000 square feet and 350 jobs) are the types of developments paving the way for this burgeoning city.
— This article originally appeared in the February 2022 issue of Texas Real Estate Business magazine.
Get more news delivered to your inbox. Subscribe to France Media's e-newsletters.
Click here.