Plenty of Opportunities Exist in New Orleans Retail Sector, Despite the Headwinds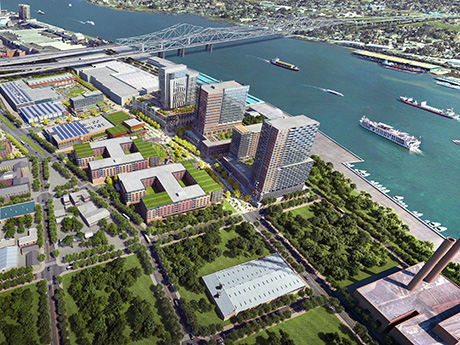 New Orleans has seen significant, pent-up retail growth over the past 12 months as we emerge from the COVID-19 pandemic. More recently, however, external forces have provided some headwinds and caused tenants and investors to go back to their corners to reassess. Inflation, rising interest rates, insurance premium increases and elevated construction costs have all contributed to uncertainty in the Greater New Orleans retail landscape.
Within the French Quarter and CBD, growing concerns from crime have forced some CEOs to look outside of the city core for their office headquarters. This issue, coupled with the current "work-from-home" environment, causes downtown retailers to rely even more on tourism and convention business. Thankfully, the hospitality sector has had success and is now exceeding pre-pandemic levels.
Due to an active 2021 hurricane season that saw Hurricane Ida devastate South Louisiana, insurance rates have skyrocketed as carriers continue to leave the state. As a result, landlords have struggled with how to handle these unforeseen spikes in expenses. Should they pass those on to the tenant or eat them to remain competitive, or a combination of the two? 2022 has been a surprisingly quiet storm season, so with any luck these rates should begin to subside.
New Orleans saw an unprecedented amount of investment sales in the marketplace. Historically low interest rates earlier this year correlated with record-breaking capitalization rates for institutional-grade retail leases. As interest rates ticked up, net-leased investment sale prices immediately softened. Speculative investment properties have been slower to adjust but are gradually entering a price reset.
In a process that began in 2020, the Ernest N. Morial New Orleans Exhibition Hall Authority Board is making strides on plans to bring a mixed-use development and entertainment district to 40 acres of land adjacent to the convention center, which is located on the banks of the Mississippi River between the Lower Garden District and the Warehouse District. Slated for mixed-income housing, office space, retail development, entertainment venues and cultural attractions, the $1 billion project, led by Lauricella Land Co. and Dallas-based Cypress Equities, has the potential to uniquely bring a large swath of unutilized land into commerce in a manner that could reshape the area.
While the Southshore is primarily an infill market, the Northshore, consisting of St. Tammany and Tangipahoa parishes, presents more opportunities for new retail development. These areas have seen tremendous population growth, and, as a result, retailers from other parts of the state have eyed the submarket. For one, The Backpacker, an outdoor-goods retailer based in Baton Rouge, is nearing completion of a total redevelopment of a Mandeville shopping center for its third location.
The area has seen some changing tides on a macro level. Post-COVID, many fast-casual restaurants now see drive-thru service as a non-starter, similar to quick-service restaurants. Where some may have seen a drive-thru as a bonus, it is now an essential part of their operation. This presents a greater challenge when finding suitable locations.
Banks have been steadily disposing of branches as they consolidate retail operations. This opens the door for an array of adaptive reuse opportunities as they are typically well-located and contain drive-thru lanes. Medical uses, or "medtailers," continue to backfill prime retail spaces and can typically afford the high rents associated with well-located real estate while they continue to push to be closer to the patient.
The Greater New Orleans region faces the same uphill battle as do all markets across the nation as we likely are entering a recession. However, the situation is starting to become clearer, and the uncertainty is lifting, allowing the proper adjustments to be made.
— By Matthew Pittman, Sales and Leasing Associate, Beau Box Commercial Real Estate. This article was originally published in the October 2022 issue of Southeast Real Estate Business.
Get more news delivered to your inbox. Subscribe to France Media's e-newsletters.
Click here.