Public-Private Partnership Plans $4.2B Terminal Redevelopment at JFK Airport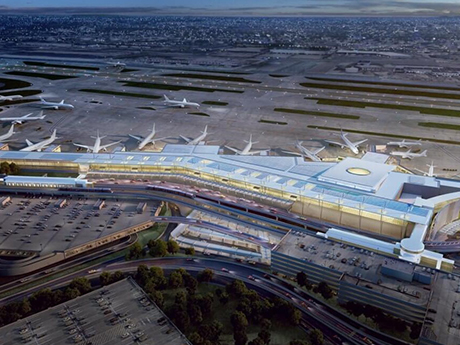 NEW YORK CITY — A public-private partnership between The Port Authority of New York & New Jersey and JFK Millennium Partners (JMP) has released plans for a $4.2 billion redevelopment of Terminal 6 at John F. Kennedy International Airport in New York City.
The redeveloped terminal, which will be located on the airport's north side and offer international flight services, will span 1.2 million square feet. The new Terminal 6 will also connect to Terminal 5, which JetBlue owns and operates, and eventually replace the existing Terminal 7, which will be demolished.
Lufthansa Group, which comprises Lufthansa, SWISS, Austrian Airlines and Brussels Airlines, will operate out of Terminal 6 along with JetBlue and other international airlines. The new terminal will feature updated international passenger processing, ticketing counters and passenger security screening, as well as 100,000 square feet of concession spaces and airport lounges.
The developers say the project will add more than 4,000 jobs to the local economy. The first gates are scheduled to open in early 2026, with full project completion slated for 2028.
In addition to airport-specific upgrades, the development will deliver infrastructural improvements that are designed to reduce congestion and delays within the airspace and on the roadways and runways.
Approved in August 2021, the Terminal 6 project is part of an $18 billion transformation of JFK International Airport that the Port Authority is spearheading. This project follows the $9.5 billion development of a 2.4 million-square-foot international terminal on the south side of the airport.
"We are confident this project will bring new opportunity, sustainability and prestige to the surrounding neighborhoods of Southeast Queens, New York City and the Tri-State Area," says David Cibrian, co-founder and CEO of ATI.
"Over its 100-year history, the Port Authority has proven its mettle in creating and sustaining the facilities that propel the Tri-State economy," adds Henry Cisneros, ATI's chairman and other co-founder. "The governor and the Port Authority have envisioned, organized and managed a complex public-private partnership that sets an example for how the region will undertake the public improvements that the future requires."
JMP is a consortium consisting of infrastructure investment and management firm American Triple I (ATI), Vantage Airport Group, local developer RXR and JetBlue.
— Taylor Williams
Get more news delivered to your inbox. Subscribe to France Media's e-newsletters.
Click here.