Raleigh-Durham Office Market is Facing Even Stronger Headwinds at Start of 2023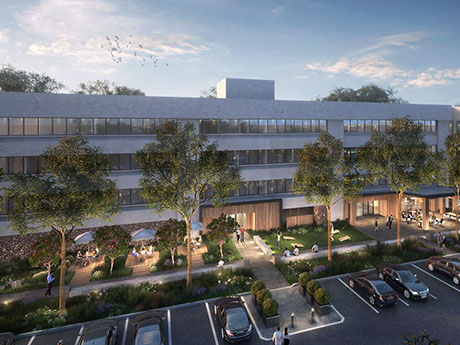 Talk to any commercial broker across the Raleigh-Durham market and you will hear much of the same feedback. In answer to the basic questions, one hears, "The in-office work week is now three days, primarily Tuesday through Thursday."
This trend, which was slowly becoming more evident over the last 20 years with the growth of the digital economy, was accelerated by the pandemic. And further aided by the wider availability of high-speed internet, the demands of the digital workforce are taking people out of their offices and, in some cases, around the world. Companies that value their digital workers are letting them make business decisions that affect the office building markets around the world. It is fascinating to watch.
Recent data published by Kastle Systems (a keycard and security supplier for commercial buildings) shows that based on keycard swipes across the 10 largest cities in the United States, we are witnessing structural change in both the traditional work week and employee work hours, in degrees that are directly impacting the need for office space. As a result, employers are downsizing their leased footprints, opting for less square footage and/or shorter leases. Those companies with large numbers of digital workers are causing much of the market pain.
With its sustained population growth, depth of educated workforce and relative affordability, metro Raleigh-Durham continues to draw corporate relocations and expansions such as Fidelity Investments, Apple, Google and Bandwidth. But the widespread shift to a hybrid model and remote work has led to a slowing of leasing and sales activity.
Over the next two years, 3 million square feet of office leases are going to expire in our market, with 1 million of that occurring in the next 12 months. Whether or not these tenants renew their leases or decide to scale back, downsizing of office space is a trend we expect may last for three to five years. Most recently, a 25 to 50 percent reduction of leased space is a typical range.
It should be noted that this trend primarily includes tenants that occupy more than 10,000 square feet. Smaller tenants are generally not downsizing. Locally, major occupiers such as MetLife, Lenovo, Cisco and Labcorp, which collectively lease a combined 2.3 million square feet across our market, have reported their intent to reduce their real estate lease holdings.
The Raleigh-Durham office market contains about 77 million square feet of non-owner-occupied inventory. Of that, 4.8 percent, or 3.7 million square feet, is sublease space available on the market — a 220 percent increase over the previous 10-year average. This surge in available space will continue to expand.
In addition, new construction deliveries of a combined 3 million square feet are entering the market. Projects that started two years ago are just now, or soon will be, hitting the market. Over 10 million square feet will likely be available in the near future. With demand significantly reduced, the office market recovery will take time. It will likely experience negative absorption for the next three years, and possibly more.
In terms of recent office sales activity in the Raleigh-Durham market, the region ended 2019 with a total volume of $1.05 billion, with an average asset sale price of $228 per square foot. Sales volume then doubled in 2020 ending the year with $2.1 billion in volume at an average price of $264 per square foot.
In 2021, office asset sales in the market decreased slightly to a total of $1.9 billion at an average of $250 per square foot. 2022 saw a substantial drop in sales transactions compared to previous years, rounding out the year with a total volume of $928 million — less than half the year prior and averaging only $184 per square foot.
Clearly, office asset pricing is under tremendous pressure due to the high degree of uncertainty in tenant demand and abundant supply. This has generated a low supply of buyers and lenders. Simply put, lenders do not want to lend and investors don't want to invest.
This is primarily true when larger assets with larger tenants are involved. The bifurcation of larger assets and smaller assets, in turn, seems to reflect that they are not subject to the same patterns or rules traditionally applicable to the Triangle office market.
The highest concentration of these large tenants in large assets can be found in the market's central business districts. Both the Raleigh and Durham downtowns have suffered the destructive effects of the pandemic and the summer of riots, especially Raleigh. Destruction wrought by the riots caused a debilitating volume of closed storefronts that substantially marred office leasing desirability. Paired with the effects of the pandemic, both retail and office spaces downtown have taken a major hit.
Across the market, brokers firmly agree that because of this, the downtown markets have been affected the most. One day these areas will return to same level of vitality that they previously enjoyed. For now, however, the lack of workers has diminished the market for services and left many vacant retail and service spaces that once housed thriving merchants and food-and-drink establishments.
Despite these headwinds, the Downtown Raleigh Alliance reports that, "Since the beginning of 2021, there have already been 78 new business openings or expansions, which is a net gain of 35 new businesses in less than two years. Downtown remains a popular residential market with residential occupancy at 94.9 percent."

— By Jim Anthony, Founder and CEO, and Gabe Cunningham, Research Analyst at APG Advisors. This article was originally published in the January 2023 issue of Southeast Real Estate Business. APG Advisors monitors these trends closely and reports on them quarterly at www.apgcre.com.
Get more news delivered to your inbox. Subscribe to France Media's e-newsletters.
Click here.