Regent Properties Acquires 1.2 MSF Trammell Crow Center Skyscraper in Dallas for Over $600M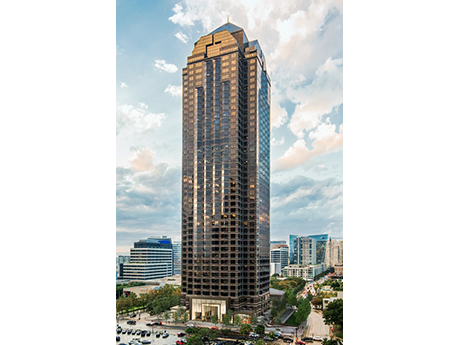 DALLAS — Regent Properties has acquired Trammell Crow Center, a 50-story, 1.2 million-square-foot office tower located at 2001 Ross Ave. in downtown Dallas. The property is among the tallest buildings in the city.
Regent purchased the skyscraper from a group of institutional investors advised by J.P. Morgan Global Alternatives. While terms of the transaction were not released, The Dallas Morning News reports that the Class A tower, along with a retail building and parking garage across the street, sold for more than $600 million.
The property recently underwent $180 million in renovations, which included the development of a 2,000-space parking garage, 10,000-square-foot athletic club, 10,000-square-foot conference center, tenant lounge, outdoor gathering areas and 32,000 square feet of retail space.
The acquisition also includes the adjacent full city block situated at 2000 Ross Ave., which can accommodate a new residential or office tower. The site is also home to a JW Marriott slated to open in 2023, which was not included in the sale. 
"Last year we set an objective to invest more than $2 billion in high-quality office real estate across Texas and the Sun Belt regions," says Eric Fleiss, CEO of Regent Properties. "The purchase of this iconic asset during a period of market dislocation reflects our view that sustained demand for best-in-class office towers will continue."
Regent has acquired more than $1.2 billion worth of real estate across Texas and the Sun Belt region of the U.S. over the course of the past year, including a 435,000-square-foot office building in downtown Austin and a portfolio of four office buildings in downtown San Diego for $420 million. The company also opened a second headquarters in Dallas last September to support its investment strategy.
The Dallas-Fort Worth metropolitan area was one of the top three markets for office leasing during the fourth quarter of 2021, according to research by Transwestern. The state's job growth of 5.1 percent also outpaced the U.S. national average of 4.5 percent in 2021, according to the Texas Workforce Commission.
Regent Properties is a real estate investment management and development firm that oversees a variety of investment vehicles, including co-mingled funds and separate accounts, on behalf of institutional investors. The company focuses on investments across six Sun Belt markets.
J.P. Morgan Global Alternatives is the alternative investment arm of J.P. Morgan Asset Management. The firm has $213 billion in assets under management.
—Katie Sloan 
Get more news delivered to your inbox. Subscribe to France Media's e-newsletters.
Click here.