Rio Grande Valley Retail Market Sees No Shortage of Demand from National Brands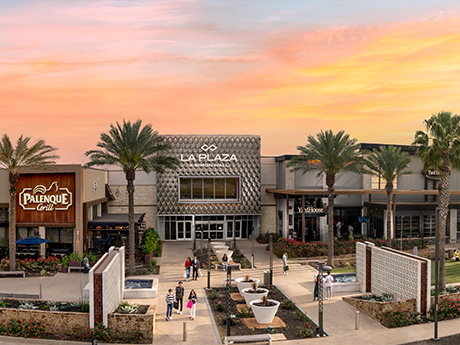 By Randy Summers, vice president, CCIM, CPM, Davis Equity Realty
"Y'all come" is the message being sent to developers, retailers, franchisees, quick-service restaurants, corporations and manufacturers from the Rio Grande Valley (RGV) region of Texas — and all these users seem to be heeding the call. 
The local economy seems to be hitting on all cylinders, albeit with constraints on labor and supplies, as well as rising costs. The four counties that statistically make up the RGV — Hidalgo, Cameron, Starr and Willacy — combine to produce a regional population of over 1.4 million and a workforce population of over 485,000.
While COVID-19 continues to have lasting effects on labor, the Small Business Administration reported that the Lower Rio Grande Valley District, which serves 14 counties, had 44,471 Paycheck Protection Program (PPP) loans approved totaling $2.4 billion.  Of that, 71 percent were loans for the RGV's four counties representing 59 percent of the dollar amount, or $1.4 billion. 
That is a considerable amount of money that was pumped into the local economy and doesn't include the $64.6 million in grants provided to restaurants through the Restaurant Revitalization Fund out of the American Rescue Plan Act.
Year-to-date sales tax revenue provided by the Texas Comptrollers Office shows Hidalgo County with an increase of 19.3 percent; Cameron at 12.5 percent; Starr at 12.2 percent; and Willacy at 8 percent.
What the region is now experiencing is tremendous growth in housing — subdivision development and multifamily projects — as well as demand for retail, industrial and healthcare facilities.
Burlington, Hobby Lobby, Five Below, dd's DISCOUNTS, Ross Dress for Less, Rack Room Shoes, My Melrose, Dollar General and Dollar Tree are among the retailers that are adding sites in the RGV.  
And who eats at home anymore? Dutch Bros. Coffee, Starbucks, Crumbl Cookies, Build-A-Burger, Shipleys, Sonic, Chick-fil-A, Jack in the Box, Burger King, Denny's, On the Border, Buffalo Wild Wings, Wingstop, Cold Stone Creamery, What-a-Burger, Little Caesar's and Pizza Hut are all adding sites as well. This doesn't include all the entrepreneurs opening up bakeries, taco huts, BBQ restaurants, gourmet hamburgers concepts and other eateries. 
Stripes and Circle-K are not to be left out either, as they are constructing six new sites throughout the RGV. And let's not forget entertainment. Grab your popcorn and soda pop; Cinemark has made some land purchases and will be building screens in the future to satisfy the increased growth in population and big-screen moviegoers. 
Specific Standouts
Starr County, the county seat of the region, is experiencing over $20 million in new development of national retailers and franchises. Troy Bathmam, Jim Gissler and St. Ives Realty Inc. lead those development efforts, which will eventually encompass over 95 acres of retail and industrial development with a master plan for warehousing and cold storage facilities. All of this new development will only add to the over $6.7 million in sales tax generated for Starr County in 2021. 
In Hidalgo County, Mission is seeing significant interest in residential development in single-family, multifamily and master-planned communities, with over 900 residential lots and 1,000 apartments coming on line within the next 24 months. The county is also seeing growth in the retail and service sector.  A new produce route coming through Mexico to the Anzalduas Bridge has added increased interest in cold storage and warehousing.
In Donna, Merit Commercial Real Estate is building over 250,000 square feet of retail and restaurant space, with 50 percent of the project complete and fully occupied.
Weslaco has seen four new retail developments come out of the ground in the last 12 months, and all of them were leased quickly.  The original Palm Plaza, built in the 1970s, has been leveled by CBG Commercial Real Estate, with new retail, hotels and sit-down restaurants set to soon take occupancy of the 15-plus-acre site. 
Corporate Asset Partners, led by Craig Garansuay, has also started construction on a 10-acre retail development, The Shops at North Bridge. There are over 250 acres of single-family and multifamily development in Weslaco that will bring 688 lots to market. 
The Weslaco EDC also has over 100 acres under development for the second industrial park in this market. Weslaco, with its central location for the RGV, is quickly becoming a hotspot for industrial and distribution needs.
Cameron County is experiencing unprecedented growth as well. Harlingen, Texas, had over $120 million in new construction projects underway in 2021, with single-family and multifamily construction accounting for 72 percent of that value. There is now more than 6.8 million square feet of retail space in Harlingen, with C-stores, automotive shops, restaurants and sporting goods retailers driving that demand.
Brownsville, with the continued expansion of SpaceX, is seeing high demand in warehouse and manufacturing. SpaceX alone has leased over 100,000 square feet at the Air & Space Campus developed at the Brownsville/South Padre Island Airport.   
Speculative development of warehouse and industrial spaces are translating to strong preleasing rates. Over 600,000 square feet was leased in December 2021 alone. More than 250,000 square feet of new product is in development, and some manufacturers are building their own facilities.
Final Thoughts
The RGV has benefited from constant and stable growth over the last several decades. The region has had ample land for development, affordable labor and a low cost of living. 
For the most part, municipalities have worked with developers to bring development to their cities. The influx of growth and outside money for development has dramatically increased property values, and the appraisal districts are armoring up for the onslaught of property value protests that will greet them in the next few weeks. 
Interest rates will rise, and with the continued inflation and supply chain issues, development will surely begin to slow. But the RGV always outperforms the national average when it comes to economic growth. This cycle should be no exception.
— This article originally appeared in the May 2022 issue of Texas Real Estate Business magazine.
Get more news delivered to your inbox. Subscribe to France Media's e-newsletters.
Click here.