Should Hoteliers Stay in San Diego?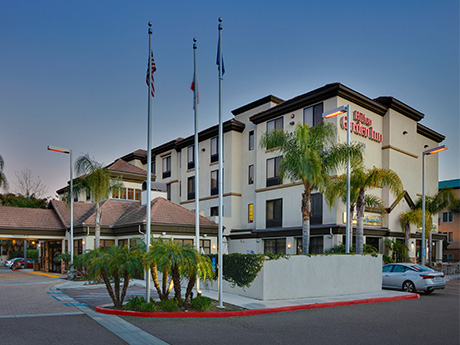 Western Real Estate Business sat down with two hotel experts to discuss what the future holds for tourism-heavy markets like San Diego. They include Robert A. Rauch, managing partner of the locally based Hilton Campus Del Mar and Fairfield Inn & Suites San Marcos and a faculty associate at Arizona State University, as well as Gary H. London, senior principal of Carlsbad, Calif.-based London Moeder Advisors, which prepares commercial market and financial feasibility studies and analyzes real estate investments for prospective investors.
WREB: How is San Diego's hospitality and tourism industries stacking up to other markets that are similar in either size or tourist popularity?
London: Because of an ongoing slowdown in international travel, many American travelers divert to San Diego as a favored domestic destination. San Diego's tourism sector has been very strong since the perceived end of the pandemic-induced recession almost a year ago.
Rauch: Over the nine months spanning from July 2021 to March 2022, San Diego has been in the top five of the 25 largest U.S. markets in all three categories of occupancy, average rate and RevPAR. Hotel occupancy comes in at 67.6 percent, average rate per night is $179.85 and RevPAR (revenue per available room) stands at an average of $121.64.
WREB: What are the biggest trends impacting San Diego's hospitality industry right now?
Rauch: Contactless transactions are staying with us and were driven by COVID. Arguably, this is the only gift the hospitality sector received from this pandemic. In addition, there is a talent void that exists due to long layoffs. Sustainability is desired by more and more guests, and because it is now profitable to recycle and "save the planet," so to speak, it is becoming a thing. 
AI and robotics are also being utilized more and more. Because California is considered a hub for innovation, I believe robotics is being led by San Diego hotels. We have had a service robot for five years and are getting four more to vacuum corridors and rooms.
London: The use of technology, from front desk to maintenance, has been the biggest influencer on the hospitality sector at large, both in and outside of San Diego. There is a drive to replace people with tech as labor is in short supply. In fact, if not for San Diego's ability to draw labor from Tijuana, many hotels could not operate. The cost of living in San Diego is a prominent issue and severely impacts hospitality labor, a sector whose wage scale is relatively low.
The other trend in San Diego is the development of higher-end hotels. There have been several notable projects focused on the luxury segment. This has also resulted in more architecturally significant hotels than San Diego has generally experienced. 
WREB: Have California's tough COVID restrictions negatively impacted this market more than others?
London: None whatsoever. The numbers speak for themselves. Room rates and occupancies are at all-time highs.
Rauch: No doubt they have impacted the state. In my opinion, the "lockdowns" in California hurt us in 2020 and even in 2021 into January 2022, but I do not believe they are long-lasting effects.
WREB: Is San Diego's hospitality sector heavily impacted by home-sharing/short-term rentals? 
London: The short-term rental market is a proven "nothing burger" to the traditional hotel market. Hotel occupancy and room rates are at record highs. Short-term rentals capture a mostly different market — such as families or friends traveling together — and are complimentary to the hotel sector. Any hotelier who tells you otherwise is ignoring the actual metrics and parroting the industry talking points.
WREB: What opportunities exist in San Diego's hospitality industry? What challenges are there?
Rauch: The challenges here are wages, costs in general and difficulty finding talent due to housing costs. The opportunities for owners are the barriers to entry, coupled with strong average rates. In Texas, as the saying goes, you can get a hotel permit and a gun permit on the same day. Not in California.
WREB: What advice would you have for hospitality investors who were looking to buy in San Diego? 
Rauch: Investors here must find an owner who has a strategic need to sell. There are some, but most are holding on, believing there will be another run up. If I wanted to own, I would call every owner I could find and ask them flat out if they would entertain an offer. Better yet, if you could identify a broker who would do the legwork for you, hire them and pay them as your buyer's representative. 
WREB: What advice do you have for sellers?
Rauch: Most owners believe the pandemic was the recession. I believe one has to look at the specific location, product and condition, then evaluate what is this property worth? Do I want to own through another cycle? 
London: Whether you're a buyer or seller, I would be very cautious as an investor to assume that the hyper-inflated room rates are a reliable, long-term revenue source. Once inflation corrects, and with the possibility of a recession, hotel rates are likely to come down. Moreover, labor costs are on the rise, which will impact the long-term prospects of hospitality investment. One positive is that demand should remain strong, albeit tempered by the current high hotel rates.
— By Nellie Day. This article first appeared in the June 2022 issue of Western Real Estate Business.
Get more news delivered to your inbox. Subscribe to France Media's e-newsletters.
Click here.