Suburbs Continue to be the 'Shining Star' for Nashville's Multifamily Sector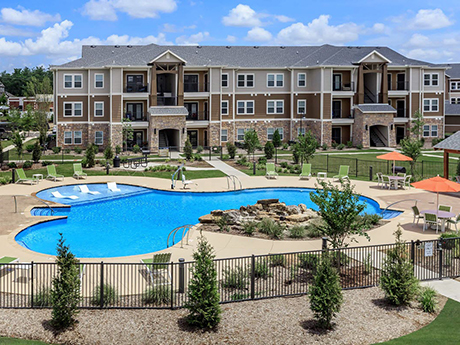 Suburban household growth in metropolitan Nashville was already outpacing urban growth prior to the COVID-19 pandemic, but has accelerated since the outbreak due to corporate America's acceptance of work-from-home staffing.
Multifamily investors have followed this suburban household growth as well. Two recent examples are in Lebanon and Murfreesboro, both high-growth, high-quality suburbs of Nashville that have recently experienced record-setting transactions. The Pointe at Five Oaks recently sold for $243,000 per unit, setting a record for Lebanon. Vantage at Murfreesboro recently went under contract north of $270,000 per unit, also setting a record for Murfreesboro.
We don't see this activity and record-setting slowing down any time soon due to the lack of supply, overwhelming out of state demand and skyrocketing replacement costs.
New multifamily development continues to follow the suburban trend, often times with a mixed-use component. Case in point, Highwoods Properties has completed the assemblage of all 145 acres of Ovation Franklin and is beginning the journey to reimagine and re-introduce one of the greatest opportunities for mixed-use development in the nation. This project will consist of 1.4 million square feet of Class A offices, 950 residential units, 480,000 square feet of retail and restaurants and 450 hotel rooms.
Single-family in the mix
For many homebuyers, the pandemic has created economic and lifestyle changes that have influenced people to make moves sooner than they otherwise may have. These include working and learning remotely and not being able to capitalize on urban amenities due to partial or complete shutdowns. There's also a renewed need for social distancing, which makes living in urban areas temporarily less important for many people.
Homes have also transformed from a place that people spend some of their time to a place they most of their time. The pandemic has prompted a greater need for home offices, homeschooling setups and home exercise equipment, which has accelerated many households' desires for more space, or at the very least differently configured space.
In the homeownership market, there's limited resale and new home inventories are keeping prices high, which is impacting for-sale housing affordability. Many households seeking more space are reportedly finding the suburbs (and exurbs) are where they can afford that new or resale house.
Working from home also means commute times are a less significant factor, and it's been reported that people are looking further out from job centers for more space and greater affordability.
— By David Stollenwerk, First Vice President Investments of Marcus & Millichap. This article was originally published in the February 2022 issue of Southeast Real Estate Business.
Get more news delivered to your inbox. Subscribe to France Media's e-newsletters.
Click here.