Tesla to Invest $3.6B for Electric Battery, Truck Factories at Gigafactory Nevada Campus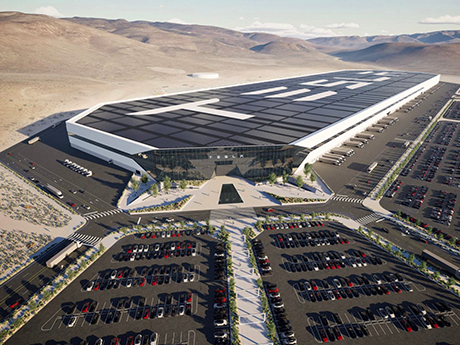 SPARKS, NEV. — Electric car manufacturing giant Tesla Inc. (NASDAQ: TSLA) plans to invest $3.6 billion to expand Gigafactory Nevada, an advanced manufacturing campus in the Reno suburb of Sparks that Tesla launched in 2014. The company's investment will include two new factories — a battery manufacturing facility and a truck factory — that can support approximately 3,000 new team members.
At the battery facility, Tesla plans to produce enough of its patented 4680 battery cells for 1.5 million light-duty vehicles annually. The facility will have the capacity for 100 Gigawatt hours (GWh) annually.
The truck factory represents the first high-volume factory for Semi, Tesla's fully electric combination truck that was announced in 2017. The company's Semi trucks can travel up to 500 miles on a single charge and run on less than 2 kilowatt hours (kWh) per mile, which Tesla says gives companies using commercial transportation a sustainable freight option. The first Semi trucks were delivered in December 2022 to PepsiCo, according to CNBC.
Gigafactory Nevada currently spans 5.4 million square feet and represents a $6.2 billion investment for Tesla to date. Annually Tesla produces 7.3 billion battery cells, 1.5 million battery packs, 3.6 million electric vehicles and 1 million energy modules at Gigafactory Nevada, which currently employs 11,000 Tesla staffers.
Tesla recently filed plans to invest more than $775 million to expand its Giga Texas campus in Austin, home of its new global headquarters. In addition to its Nevada and Texas operations, Tesla currently operates three other Gigafactories in New York, Germany and China.
Tesla's stock price closed on Tuesday, Jan. 24 at $143.89 per share, down from $306.13 a year ago. Although that represents a nearly 53 percent decline, Tesla underwent a three-for-one stock split in August 2022.
— John Nelson
Get more news delivered to your inbox. Subscribe to France Media's e-newsletters.
Click here.