The Story of Tampa's Urban Renewal is Told Through Retail, Mixed-Use Hubs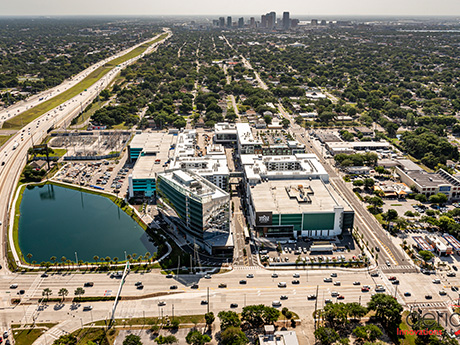 What was once a vacant landscape has undergone a modern-day renaissance, transforming into a thriving, energetic hub infused with dynamic retail, local chef-driven eateries and desirable living and working environments. Tampa has evolved into a top "a place to see" and "place to be" for both out-of-state guests and residents alike.
What is one the main driving forces behind this urban revitalization? The rise of high-density mixed-use developments and lifestyle centers that create central spaces for people to live, work, play, shop, dine and explore new experiences.
Recently, Florida has benefited from a massive influx of residents and development activity as a result of the COVID-19 pandemic. Varying demographics and age groups flocked to the Sunshine State in search of more space, agreeable weather and an expedient reopening as far as retail, restaurant and entertainment.
Along with the mass of new residents, Tampa quickly rose to become the second most popular city in the country for prospective homebuyers, reflecting a new interest to settle down in the area. The retail sector also boomed state-wide, but specifically in Tampa, with retail rents growing 7.8 percent over the last 12 months and ranking among the top 10 fastest growing markets, according to CoStar Group.
Developers quickly followed suit. Tampa had already started to show significant potential as far as new projects, but the recent population growth and swift reopening for businesses compared to the rest of the country only further proved its value.
A plethora of lifestyle and fashion brands, restaurants, hotels, corporate offices and residential developers established new locations, destinations and living spaces, injecting energy into the previously muted city. The net migration followed by growth of higher paying jobs has helped to contribute to overall retail spending increases, pushing a location in Tampa up on national retailer and restaurant lists.
However, mixed-use developments and retail-driven hubs have been the ultimate gamechanger for the Central Florida city. For one, most residents in Tampa have cars. Being able to easily walk from place to place, whether it's your home to the office to happy hour or simply from shop to shop, has been a breath of fresh air and warmly received.
These gathering destinations also draw national, regional and local crowds. With an eclectic mix of nationally recognized and locally owned brands, adventurous dining options and expansive greenspaces home to weekly community events, there's something for everyone and a new experience to have every time you step foot onto the property.
Most importantly, these destinations create community. Feeling a sense of connectivity and unity was hard enough to come by in a central business district, let alone after a pandemic. But mixed-use communities that bring the best of everything to one place have the power of doing just that.
A few years prior, these type of destinations weren't heard of in the Tampa area, but they're changing the landscape of the city for the better. Two examples of successful developments paving the way for future projects in the area include:
Hyde Park Village
Developed by female-led, Massachusetts-based WS Development, Hyde Park Village sits in the heart of historic Tampa. Hyde Park has been one of Tampa's top residential neighborhoods for over a century, but like the rest of the city, the village surrounding it was in dire need of a refresh. In 2013, WS Development acquired the property with a vision to infuse new energy, modern spirit and artful encounters into the classic destination.
Now spanning 270,000 square feet, the lifestyle center is home to six blocks of retail shops and restaurants, providing guests with a modern shopping oasis and dining haven. Hyde Park Village brings something new to the neighborhood, such as first-to-market retail brands like Zimmermann, Kittenish, Capsule, Barry's and soon rag & bone, as well as weekly community events including fresh markets and live music. Palihouse, an intimate but lively 36-room boutique hotel, will also open at the Village in late 2023, inviting guests to extend their stay even longer.
The bustling lifestyle center, modern architecture, bold art and mix of beloved shops, restaurants, fitness and indie brands represent the attitude and style of today's Tampa, giving people a place to come together and celebrate the change.
Midtown Tampa
A 1.8 million-square-foot mixed-use development, Midtown Tampa intersects the best of living, working and playing into a walkable urban hub. Designed by Bromley Cos. to serve as a city within a city, Midtown Tampa introduced something new to the community and has been met with tremendous success. Located in the heart of downtown, the mixed-use development opened in 2021 and encompasses 400 residential units, 200,000 square feet of retail, 550,000 square feet of office space and a 225-room hotel. According to local brokers, the retail, residential and office spaces at the development are more than 90 percent leased.
The retail mix at Midtown Tampa reflects the needs of the mixed-use community it anchors. One example is the flagship, 52,000-square-foot Whole Foods Market, which provides walkable grocery shopping for apartment dwellers and healthy lunch options for office workers and hotel guests.
Additionally, Bromley focused on partnering with retailers that create compelling experiences and provide best-in-class goods and services, including F-45, Core Reform, Sephora and Salon Lofts, as well as first-to-market tenants like REI, Brilliant Earth, Royal Pets and Medley. The retail mix was carefully curated to serve the different demographics across the property and activate the property day and night.
The 23-acre development serves as a model for the future of development across the city. It boasts an exceptional pedestrian experience anchored by public spaces that encourage people to hang out, participate in weekly events and connect with one another.
Both of these mixed-use and retail-driven hubs are just two examples of Tampa's revitalization. From a vacant urban landscape to a booming metropolis, Tampa is making its spot on the map known and visitors, as well as both new and long-time residents, are feeling the shift.
— Staff Reports
This article was originally published in the October 2022 issue of Southeast Real Estate Business.
Get more news delivered to your inbox. Subscribe to France Media's e-newsletters.
Click here.