Transit-Oriented Multifamily Projects Transform Northern New Jersey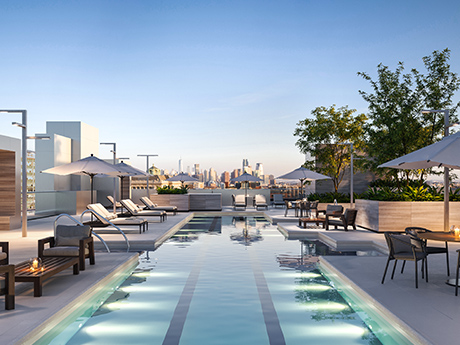 By Taylor Williams
Northern New Jersey is teeming with new multifamily projects, many of them transit-oriented, that mesh suburban locations with urban lifestyles, making the region a desirable alternative to living in New York City. But more housing product is unquestionably needed.
According to the U.S. Census Bureau, the Garden State's population grew by 5.7 percent from approximately 8.8 million to 9.3 million in 2020. New Jersey is the 11th-most populous state and the fifth-smallest state by area, and thus has the highest level of population density in the country.
The combination of a growing population and a very limited supply of land means that infill development sites that provide direct access to major cities, most notably New York City and Philadelphia, are highly coveted by developers of all property types. But developers that can deliver the right kind of housing on those sites play central roles in helping municipal leaders bring new jobs, retailers and restaurants to their communities.
CENTURION Union Center, a mixed-use project which includes nearly 300 new homes and approximately 27,000 square feet of retail space, is just one such project that ties together a basic need for housing with a larger revitalization of the community. In addition, the property is located near Union Train Station and Kean University. There are also plenty of New Jersey Transit bus stops within Union Center.
Manny Fernandez, principal of the firm behind the project, LANDMARK, describes the merger of these two socioeconomic initiatives as "the catalyst for the revitalization of Union's downtown known as Union Center."
"The project is the first major redevelopment project of its kind to be introduced in the history of Union's reimagined central business district and has effectively spearheaded new investment in town with other smaller residential buildings and new retail providers," Fernandez says. 
"We've taken great strides to maintain the fabric of downtown Union in its ground-level retail space at the property by relocating mainstays of Union into the new space while also attracting new operators to town," he continues."
The numerous boroughs that comprise Northern New Jersey — roughly defined as the communities in which commuting to New York City is geographically feasible — possess rich, unique histories. By supplying projects that are designed and built to capture the character and history of the community, multifamily developers are also providing a living experience that the likes of Brooklyn and Manhattan simply cannot emulate.
Sure, it's not for everyone. There will always be a strong contingent of renters with incomes and lifestyles that are tailor-made for life in the big city. But particularly in the wake of the COVID-19 pandemic, demand has grown for product that is more affordable, spacious and generally devoid of dense crowds and noise, even among younger renters. And the new housing projects in Northern New Jersey that have sprung up to meet this demand reveal that suburban vibrancy is very much a sought-after way of life.
Transit-Based Advantages
But no matter how peaceful, idyllic and quaint these communities appear, the fact is they are inextricably linked to the largest job, retail and cultural hub in the country.
Only so many jobs can be outsourced from New York City. As such, the presence of public transportation lines and services that directly connect these boroughs to the city has become a common thread among new multifamily projects.
Consider The Royal at Bloomfield Station, a project by locally based developer CHA Partners that is located in Bloomfield, about 20 miles west of Manhattan. The community, which consists of 210 rental units, 14 for-sale townhomes and 7,000 square feet of retail space, is situated adjacent to the Bloomfield Station on the New Jersey Transit network.
CHA Partners assembled the site by acquiring seven contiguous parcels and negotiating a series of public-private partnership agreements with Bloomfield Township, which is launching a larger downtown revitalization effort. Bloomfield's redevelopment plan centers on maximizing mass transit, revitalizing commercial buildings, managing traffic flows to create a pedestrian-oriented environment and adding more public green spaces.
"The Royal at Bloomfield Station is truly an urban, transit-oriented development with a focus on providing a walkable live-work-play setting," says Bill Colgan, managing partner at CHA Partners. "Many of our residents commute to Manhattan, and the commutability, affordability and lifestyle that our project offers have been the biggest drivers of leasing."
In terms of "lifestyle," Colgan points to discounted prices for more spacious residences compared to what renters can typically find in Manhattan. According to a 2018 study by RentCafé, the average size of a one-bedroom unit in Manhattan is 733 square feet. That figure has likely shrunk in recent years with the rise of micro studio apartments, which typically max out at 350 square feet.
In addition, Royal at Bloomfield Station features courtyards and outdoor recreational spaces that promote the feel of suburban living, as well as traditional Class A amenities like a fully equipped fitness center, business center, pet spa and a rooftop entertainment area. Completion of the project, which is the developer's third within the downtown Bloomfield area, is slated for spring 2023. CHA Partners has added more than 1,000 units to the local supply since planting its flag in Bloomfield in 1998.
In Netcong, about 40 miles due west of Manhattan, local developer CrownPoint Group recently completed the lease-up of 34 Bank, a 126-unit community. The property is a redevelopment of an obsolete industrial building that is located within walking distance of the downtown area's restaurants, bars and recreational areas.
In announcing the completion of lease-up, Michael Legacki, the company's vice president, noted that 34 Bank "offers residents prime access to both highways and mass transit," and that it would "continue to catalyze the downtown area's economic growth."
In South Amboy, BNE Real Estate Group is developing Station Bay, a 291-unit community that is part of a larger redevelopment along the Raritan Bay waterfront. In addition to being adjacent to a train station, the community is just steps away from a new ferry terminal that is under construction and will connect to Manhattan.
"The land that Station Bay sits on is part of a master-planned redevelopment that calls for about 1,700 apartments," says Marc Pantirer, principal at BNE. "It's located in between the train station and the ferry terminal, and there aren't many sites in New Jersey that have that kind of access to New York City."
Pantirer says that the design of Station Bay is meant to evoke maritime themes and motifs and fit with the existing architecture style of the waterfront community.
"Station Bay introduces a unique paradigm of urban and suburban living, blending the vibrancy and convenience of its transit-friendly downtown South Amboy location with the views of a bayside backdrop," says Pantirer. "You don't want to build a product that doesn't fit with the surrounding neighborhood. But you also don't want to build something that looks like it's already been there for 50 years."
"So, we had to find an elegant design that's modern, but still somewhat classical — a community that feels like an extension of the neighborhood, and one that would attract new residents to become a part of its fabric for years to come," he continues.
Several major apartment projects are underway or were recently completed in Jersey City, another market whose renters are drawn to the ease of the public commute across the river and the discounted costs of living. In June, a partnership between KRE Group and National Real Estate Advisors opened the second rental tower in the Journal Square neighborhood, so named for the area's history in media and publishing.
At the time of its opening, rents for studios started at $1,960 per month. While rents in Manhattan have experienced some decline during the pandemic, that figure still represents a significant discount. In July 2021, the average studio apartment in Manhattan cost about $3,200 per month, according to apartmentlist.com.
Rising 68 stories and totaling 704 units, Journal Squared 2 provides direct access to the Journal Square transit station. Jon Kushner, president of KRE, says that while residents appreciate the views of the Manhattan skyline and the Statue of Liberty, as well as 100,000 square feet of shared amenities between the two buildings, the public transit factor is ultimately the main draw.
"The Journal Square transit station is one of the busiest in New Jersey," Kushner says. "Residents can get from the penthouse of our building to Midtown Manhattan in 20 minutes and to Lower Manhattan in a little less time than that."
Like other new projects that aim to seamlessly blend into older neighborhoods, Journal Squared gives an architectural nod to the businesses and industry that predominated the area in years past. "We tip our cap to the history of Journal Square being a media center 100 years ago," says Kushner. "We have old printing presses and letter presses and old maps to look through and made that the theme of the amenity space."
A Suburban Feel
Transit-served communities may serve residents who spend much of their lives in urban centers, but these properties don't necessarily have to conform to that standard.
Jack Klugmann, president and CEO of Accurate Builders & Developers, believes that many of the region's renters want the look and feel of a suburban experience, whether they work in New Jersey or another state. The company recently completed Crossings at Raritan Station, a 276-unit community about 40 miles outside the city.
"When we broke ground on this project, we believed that the adjacency to the train station was the biggest amenity," says Klugmann. "We've now got about 200 people living at the community, and we don't know if any of them ride the train [to New York City] every day. A lot of people just enjoy the beauty and the lack of traffic and congestion that comes with living in a suburban neighborhood relative to a major metropolis like New York City."
With the headquarters of Johnson & Johnson just up the road and North Carolina-based life sciences giant LabCorp. recently expanding its Raritan campus, there are solid employment opportunities for residents that don't require taking a long train ride into the city.
"A lot of people who work for LabCorp. drive over an hour to work each day from Pennsylvania because there just aren't enough apartments in suburban neighborhoods like this," explains Klugmann. "We want to be able to offer apartments to those people, and we continue to hear that there are renters who like the suburban feel with greenery and the ease of going for walks, but without the maintenance and upkeep [of owning a home]."
Accurate Builders & Developers designed Crossings at Raritan Station with that notion in mind. Pocket parks, walking and biking trails, ample green space — all are part of the amenity package. In addition, the company resurfaced part of a tennis court at an adjacent public park to include basketball, another outdoor, suburban-themed amenity that residents seem to enjoy.
BNE Real Estate's 99 Bridge project in Old Bridge, about 30 miles due south of Manhattan and developed in partnership with LPZ and Sterling Properties, aims to offer renters the same sense of suburban living. Old Bridge Township is home to more than 300 acres of developed park land and athletic facilities. This includes Cheesequake State Park, which offers a lake beach, kayak launches, picnic areas, hiking trails and campsites.
"Now more than ever, suburban renters are looking for high-quality, spacious residences and amenities that are walkable to retail and restaurants and on par with what modern rental buildings in the city are offering," says Pantirer. "Living in the city is great, but you compromise space and amenities — that's what's accessible out here."
— This article originally appeared in the November/December 2021 issue of Northeast Multifamily & Affordable Housing Business magazine.
Get more news delivered to your inbox. Subscribe to France Media's e-newsletters.
Click here.