Trinity Health Michigan Unveils Plans for $238.2M Hospital in Metro Detroit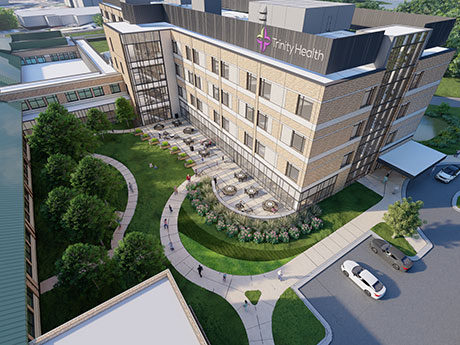 BRIGHTON, MICH. — Trinity Health Michigan has unveiled plans for a replacement hospital in metro Detroit's Livingston County that will enhance patient access and create an integrated campus of medical and surgical care at its existing medical center in Brighton. The three-year project has a price tag of $238.2 million.
The four-story, 174,000-square-foot hospital will consist of 56 acuity adaptable beds, 18 short-stay beds and eight licensed operating rooms. The existing medical center facility will also undergo renovations. Construction is scheduled to begin in early 2023.
Acuity adaptable rooms enable patients to stay in one centralized room throughout their entire stay rather than being transferred to other units, while short-stay units are targeted for patients requiring brief hospitalization.
The project represents a multi-year effort to relocate inpatient and outpatient services from the aging Trinity Health Livingston hospital in Howell to the campus of Trinity Health Medical Center-Brighton. When complete in 2025, the new hospital will bring together healthcare providers and services to offer a continuum of care in one location for Livingston County and surrounding communities.
The new hospital will offer the following medical services: primary care, general medicine, gynecological surgery, urology, cardiology and intensive cardiac rehab, orthopedics, minimally invasive general surgery, bariatric surgery and oncology.
Future plans for the existing Trinity Health Livingston hospital in Howell have not yet been determined, but Trinity Health Michigan says it is committed to ensuring that the space continues to be a vibrant part of the Howell community.
Trinity Health Michigan is one of the state's largest employers. With more than 24,000 full-time employees serving 29 counties, the provider's system is comprised of nine hospitals in Ann Arbor, Chelsea, Grand Haven, Grand Rapids, Howell, Livonia, Muskegon, Pontiac and Shelby.
— Kristin Hiller